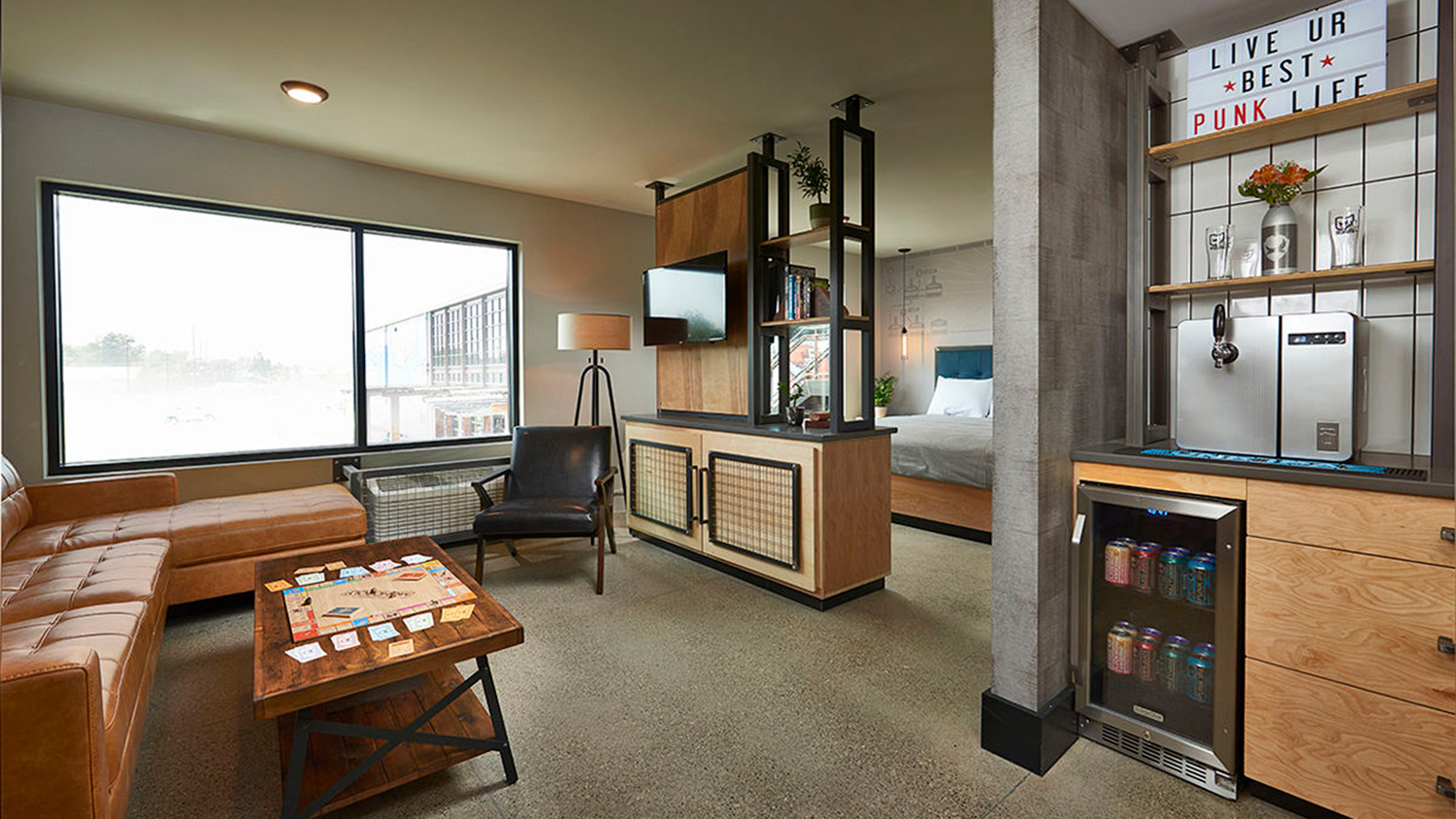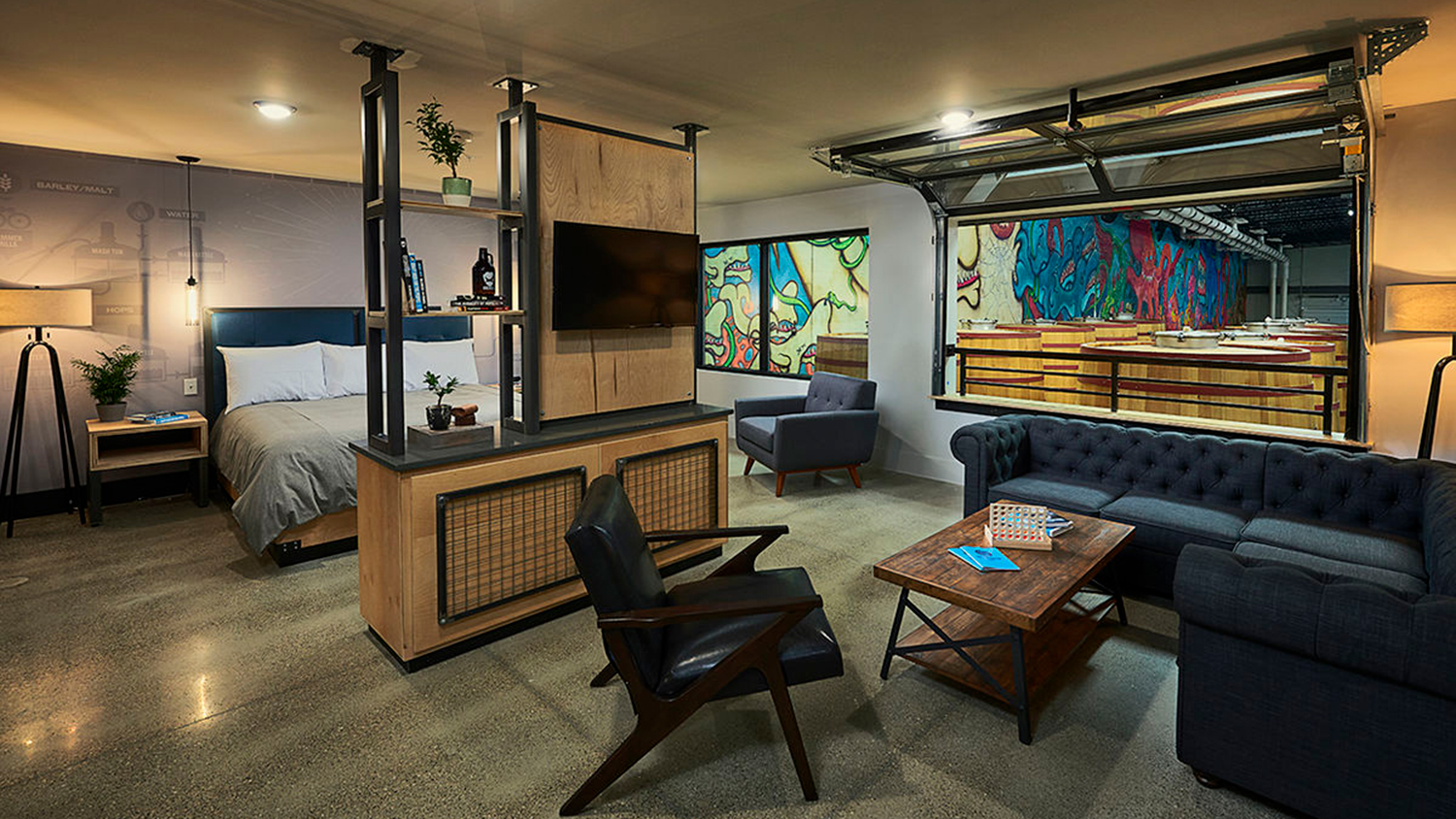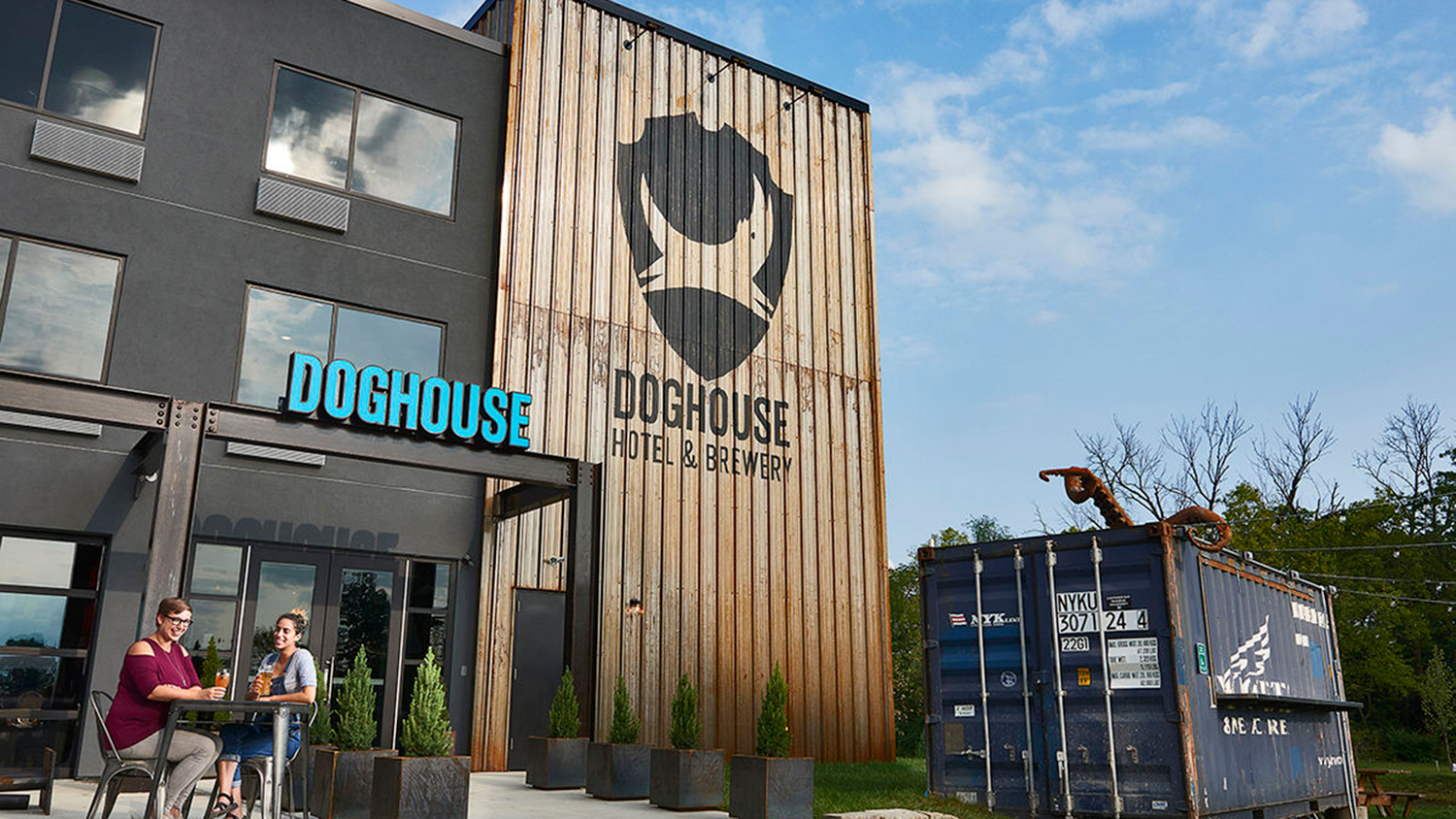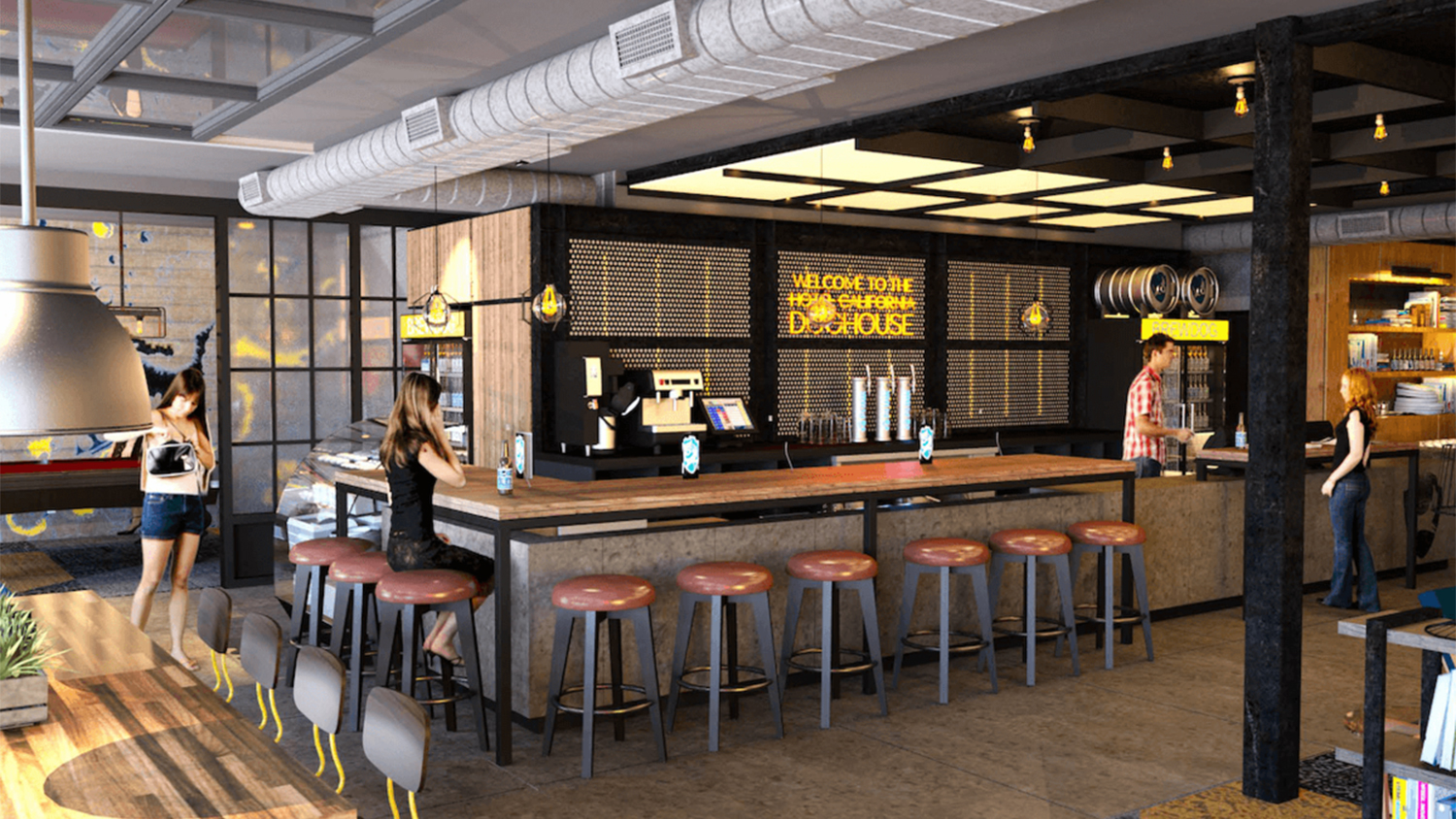 If you've ever passed out inside a brewery, chances are you have a problem. Or, you're just a legitimate guest of BrewDog's new DogHouse Columbus. The unique hotel is purportedly the "world's first … to offer guests a night's stay inside a brewery." We've never been more excited to visit Columbus, Ohio.
This project isn't just about shoehorning a few budget hotel rooms into an existing brewery. The Scottish brewer went all-out with this endeavor. At check-in, every guest is greeted with a complimentary draft beer from the lobby bartender. All 32 rooms and suites feature in-room taps with free-flowing BrewDog beer and well-stocked mini-fridges in every shower. Other amenities typical of an upscale boutique hotel include free Wi-Fi, 42-inch smart TVs, rainfall showers, and pillow-top mattresses. Every room overlooks the BrewDog OverWorks sour beer facility. Elsewhere in the hotel, there's also a state-of-the-art gym, beer pong in the lobby, free continental breakfast daily, and spa even features malted-barley-infused massage treatments. Not surprisingly, guests in select rooms are welcome to bring their dogs along too.
If you can pull yourself away from the copious pours of in-room beer, there's plenty to experience in the brewery itself. BrewDog offers a 6,000-square-foot beer museum with interactive, hands-on exhibits to educate guests on the history of craft beer, the company's brewing process, and the ingredients involved in making it.
The hotel launched in March 2017 on Kickstarter as "the world's first crowdfunded craft beef hotel." Whether or not BrewDog intended it to be merely a publicity stunt or a fully realized business idea, DogHouse Columbus is now very real. Clearly, enough beer lovers were serious enough to put their money where their pints were — the crowdfunded campaign raised more than $300,000. It's been so successful, in fact, that the company has plans to open a second hotel in 2019 at their headquarters in Ellon, Scotland.
From their show Brew Dogs to this extreme ABV beer inexplicably stuffed inside a squirrel, the company is no stranger to clever marketing. It seems the DogHouse Columbus project is no different. In a statement to Food & Wine, BrewDog's co-founder James Watt said, "From welcome pints of Punk IPA and malt massages to brewery views and shower beers, this will be the world's first and only fully-immersive craft beer experience from check in to check out." Indeed.
Book your stay now at the BrewDog website. Standard rooms start around $160 per night, while the flagship, 645-square-foot Brewmaster Suite — complete with an in-room wet bar, spacious living/sleeping quarters, and a roll-up garage door view of the OverWorks facility — runs just under $300.
Editors' Recommendations