Cynar—pronounced chee-nar (not sigh-nar, chai-nar, or any of the other ways that the friend that always wants to be better than you has previously assured you of)—is an Italian amaro that is made with, among other 13 total herbs and botanicals, artichokes. The name Cynar comes from the botanical name for the artichoke, Cynar scolymus, and, since its creation in the 1950s by Venetian Angelo Dalle Molle, the spirit has been held in varying levels of esteem the world over.
While it is made with artichoke leaves, Cynar is not an artichoke-flavored spirit (sorry, spinach and artichoke dip loving people out there). The overall flavor is bittersweet, making it somewhat easier to sip compared to other digestifs out there.
When it comes to ABV, Cynar is on the lower side—a mere 16.5%–but if you are looking for the same flavor with a little more backbone, Cynar also has a 70-proof version (named, fittingly, Cynar 70 Proof) for your consumption.
Below, we're pulled together some of the best ways to enjoy Cynar. We're big fans of it here at The Manual, and we think you will be, too.
Drink it Straight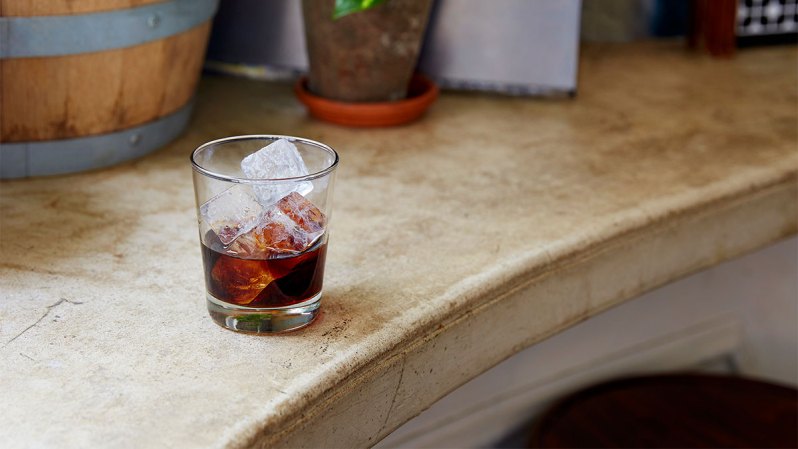 As with many amari, Cynar is best consumed—at least according to the Italians who first made it—straight. Pour yourself an ounce or two, and sip it. Adding an ice cube can't hurt, either. Another fun thing to try with your straight Cynar is to add a few drops (3-4 is all you need) of saline solution. Just as with cooking, the salt will bring out the other flavors present in the spirit.
If you want to extend your Cynar, you can also think about adding club soda, tonic water, or even orange juice, as they do in certain parts of Europe.
Drink it in Cocktails
Cynar, especially in the last decade or so, has really come to be defined by its versatility in cocktails.  Here, you'll see two different types of cocktail that both work to highlight how the bitter flavors of the liqueur work well with a variety of other ingredients.
Cynar Julep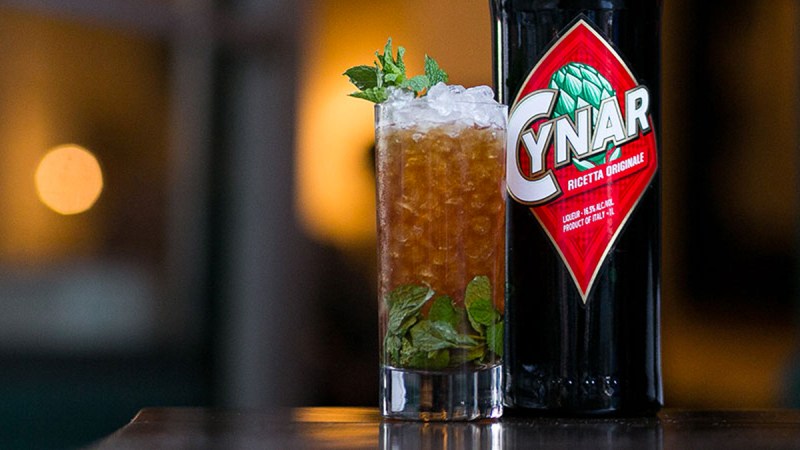 2 oz. Cynar
1/2 oz. Simple Syrup
1/2 oz. Fresh Lemon Juice
1/2 oz. Fresh Grapefruit Juice
2 Dashes Angostura Bitters
2 oz. Soda Water
12 Mint Leaves
Method: In a tall glass, add mint and all ingredients except soda water and bitters. Gently muddle, add ice, then soda and top with bitters.
Carciofi Shandy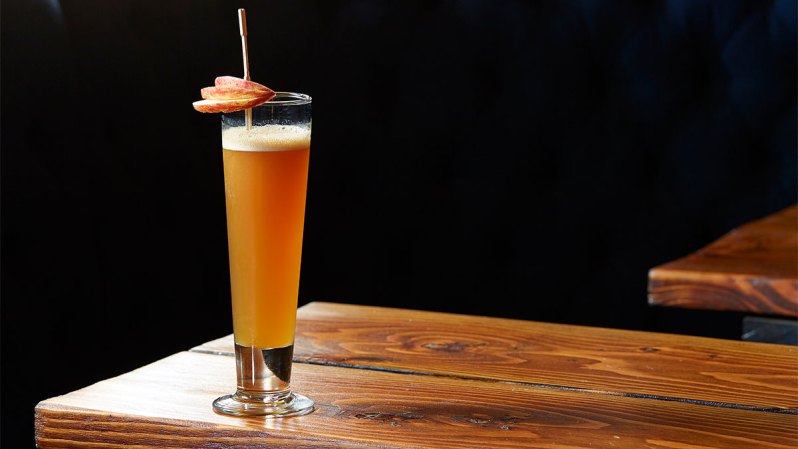 (Created by Sofia Present, August Laura, NYC, pictured above)

1 ½ oz Cynar
1 oz Apple Cider
½ oz Cinnamon Syrup
¾ oz Lemon Juice
Ginger Beer
Method: Mix Cynar, cider, cinnamon syrup, and lemon juice in a cocktail shaker. Add ice and shake. Strain into a glass and top with ginger beer.
Cheers!
Editors' Recommendations