Frozen cocktails can conjure up thoughts of candy-sweet abominations made solely for tourists. But the fact of the matter is that just about any good classic mixed drink can change its state from liquid to solid in the name of cold. Better still, they can do so without sacrificing quality, setting you up for a pleasant straw-sipper during the hottest months of the year.
About the only cocktails that can't be served as slushies are the overtly boozy ones, as too much alcohol leads to the inability to freeze (that's why your freezer vodka is still liquid). Most, however, involve enough other things that they handle the transition just fine. Some, one could easily argue on a hot afternoon, are even better than the original.
Here are nine to blend up and greet the sunshine with.
Frozen Margarita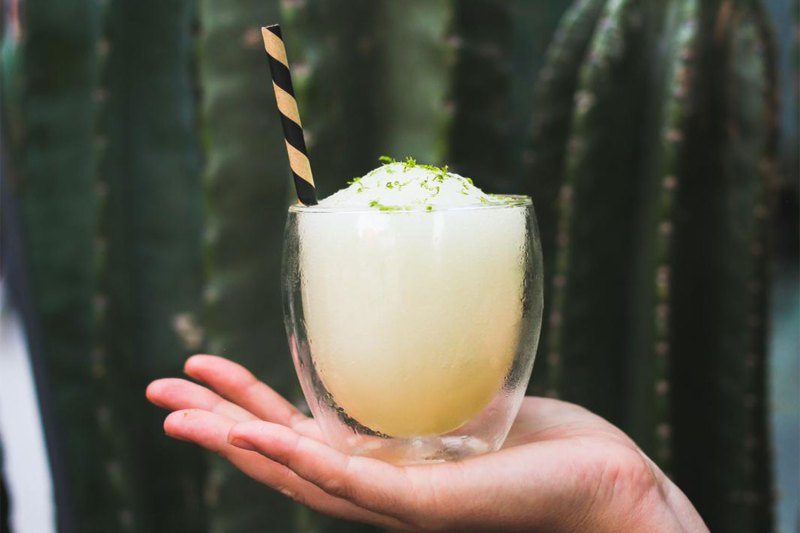 (By Yana Volfson, bar director, Cosme and ATLA, New York City)
In fairness, there are a lot of bad frozen margaritas on Planet Earth. Shoot, Las Vegas is famous for them. But with the right ratios and a good blanco tequila, the icy incarnation can do wonders. The best ones are impossibly cold and offer a playful texture that instantly puts the holder in a good mood. Even better, you're unlikely to get a brain freeze as the alcohol will keep you sipping, not chugging. Here, Yana Volfson shows us how it's done. Just don't go overboard in terms of volume, as it's easy for the recipe to get derailed. "The one-at-a-time or two-at-a-time hand build of this recipe upholds the character of aperitif and balance that can sometimes get lost in batched slushies," Volfson says.
Ingredients:
1.5 ounces blanco tequila

.5 ounces Curaçao liqueur (Volfson uses Pierre Ferrand Curaçao)

.5 ounces agave nectar

1 ounces lime juice

5 ice cubes
Method:
Add all ingredients to a blender and blend until creamy. Pour into a double-walled chilled glass (Volfson recommends Bodum glasses). Garnish with fresh lime zest.
Frozen Tom Collins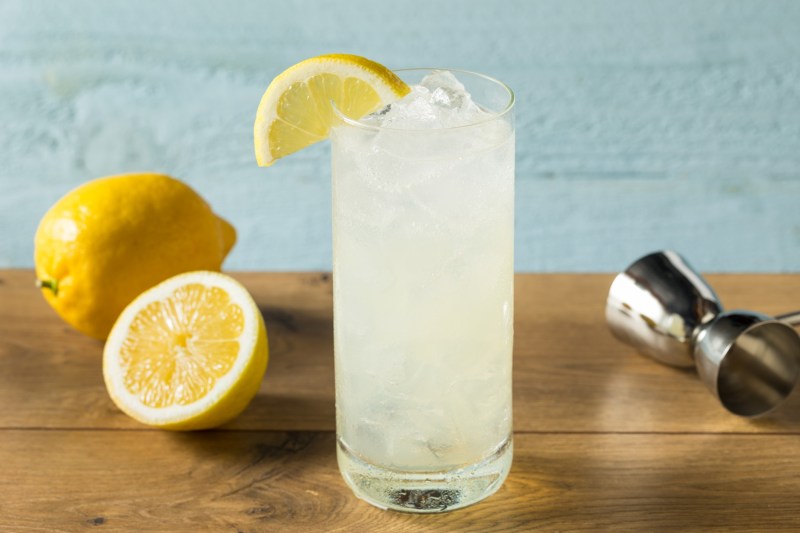 Ah, the Tom Collins, a drink beloved for its many simple pleasures. Bartenders love how, like a good bass line or beat, this drink can be sampled in so many creative ways. When going frozen, it's suggested to keep it nice and invigorating thanks to plenty of fresh lemon. This recipe from the Times serves a half dozen imbibers and is a worthy frozen sibling of the lauded Tom Collins.
Ingredients:
8 ounces

gin

6

ounces fresh lemon juice (from 3 to 4 large lemons)

4

ounces

simple syrup

5 to 6

cups cracked or crushed ice cubes

Maraschino cherries and syrup for garnish
Method:
Combine the gin, lemon juice, and simple syrup in an airtight container. Seal and refrigerate until chilled, at least 4 hours. Transfer the chilled mixture to the blender, add the ice and blend until smooth and slushy. Divide the mixture among six glasses; garnish each with a few cherries and a drizzle of cherry syrup. Serve immediately, and store any extras in the freezer in a covered container until ready to enjoy.
Frozen Old Fashioned
(By Megan Deschaine, bartender, Doar Bros., Charleston, South Carolina)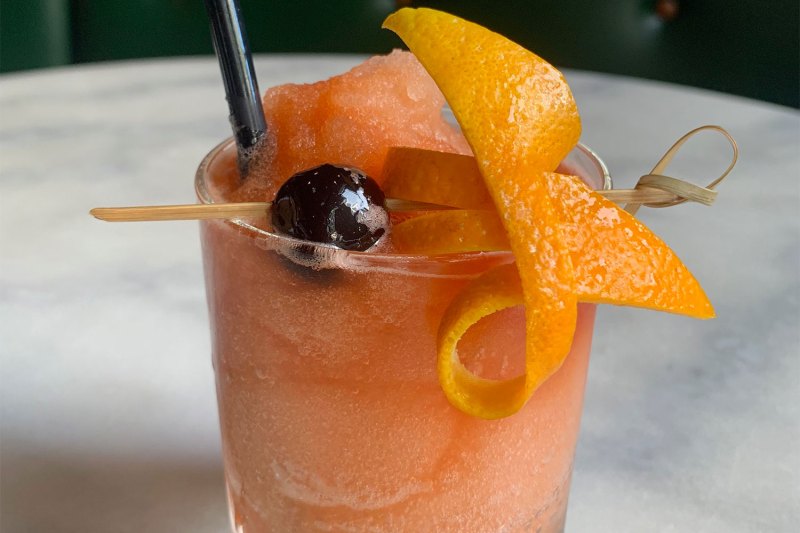 There may be no drink more classic than the Old Fashioned. It's been popular since Chester Arthur was president and does particularly well as a frozen drink due to the balancing act of simple syrup and ice. Plus, it takes on a cool color as bourbon and ice dance together in the blender. As Megan Deschaine says, you'd be wise not to water this drink down. "One of the biggest mistakes with making blended drinks is overdilution. Instead of using traditional ice, consider making your own by freezing one of the nonalcoholic ingredients from the recipe to use as the ice."
Ingredients:
6 parts bourbon (Deschaine prefers Angel's Envy)

1 part "Good Old Fashioned" simple syrup*

Orange-juice ice cubes, to taste (for best results, use more of these than of the regular ice cubes)

Regular ice cubes, to taste

Angostura bitters, for garnish
*"Good Old Fashioned" Simple Syrup: Add 1.5 cups water, 1 cup Demerara sugar, 2 cinnamon sticks, 4 star anise pods, 6 cloves, 10 black pepper pods, and the zest of 2 oranges to a saucepan and bring to a low simmer. Steep for 20 minutes. Allow the syrup to fully cool, then strain away the liquid and discard the solids. The syrup can be stored in the refrigerator for up to 3 weeks.
Method:
Add ingredients to the blender and blend until smooth. Pour into a chilled glass and garnish with Angostura bitters and a twist of orange.
Frozen Caiprinha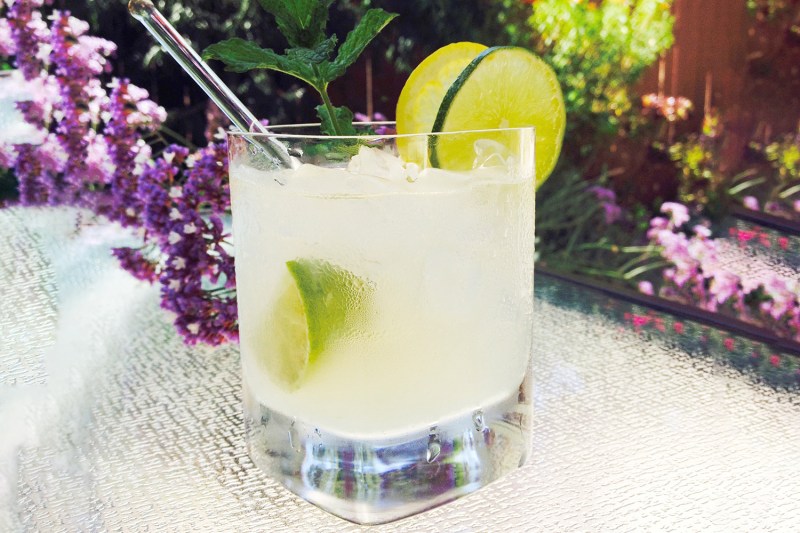 Go straight to Brazil with this frigid classic. In fact, go straight to Rio on a scorching afternoon, soccer ball, and sunblock in hand. Essentially a South American daiquiri, the caiprinha is a storied standby for the thirsty, especially south of the equator. This BBC recipe gives the drink the proper midsummer treatment. As is advised, it's nearly impossible to overdo it with the limes, so add extra to taste.
Ingredients:
2 limes, halved
6 tablespoon golden granulated sugar
1.75 cups ice
7 ounces cachaça
Method:
Cut each of the lime halves into four chunks. Put in a large mortar with the sugar and squish well with a pestle to break them down — they will release their juices, leaving you with a sweet lime syrup. Remove the lime peel, squeeze to release the last bits of juice, and then discard. Transfer the lime syrup to a small plastic container and freeze for at least 4 hours, ideally overnight. When you're ready to make the cocktail, put the ice in a blender suitable for crushing ice, then add the frozen syrup and cachaça. Blend at a high speed until smooth and thick. Transfer to cocktail glasses or tumblers and serve immediately.
Fro-Groni
(By Nick Touch, brand ambassador, The Family Jones, Denver, Colorado)
Long live the Negroni, whether it's the standard version, its popular white vermouth cousin, or even a Togroni. It's hard to find a better use for Campari, and that's saying something, as the neon red liqueur is as versatile as they come. And while it's technically a three-ingredient classic cocktail, when going the frozen route, you'd be wise to add a few things. This riff from bartender Nick Touch is based on a breakfast version, perfect to kick off a transatlantic flight to Italy. It incorporates fresh citrus and a touch of simply syrup to take on the ice. It's a weekender of a drink fit for any hour of the day, really.
Ingredients:
1 ounces gin (Touch prefers The Family Jones Juniper Jones Gin)

1 ounces sweet vermouth (Touch prefers Carpano Antica)

1 ounces Campari

1 ounces fresh grapefruit juice

1 ounces simple syrup

.5 ounces fresh lemon juice
Method:
Add all ingredients to a blender with ice and blend until smooth. Pour into a chilled glass and garnish with a grapefruit wedge and a lemon wheel.
Frozen Greyhound
What's better than matching gin with tonic? Treating it to the one-of-a-kind citrus punch of grapefruit. Greyhound cocktail lovers know as much, and the drink, with its tidy balance of sour, sweet, and herbal, can hold on to all of those things even frozen. This Thrillist recipe is likely to become a mainstay at your home bar as summer unfolds.
Ingredients:
1 cup gin
2 cups grapefruit juice
.5 cup simple syrup
3 cups ice
grapefruit zest
Method:
Add gin, grapefruit juice, and simple syrup to a blender and blend until smooth. Pour into a glass and garnish with grapefruit zest.
Frozen Aperol Spritz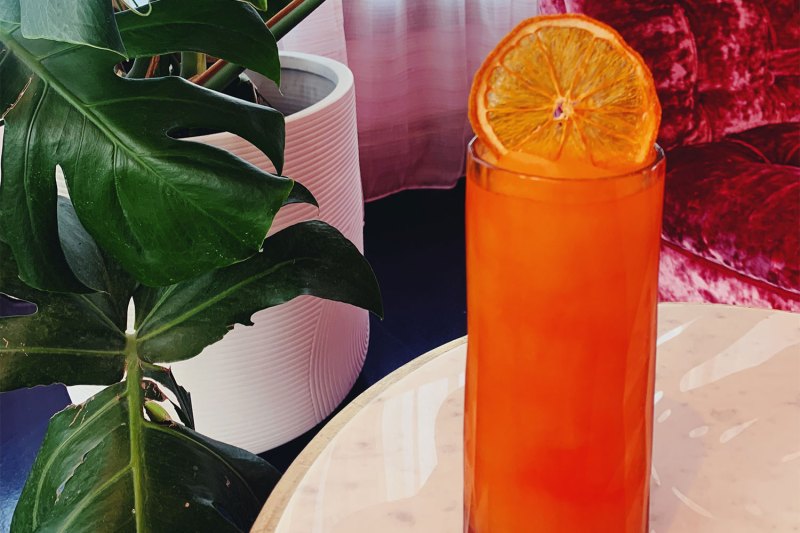 (By Demi Natoli, bar manager/assistant beverage director, Graduate Hotel, Nashville)
Simply put, Italians do it better. Here's another adaptation of an Old World classic that takes an already refreshing drink and makes it even more so. The interplay of effervescent wine and ice is incredibly pleasing, something akin to your palate cannonballing into a sparkling hotel pool. If the bodegas in Rome don't already serve this from a Slurpee-like soda fountain, they should.
Ingredients:
1.5 ounces Aperol

.5 ounces gin (Natoli uses Ford's Gin)

3 ounces Prosecco or Champagne

.5 ounces lemon juice

.5 ounces orange juice

1 ounces vanilla syrup

2.5 cups crushed ice
Method:
Pour 1 ounce of sparkling wine and .5 ounce Aperol into a Collins glass. Add the remaining ingredients to a blender and blend until smooth. Pour blended mixture into the Collins glass and garnish with an orange wheel.
Frozen Cosmopolitan
The Cosmo is a great drink boasting tons of brilliant cranberry color. Utilize its inherent inkiness by going frozen. The result is an easy-on-the-eyes and incredibly soothing beverage that may just best its liquid cousin. Some opt for Triple Sec instead of simple syrup here, but with the pucker added from lime and pomegranate, we prefer standard simple syrup. Do experiment with this one, throwing in tasty add-ons like orgeat, frozen berries, or even fresh rosemary.
Ingredients:
2

ounces

cranberry juice

.5

ounces

fresh lime juice

1.5 ounces citrus flavored vodka
.5 ounces simple syrup

5

ice cubes

lime wedge

for garnish
Method:
Place all ingredients in blender and blend until smooth. Garnish with a lime wedge.
Frozen Moscow Mule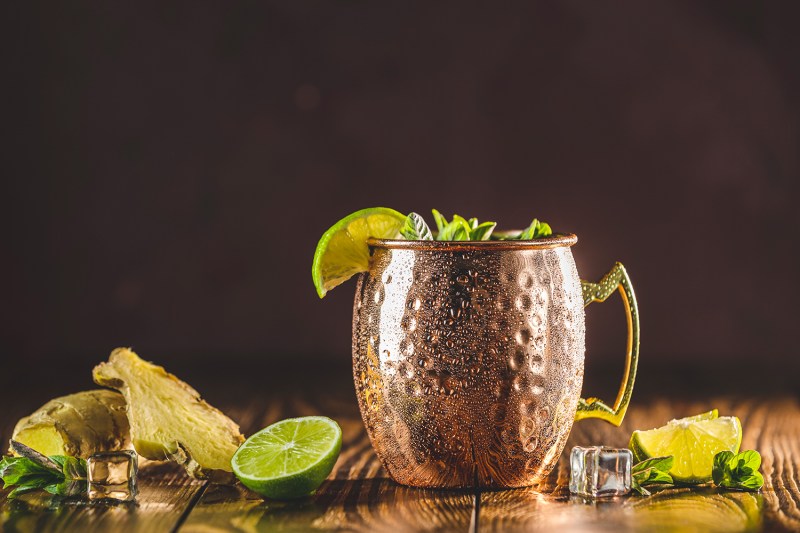 The Moscow Mule, with its customary icy copper mug, is so close to a frozen cocktail in its original state that this recipe simply nudges it along. Instead of sipping around ice, you get to swallow a steady stream of perfectly smooth, slushie-like goodness. The new consistency is enough to reinvigorate a drink that can feel a little played out in its basic form.
Ingredients:
1.5

cups ice

2 cups

ginger beer

2 ounces

vodka

1 ounces

lime juice
Method:
Put ice in blender then add ginger beer, vodka, and lime juice. Blend until smooth, about 3 minutes.
Editors' Recommendations