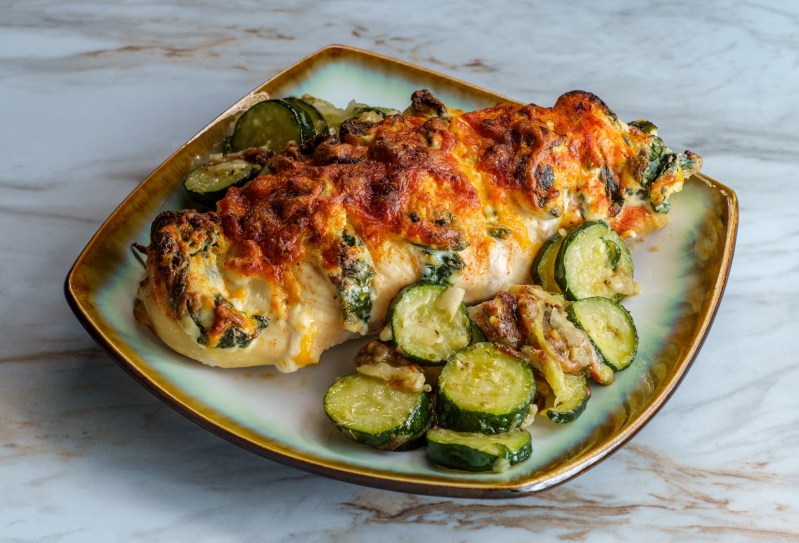 After a long day at work, we all need go-to, easy recipes that are both quick and satisfying. Basic grilled chicken can quickly become boring, but we've got you covered. Perfect for a simple weeknight dinner, Hasselback chicken is the true trifecta of chicken dinner ideas, as it's easy, delicious, and nutritious. What more could you ask for in a recipe?
Not only can you make this delicious recipe in only 30 minutes, but it's one of the most versatile dinner ideas with chicken. Check out how to make this delish recipe below, along with some tasty variations to keep things interesting.
What you'll need
Part of the appeal of this incredibly yummy chicken dinner idea is the limited ingredients required. Many chicken breast recipes for dinner require the preparation of elaborate sauces, which means more ingredients to purchase. Instead, Hasselback chicken requires only a few simple ingredients:
1/4 cup fresh spinach

2 chicken breasts (thicker chicken breasts are ideal)

1 teaspoon paprika

1/4 cup cheddar cheese

1/4 cup ricotta cheese

Salt and pepper to taste
Steps to prepare
What makes this chicken dinner recipe unique is its method of preparation, which requires cutting small slits into a chicken breast. This creates a pocket within the chicken, perfect for stuffing the spinach and cheese mixture. To make Hasselback chicken, follow these steps:
Cook the spinach on the stovetop over medium heat. Add a splash of any cooking oil of your choice, cooking for 3-5 minutes until the spinach wilts.

Mix the ricotta cheese in the pan, stirring for about 1 minute. Take it off the heat and allow it to cool.

Cut slits on the top of each chicken breast, spaced about 1 cm apart. The number of slits you'll have depends on the size of your chicken breast. The most important part of this step is not to cut all the way through — only cut about 3/4 of the way into the chicken.

Stuff each slit with the spinach/ricotta mixture

Season chicken with salt and pepper to taste. You can also add other seasonings, if desired, such as garlic or onion powder.

Next, add the shredded cheddar on top of each chicken breast. Sprinkle and garnish with paprika.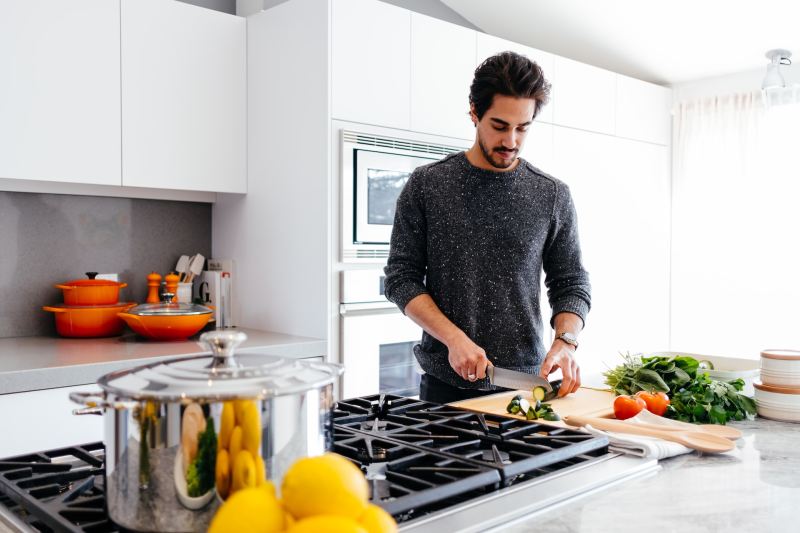 Cooking methods
Once your Hasselback chicken has been prepared, it's time to cook. This versatile recipe is traditionally made by oven baking at 400 degrees Fahrenheit for 20 to 25 minutes until the chicken is fully cooked and the cheese on top has melted.
Can't get enough of your air fryer? This chicken recipe also comes out great in the air fryer. For air fryer cooking, cook at 360 degrees Fahrenheit for about 15 minutes. The time required depends on the thickness of your chicken breast and the model of your air fryer.
Changing up the filling
Once you fall in love with this delicious and easy dinner recipe, try experimenting with new fillings. You can replace the shredded cheddar in this recipe with other cheeses to create a different flavor, such as mozzarella, gruyere, or even parmesan. Spices and seasonings can also be adjusted to taste.
While the traditional recipe uses spinach, Hasselback chicken can also be made with roasted red peppers, tomatoes, or bacon. This savory recipe won't get boring, offering plenty of ways to customize based on your own taste preferences.
Editors' Recommendations