As you may or may not know, Brazilians are a passionate people, and this tendency toward passion is rarely on clearer display than when a Brazilian chef talks about meat. But when you talk to Chef André Lima de Luca, you realize something a bit unusual after a few minutes: he is not passionate about the traditional churrasco-style meats, like fraldinha, picanha, or the sausages you might get at a Brazilian steakhouse. Or rather, he is not only passionate about those traditional Brazilian meats.
No, at heart Chef André — Brazilian by birth, Italian, Portuguese, and Spanish by heritage — is a diehard devotee of barbecue cooking. Yep, good ol' American BBQ. And actually, devotee isn't really a fair term. There are lots of dudes out there wearing shirts or aprons (or driving trucks sporting bumper stickers) that read "GRILL MASTER." But this guy? He doesn't have to wear a shirt like that, he just lives the life, instead.
I sat down to talk with André Luca de Lima at my desk where I always sit. He sat down in his country house about an hour outside Sao Paolo, Brazil. Or maybe he was walking around or perhaps actively cooking, I don't know, we decided to stick to the phone instead of using Skype for a video chat. Which is a shame, because I was wearing a very clean shirt. Anyway, if you want to know a bit about this disarmingly friendly man and to learn a bit about grilling great meat, here are the highlights of our conversation…
Steven John: At what age did you first start cooking?
André Luca de Lima: Well I am 42 years now, but I started to cook really when I was 4 years old. When I was home with my grandmother, with my family, as soon as I was old enough, 4 years, I was helping cook. When I was 18 years, I started working in the financial market, because, of course, I needed to find a job to pay my way through school, to have my own life, my independence. But then I stayed there, I did finance, until I was 35 or so.
What changed in your mid-3os?
Well what happened is… see people always aksed me "Why don't you open a restaurant? The passion, the ability you have for food, why don't you do this?" and I was always cooking, but never ready for doing that, and then one thing changed my life: my wife had cancer. She had a massive surgery, and it worked, and then she had to recover. I wanted to be gome with Eleonora [my wife] all the time, I told my partners I needed to do this, so I spent 3 months at home wirth her, and I started thiunking about life, about how fast it goes, I had to be happy to do what was natual for me. I always had ideas about food, about restaurants, and two partners of mine and I had a plan to open the first American BBQ house in Sao Paolo. We would be the first real BBQ in US style in all of Brazil, cooking meat with smoke, doing very slow cooking.
Where did the idea for an American BBQ restaurant come from?
I love American barbecue! The flavors, the culture, the way you cook the meats, brisket, pork ribs — all of it! I spent time there before and loved it. Then when we decided to do this BBQ restaurant, I went to Texas, to Austin, and tasted everything I could. We met with chefs, we talked to everyone we could. I was trained by American pit master, a wonderful guy, Rob Rub Bagby , from Swamp Boys BBQ School. He came two times down to Brazil. I have a massive respect and gratitude to this great man. You see you don't get the same meats in Brazil as in America, so I had to know just what flavors to try to cook, to make. We tested 900 kilograms (yes, that is 1,980 pounds) of meat before we opened the first restaurant! We tested every cut of Brazilian [beef] to make sure it could taste the same as in U.S. I spent nearly two years working on finding right smoke, right heat. And we filmed each step of the process, document and film it, so I would know what works and so we can share it all with others, too.
And did it all work out?
Yes, yes very well. We opened the restaurant and it was a success. We ran it for three years and some, and then we did decide to close it, not because it was not working. Really I had decided I want to teach other people the same things I knew, I had learned. I wrote a book about how I cook, which is so much of it with fire. I wrote my book, All Fire, which is going to have English language version soon, and I traveled all around, in Europe, England, in U.S.
What is unique or specific to the way you approach cooking meats?
I really do use fire almost for everything. Wood fired kitchen. The grill, the stove, the oven, all of it. The heat and the smoke is so important. And patience! Slow, slow cooking. I want meat tasting so — see I don't care so much as other chefs about the outside of the meat, how it looks. You never see me cooking with flame touching meat, I need to take it slow, make sure is evenly cooked. If I grill a two-finger steak? I put it 20 centimeters, maybe more above the grill, the coals. A thick steak, maybe 40, even 50 centimeters above. Hot coals and flame, but meat far above, cooking slow. That's my best way.
What are most amateur/home chefs doing wrong?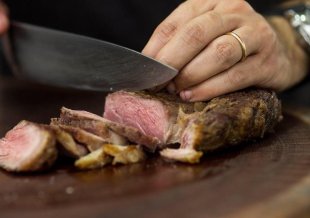 I dont think wrong is fair to say. There is no right or wrong, there are different ways to cook . My suggestion, if you wanna try something different, is to try slow cooking and grilling. People need to take time. Relax, be patient, let meats cook very slowly, that is so important. And also don't season too much. A bit of salt, a bit of black pepper, but good meats? Don't season them so much. I do love sauces, a good béarnaise sauce, yes, but make it, then put it on the side. Then you have it of you want for a bite, but not right on the steak, or on the meat. And thermometers. I love them! People, cooks in Brazil, they don't use much the thermometer, but I think it is such a good tool. It tells you just what you need to know. Want it medium? Quick check and you know. Rare? Quick check with thermometer. People don't know how long meat keeps cooking after it comes off the grill, off the heat, so with a thermometer you know, OK, it will still be 53, 55 Celsius for a few more minutes, time to take it off the fire.
What is your favorite food to prepare? And/or to eat?
Prepare… well, grilled meat, yes. A huge prime rib with peat smoke, a brisket, sure. For eating, I do love meat, but maybe from my Italian side, I would say tomato sauce and pasta. A slow, very slow cooked pasta sauce, you cook it for hours on a Sunday, maybe, and then eat it for dinner with pasta? My kids and I, we cook together, my family, like I used to. All day maybe we'll be cooking, and then dinner time, it's just like old fashioned traditions, no phones at the table, no tech, we just sit, we eat, we talk. Even lots of the pans, the tools in my kitchen at home are the same from when I was young, so this is a time that can connect lots of things.
How has the culinary world changed in your view?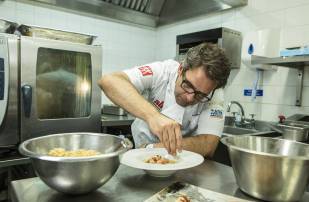 I'm a traditional guy in some ways, but I love the things like Instagram, the social things that connect us. There is so much to learn with cooking, and we really know nothing alone, each one person, but we can be learning all the time. The more we travel, the more we connect, we learn a new detail, a new trick, then you say "Man, look at that! Now I have something new!" And this is new, this way we can connect, can learn. We want simple things, slow cooking and great food we enjoy with people, and this is even what my book is about, about cooking with fire, yes, but really about getting even the basics right, about cooking a prawn, sure that's there, but really it's more about cooking a great burger, a great steak, just doing these basics right. Maybe people can learn from this, I learn from someone else, and we all share and we connect.