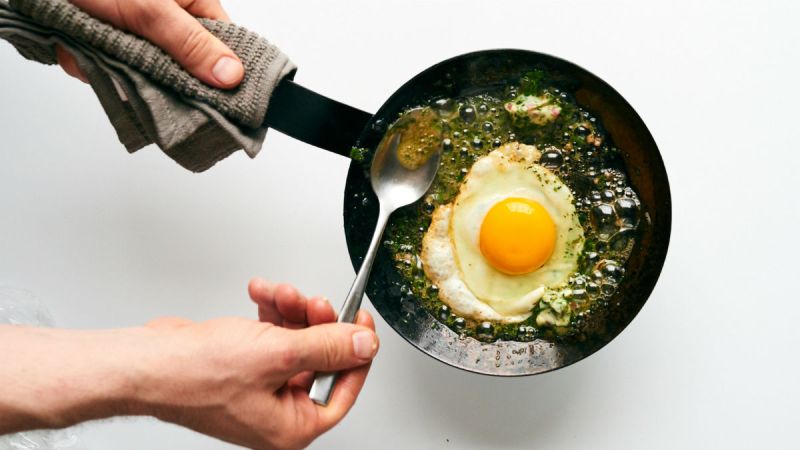 Valentine's Day is just that: a whole day (with a hell of a story behind it, to boot). Sure, you could mail it in with dinner (or a picnic), drinks, and a gift, but if this is the person you love, the one who you care about enough to wake up next to, why not spoil them all day long? The best way to do that — outside of a little morning delight, of course — is the time-honored tradition of breakfast in bed.
Really, who doesn't like breakfast in bed? The most important meal of the day is delivered right to you. Younliterally don't have to move and they get food (it's like the original Amazon Prime). Not only is the recipient going to eat a delicious meal, but the said is also going to look at the deliverer of said breakfast in bed (you, in this case) as an angel from on high — an avocado toast savior.
To figure out the best recipes to make for your boo this Valentine's Day, we sat down with chef Nick Korbee of New York City's Egg Shop. Below, you'll find his choices — ranging from the super-in avocado toast (with eggs, obviously) to the fancy a.f. sandwich if you really want to impress at 8 a.m.
Avo and Egg
"In 1795, Cpt. Jeremiah Wright Avotooaste created the avo-toast as a delightful tea snack for his ship's crew on their long voyage to the untamed continent known as Australia. Just kidding. This simple dish of smashed avocado, citrus, salt, and seeded toast is the basis of our Avo and Egg. Avo-toast is huge. And it's wildly popular because it's delicious and healthy. At Egg Shop, avocado roast is a double-lightning-bolt mountain of fresh smashed avocado, ripe heirloom tomato, and perfectly poached eggs nished delicately with fresh lemon juice, herbs, and sea salt."
Ingredients (makes on sandwich):
.5 cup avo smash (6 avocados, juice of 2 Meyer lemons, 1 teaspoon kosher salt)
2 slices multigrain bread, toasted
3 slices heirloom tomato
1 poached egg
1 Meyer lemon wedge
1 teaspoon Meyer lemon oil
Fresh herb salad of your choice
Pinch of Salt
Method:
Spread avo smash on both pieces of toast.
Cut one slice diagonally in half and top the other with tomato slices and the poached egg
To serve, slightly separate the halved avo toast and place the other half with the tomato and poached egg on top. Finish the toasts with the herb salt, lemon oil, and a squeeze of Meyer lemon juice. Top with a little fresh herb salad.
Everything to Me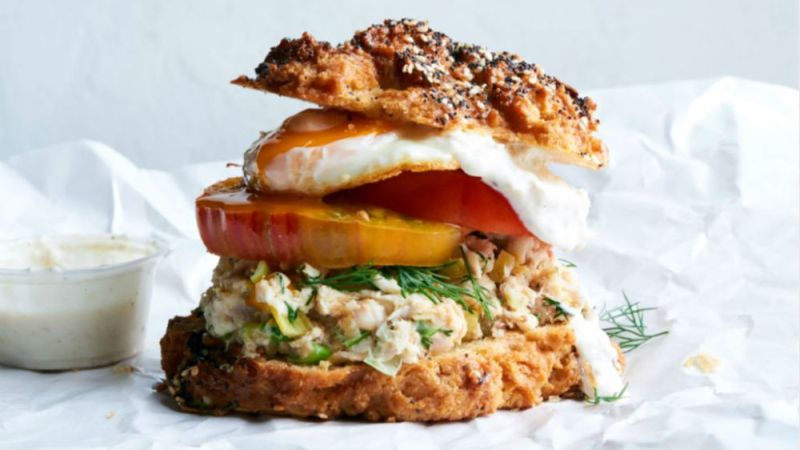 "This is a shout-out to all the bagels that said I'd never amount to nothin', that called the police on me when I was just try'na make some biscuits to feed my hunger. It's all good, baby, babay. This sandwich is breakfast opulence, perfection in biscuit form, decked with a Brooklyn super-schmear South Williamsburg–style and topped with a fried egg. And if you don't know, now you know."
Ingredients (makes one sandwich):
1 biscuit halved, and toasted (or substitute with bagel)
2 bibb lettuce leaves
2 fresh dill sprigs
1 sliced heirloom tomato
1 sunny-up egg
.25 cc smoked white fish schmear
Method:
Build ingredients on the biscuit or bagel and serve.
Green Eggs and Ham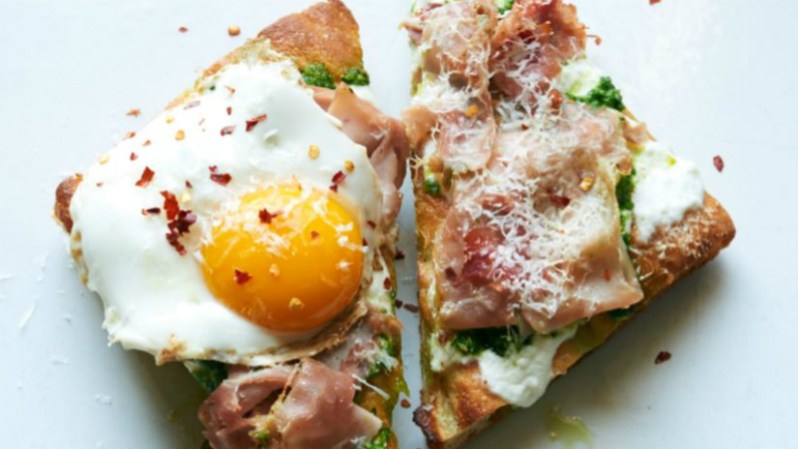 "This is an ode to our good friends and neighbors at Di Palo's Fine Foods. With a pizza bianca bread transporter smeared with our homemade ricotta, the Italian flavor profiles come together in an open-faced panino, for a table on the piazza or on Elizabeth Street. P.S. Do make this ricotta. It will be the creamiest and smoothest ricotta you've ever tried. It falls somewhere between ricotta and mascarpone, and melts in your mouth like high-fat butter."
Ingredients (makes one sandwich):
One 3×5-inch slice Pizza Bianca Focaccia (or focaccia of choice)
4 ounces prosciutto cotto (Italian boiled ham), thinly sliced
1 egg
3 tbsp double cream ricotta*
2 tbsp pesto
Plenty of shaved pecorino
Pinch of red chile flakes
*Double cream ricotta ingredidents:
4 c whole milk
2 c heavy cream
.5 tbsp sea salt
.5 tsp cider vinegar
Zest and juice of 1 Meyer lemon
Method:
To make the ricotta: In a large saucepan, combine the milk and cream and bring to 180 degrees Fahrenheit over medium heat, being very careful not to let it boil. Add the salt, lemon zest, lemon juice, and vinegar. Stir to combine. Remove from the heat and set aside to rest 10 minutes.
Set a colander over a large bowl and line the colander with cheesecloth. Using a measuring cup or a large ladle, give the pot another good stir. You will see that the curds and whey have separated. Gently ladle the curds into the colander. If you're going for ultimate richness, try not to break up the curds as you make this transfer.
Let the ricotta drain in the fridge for about 2 hours, then remove it from the cheesecloth and store it in an airtight container in the fridge, where it will last for 7 days. (If you like, drain some of the whey from the bowl and reserve it for another use, such as a great probiotic lemonade.)
To assemble a sandwich: Preheat the oven to 425 degrees Fahrenheit or turn the broiler to low.
Set the pizza bianca on a baking sheet or in an ovenproof dish. Dot it with dollops of ricotta, drizzle with 1 tablespoon of the pesto, and top with pecorino and prosciutto cotto.
Either crack the egg directly on the top and bake until the egg is set (about 10 minutes) or prepare a sunny-up egg and bake the pizza bianca separately until slightly crisp on the edges, then lay the egg on top.
To finish, top the egg with remaining 1 tbsp pesto, plenty of pecorino, and a pinch of chile flakes. Cut it in half if you intend to share, but don't feel bad if you scarf this down solo.
Need more egg-citing recipes? Check out the official Egg Shop Cookbook. And if you require background music for breakfast, you might take a gander at our playlist of romantic music that isn't too cheesy.
Images courtesy of Image courtesy of Egg Shop.
Editors' Recommendations