Any time we get a chance to cook potatoes and cheese together, we are happy staff members here at The Manual. A starch mixed with melty, gooey cheese is just about the best thing ever (other than a lifetime's worth of mail-order bacon, of course). That is why one of our favorite side dishes is potato gratin. Not only does it have the melty cheese, but the traditional technique for cooking gratin — a dish that has a browned crust of breadcrumbs or cheese — gives us a nice crisp, allowing for a mixture of textures and sensations that are sure to please just about anyone.
Most of the gratins we've had, though, came from a box. You know what we're talking about: cheese powder, dehydrated potatoes, a final product that doesn't have any of the character that it should.
We decided that we wanted to change that, so we went on the hunt for the best potato gratin recipe that uses real potatoes and cheese. This version comes to us from the fine folks at Happens at the Bean. We loved it and we're pretty sure you are going to as well, though we did have one amendment to make: add bacon. You'd do this around step seven or eight, when you are layering the potatoes. Cook up some of your favorite bacon, crumble it up, and sprinkle it on before you add the liquid. You can thank us later.
Note: A gratin dish is typically shallower than other baking dishes. If you don't have one, you can pick one up here.
Potato Gratin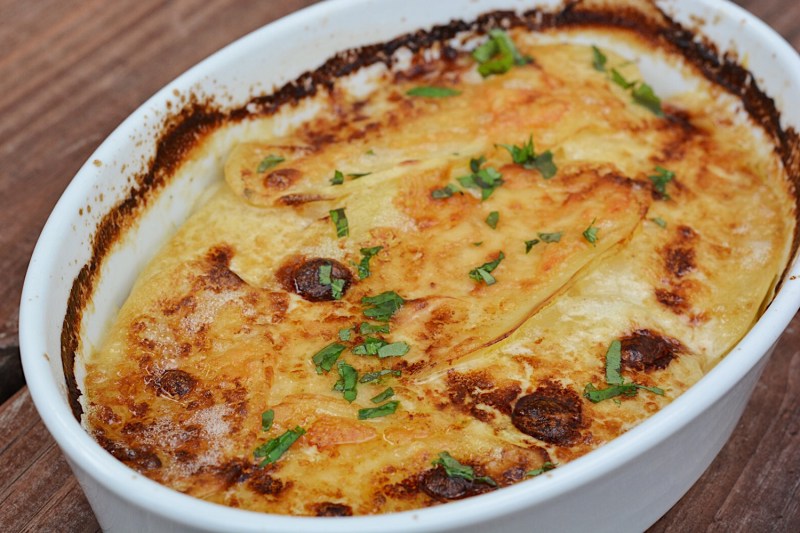 Ingredients:
1.5 c heavy cream
1.5 c Chicken stock
5 cloves garlic, smashed with side of a knife
1-2 Sprigs Rosemary
2 tsp Kosher salt
2 tsp fresh ground black pepper
6 Idaho russet potatoes
2 tbsp unsalted butter
.75-1 c Grated Gruyere
.5 tsp Grated nutmeg
Method:
Preheat oven to 400 degrees Fahrenheit.
Rub one clove of garlic split in half all over a 10-by-14-inch gratin dish. Let rest for 10 minutes. Butter gratin dish and place aside.
Combine stock, heavy cream, garlic, rosemary, nutmeg, salt and pepper in a medium saucepan.
Bring to a medium simmer, lower heat and continue to simmer for 30-45 minutes. Cook until thick and slightly reduced.
Strain out garlic cloves and rosemary.
Peel potatoes and cut into 1/8-inch slices.
Arrange first layer of potatoes in the butttered pan, overlapping the potatoes a bit.
Sprinkle the potatoes with .5 cup of the liquid and 2 tablespoons of the grated cheese.
Repeat with remaining potatoes and cream, about 4 layers.
Add the remaining cheese after the final layer of potatoes.
Cover with aluminum foil and bake for 45 minutes. Remove foil and bake another 30 minutes, until top turns golden brown.
Remove from oven, let rest for 10 minutes before serving.
Editors' Recommendations