There is a phrase shared among chefs, "mise en place." It essentially means to have your tools and ingredients prepared and organized before preparing a meal. For many of us, that is a difficult endeavor, as our drawers are filled with mismatched spoons and unlabeled cups.
Organization aside, the quality of your kitchen tools is just as vital as the quality of your ingredients. Arguably some of the most commonly needed kitchenware items are your measuring cups and spoons.
Related Guides
Every recipe is broken down by measurements, so precision is important to your culinary success. Selecting the right measuring accessories deserves a review of all factors. You'd be pleased to find out how many ways there are to personalize your kitchen equipment.
With that in mind, here are some of the best options for measuring cups.
Time-Tested Bestseller: Pyrex Glass Measuring Cup Set
A longstanding favorite of both beginners and seasoned chefs, Pyrex has become a household name in kitchen brands. Equally suited for liquid or solid measurements, these pitcher-style cups include a long handle and convenient spout. You could use this set for vegetables, grain, oil, and everything in between. The glass is safe in the dishwasher and lists a series of measurements on the side. Both the metric and standard measurements are displayed.
A Great Basic Starter Set: New Star Foodservice Stainless Steel Measuring Spoon and Cup Combo
For a low-cost option that covers all the bases, this long-lasting set is the best option. For chefs, stainless steel always comes highly recommended, as the measurements are etched into each cup. Gone are the days you are forced to guess at measurements due to labels long worn away. The metal also gives your hand a more balanced feel when putting your meal together. The metal edges can provide a nice, straight edge to smooth out measurements as well.
Sturdiest Overall: U-Taste Measuring Cup and Spoon Set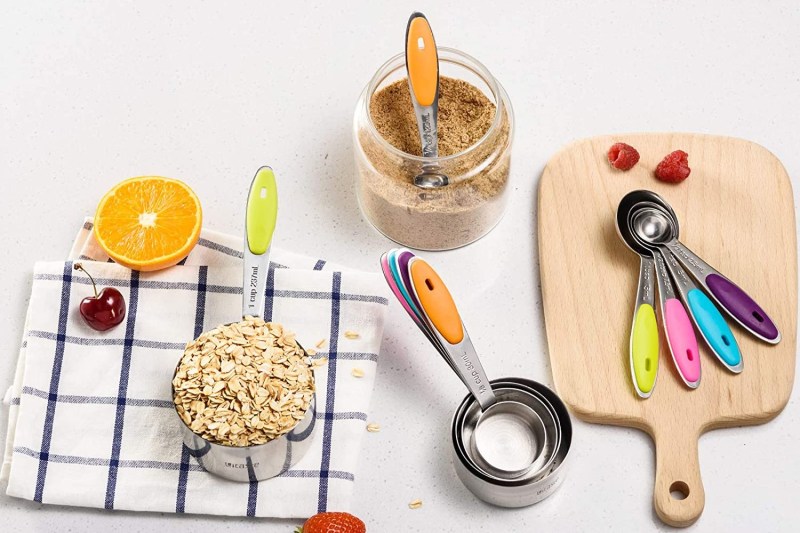 Not only is this set quite colorful and fun, it is also made to last a lifetime. Each utensil features a colored, rubber pad on the handle for comfort and grip. Measurement sizes are etched into the metal, which is more resistant to bending due to the thick, strong design. This results in fewer spills and more consistent results — particularly in baking.
Dishwasher Winner: OXO Baker's Dozen 13-Piece Measuring Cup and Spoon Set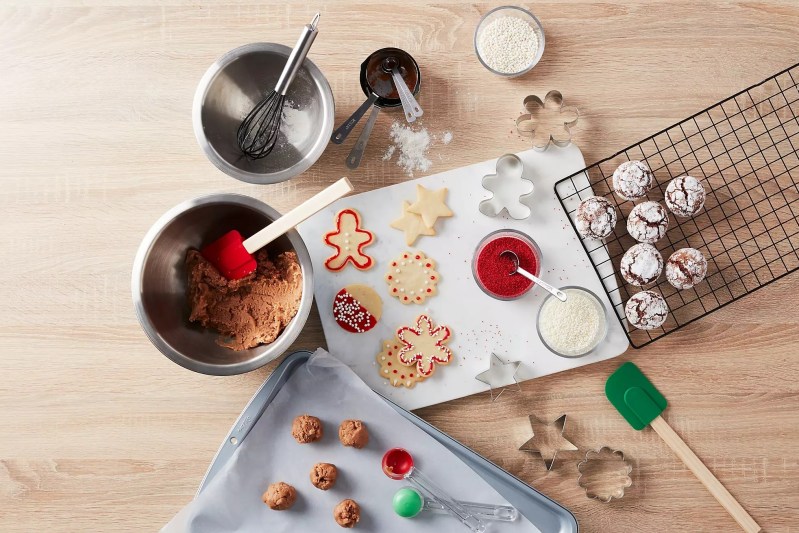 A sizable set, you can measure wet and dry ingredients in countless different ways. This metal combination pair is very easy to clean; just pop them all in the dishwasher. The stainless steel rinses easily, and the strong metal edges help you spoon up spices and seasonings with precision. I'm sure you'd agree, the less hassle during your cleanup, the better.
Magnetic Function Favorite: OXO Good Grips Stainless Steel Measuring Cups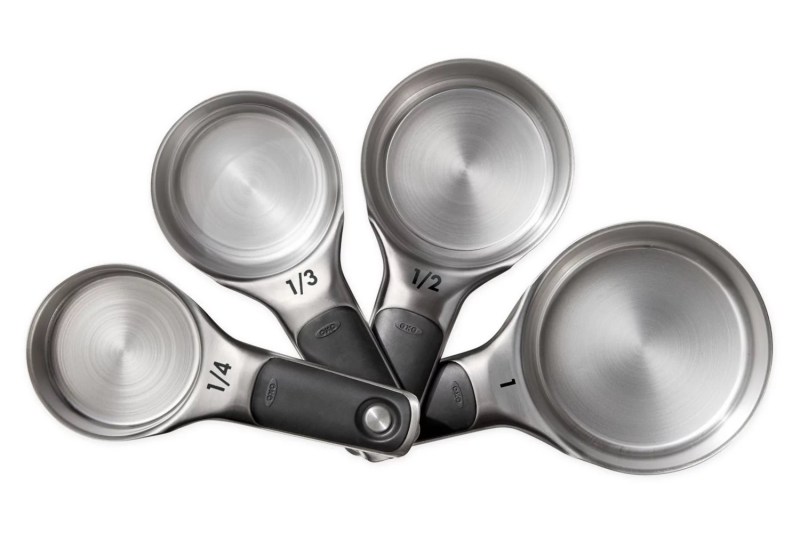 Metal measuring tools are favored, usually because of their durability. But that isn't where the perks end in the case of OXO. There is a magnetic feature inserted within each handle that allows you to more easily keep the set together. Storage woes will be a thing of the past! Comfort and class make a winning pair, as shown in the non-slip handle design.
Best Size Variety: Progressive International Ultimate 19-Piece Measuring Cup and Spoon Set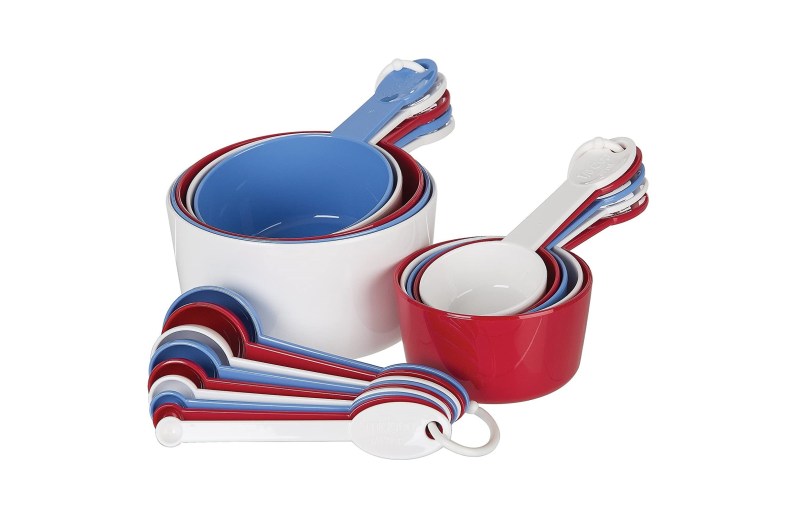 Do you have an endless list of recipes? That's fine because there is an endless list of possibilities with this elaborate baking set of 19. The colorful design is a lot of fun, it is true. With 10 cups and 9 spoons listing both standard and metric amounts, no cookbook will be able to hoodwink you. If you regularly convert recipes or just enjoy knowing you aren't limited by your resources, this is the set you need.
Most Sturdy and Stylish: KitchenAid Measuring Cup and Spoon Set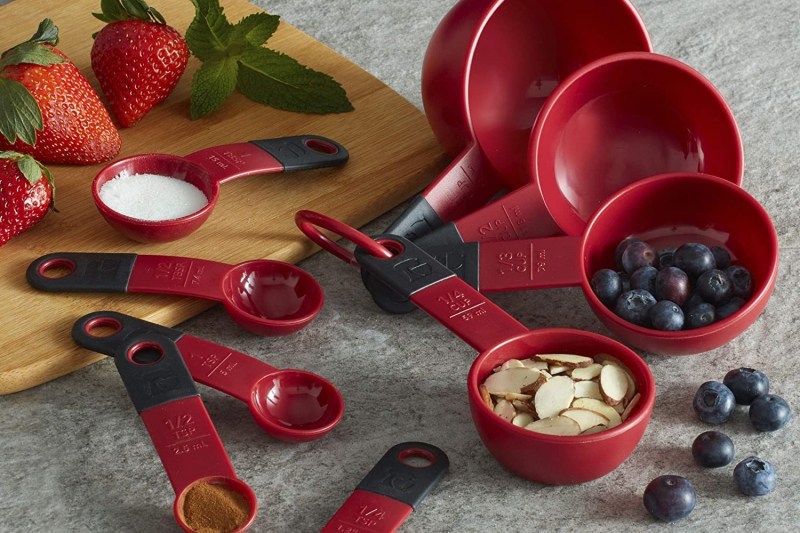 Good luck losing these bright and basic measuring cups in your kitchen's junk drawer. A reliable, basic plastic set boasting easy dishwasher maintenance is an easy win. A soft-grip insert is placed underneath eachalt handle to give you a comfortable hold. The cups and spoons fit within each other to keep your storage looking sleek.
Multi-Functional and Advanced Set: KitchenArt Baker's Pro Adjust-A-Measure Set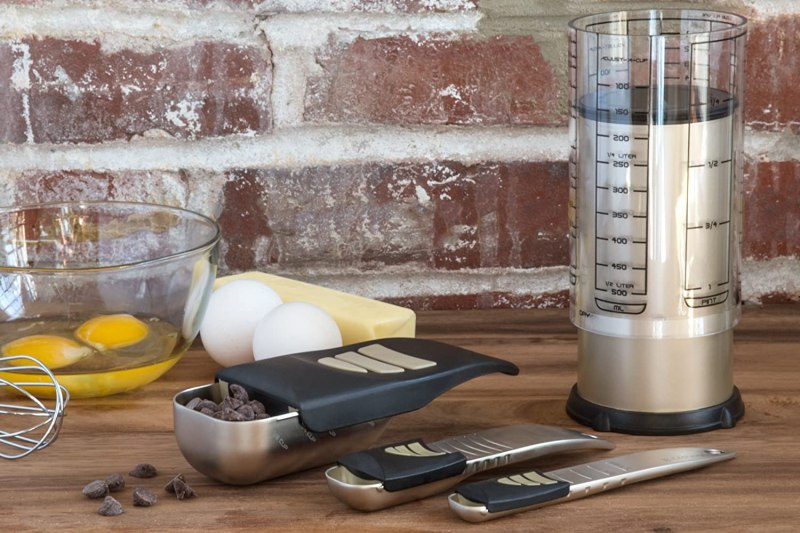 Your kitchen will have gotten a serious upgrade with this completely unique set. A collapsible cup with a plunger means that goopy honey and sticky sauces will be cleanly removed every time. Crafted with a more luxe zinc alloy, each piece can be adjusted to your exact specifications. Angled edges will give you perfect measurements every time. If you mean to cook like a professional, you deserve professional-grade tools.
Decorative and Functional: Sophie Conran for Portmeirion Measuring Cups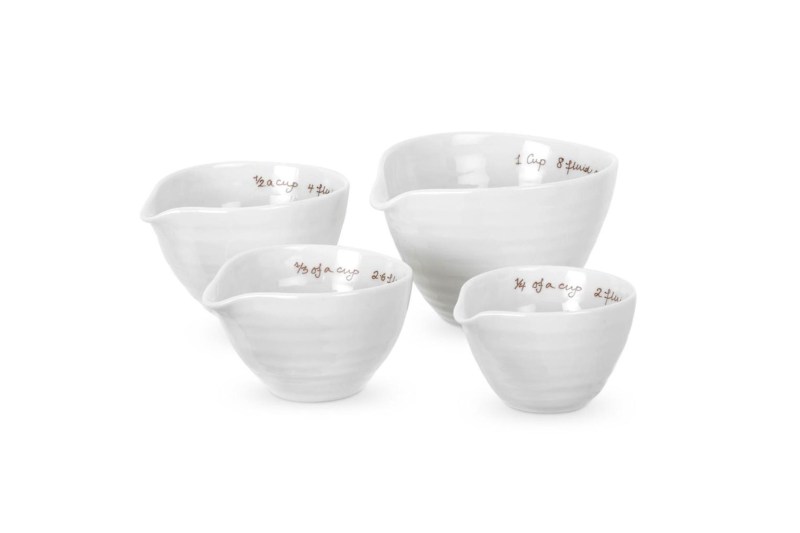 Function is important, and comfort is paramount, but aesthetics give something extra to your cooking experience. A ceramic option can give style and accuracy to your meal prep. These white bowl-like measuring cups include convenient pouring spouts and an elegant ridged design. Despite their delicate look, each is dishwasher, microwave, and oven safe. Also easy to stack and store in your cupboard.
Best Value: Joseph Joseph Nest Measure 8-Piece Measuring Cup and Spoon Set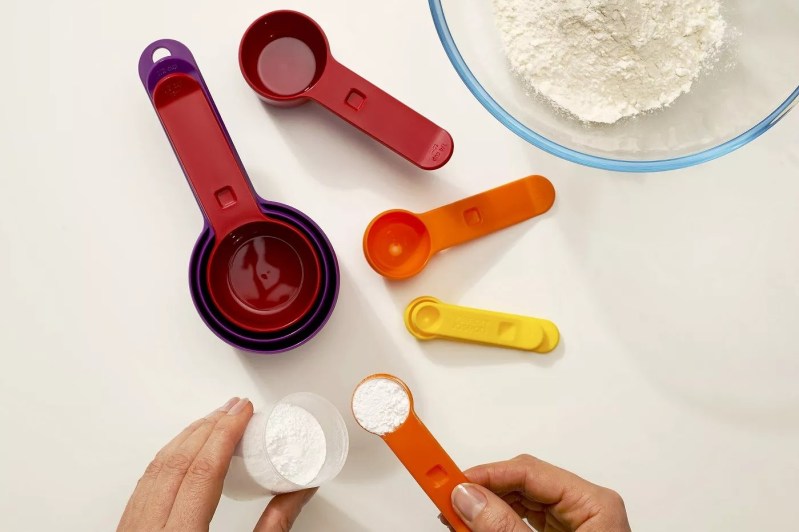 Cooking is a snap with these snappable measuring spoons and cups. You'll never have a piece go missing with this easy, stackable storage. This 8-piece combination is brightly colored and has a smooth plastic surface. It includes all the basic measurement sizes needed in all your recipe books. You may not need a lot of bells and whistles — just something to get the job done. This is just the thing.
How To Find the Right Measuring Cup
Are you working with wet ingredients, dry, or both? Do you prefer plastic, steel, or silicone? Are there additional features you'd enjoy from a practical angle, such as leveling capabilities or combination sets? Is it important to you that your tools are dishwasher-safe?
When shopping for measuring cups, be mindful that there are ones designed for dry ingredients and ones for wet ingredients. The ones that come in sets are made for dry ingredients. The ones that follow the style of the Pyrex measuring cups are for wet ingredients. You can see in that image they've measured out some walnuts. This just goes to show how often people get this wrong, and in turn, their end cooking result doesn't turn out the way it was intended.
Editors' Recommendations