Learning to meal prep means mastering the art of planning. Frankly, there are a lot of annoying steps to go through before you devour that delicious meal you're envisioning. Ask any chef — they'll probably tell you the same thing. Before you start looking for recipes and shopping for ingredients to kickstart your meal planning journey, you need the best kitchen essentials.
Aside from utensils and cutlery, a digital foodscale comes in handy when cooking and portioning recipes. Finally, after you've made your food, you need something to store it in. There are a lot of meal prep and food storage containers available in the market. Some are better for finished products, while others are better for ingredients. From multi-compartment containers to food jars, we've broken down the best meal prep containers to help you eat healthier or make food last longer. Not only are they microwave, dishwasher, and freezer safe, they're also BPA-free and recyclable.
Best Overall: Rubbermaid Easy Find Vented Lids Food Storage Containers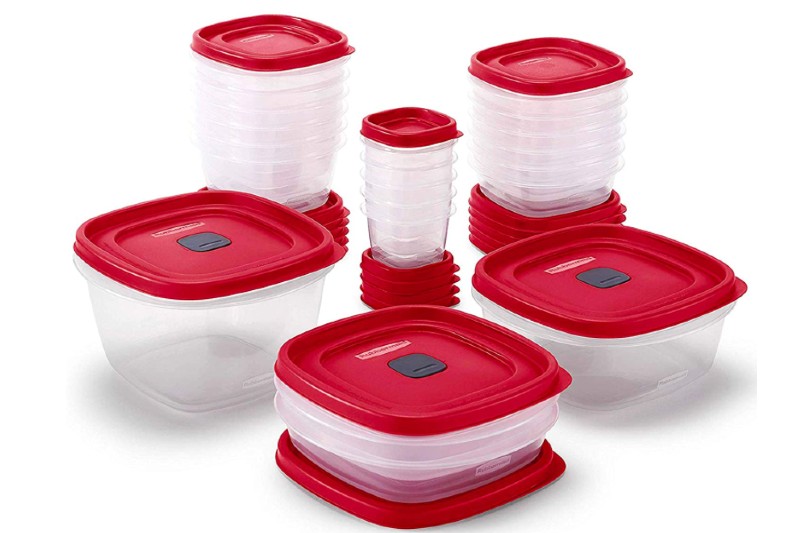 This Rubbermaid meal prep container set is the all-around best we could find.  The main selling point for us was the value. You get 21 pieces (42 including the lids), and the varying sizes are excellent for storing both cooked food and raw ingredients. The tight-seal covers with venting tabs make for mess-free reheats in the microwave and let steam escape from hot food while it's being cooled, which promotes less bacteria growth. There's a reason why these are the No. 1 bestseller on Amazon. Most everyone knows and trusts the Rubbermaid name. Plus, everyone knows that Rubbermaid containers last forever. Just go check your parents' cabinets. Chances are they have a few still lingering from the 1970s.
Best Glass: Bayco Glass Food Storage Containers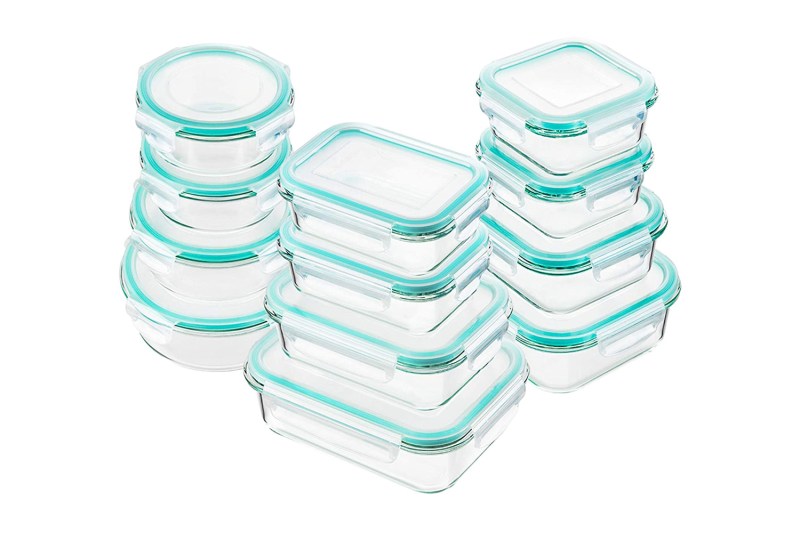 If you're not a fan of plastic, this container set from Bayco is an excellent option. This 12-piece set (24 with lids) has snap-down, leak-proof lids. The tops also come with a removable rubber gasket that makes for easy cleanup. Note that the lids aren't microwavable or dishwasher safe, but that is the case for most covers of this style. The containers themselves, however, are solid and safe for both. Another nice thing about this set is the containers' varying shapes, giving you more options on how you organize them and what type of food you want to put in them.
Best Bento Box: Cuisinart 3-Compartment Meal Prep Containers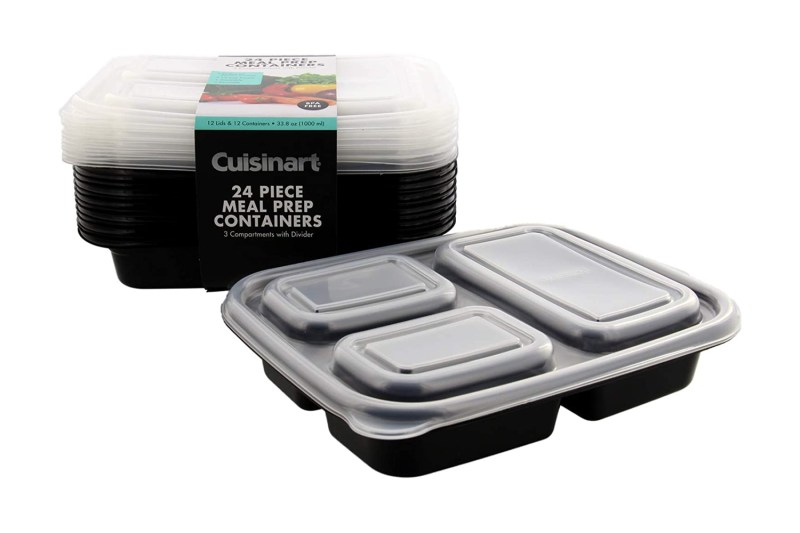 Some grown men still think it's icky to have their food touching. If this rings true with you, these Cuisinart bento boxes are for you. Made out of sturdy plastic, you'll get a lot of use out of these with the right care. Though they are dishwasher safe, we'd recommend hand-washing them to preserve their integrity. They hold 33.8 ounces and come in three fun color options. These containers are easily stackable and storable, making them great for a grab-and-go pre-made meal container for your office lunch.
Best Plastic Bowl: Freshware Meal Prep Bowl Containers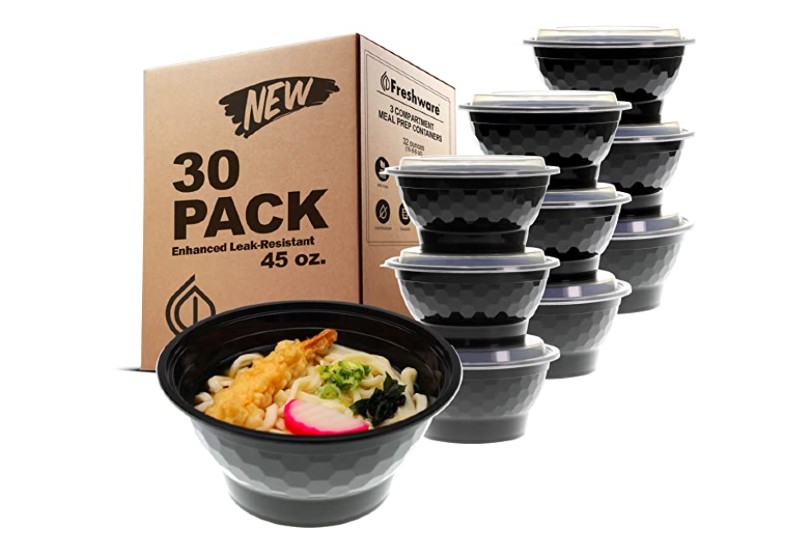 These bowls from Freshware are excellent for rice and noodle bowls, salads, and soups. They hold more than enough (45 ounces), and with the proper care, this pack of 30 bowls can last a very long time. Freshware also offers a satisfaction guarantee with this product. If you aren't satisfied, you can return them for a full refund.
Best Stainless Steel: Tavva Stainless Steel Food Storage Containers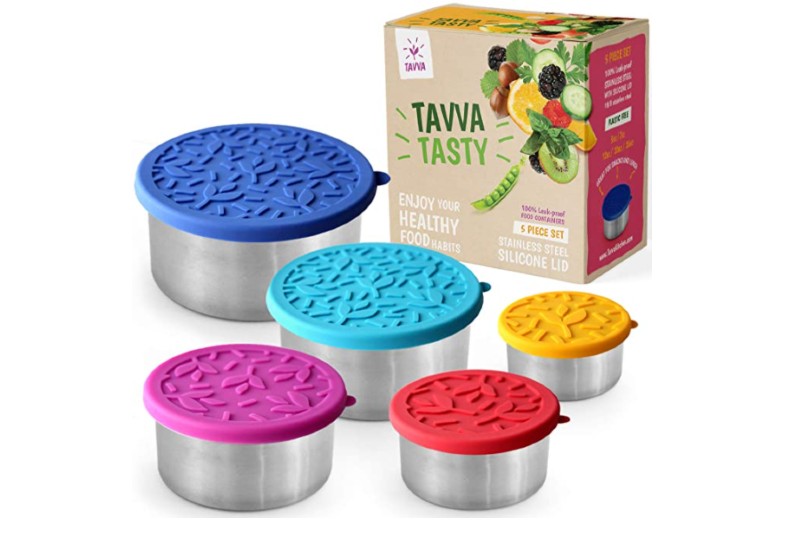 If you're worried about breaking glass and don't own a microwave, these stainless steel containers from Tavva are a great choice. You can reheat pre-cooked meals in your oven, and they are dishwasher safe, including with the silicone lids. The metal containers slightly resemble springform pans and are perfect for keeping cold food cold in lunchboxes. Also, the leakproof lids can withstand any amount of jostling.
Best Compostable: Harvest Pack Disposable Single Compartment Clamshell Eco-Containers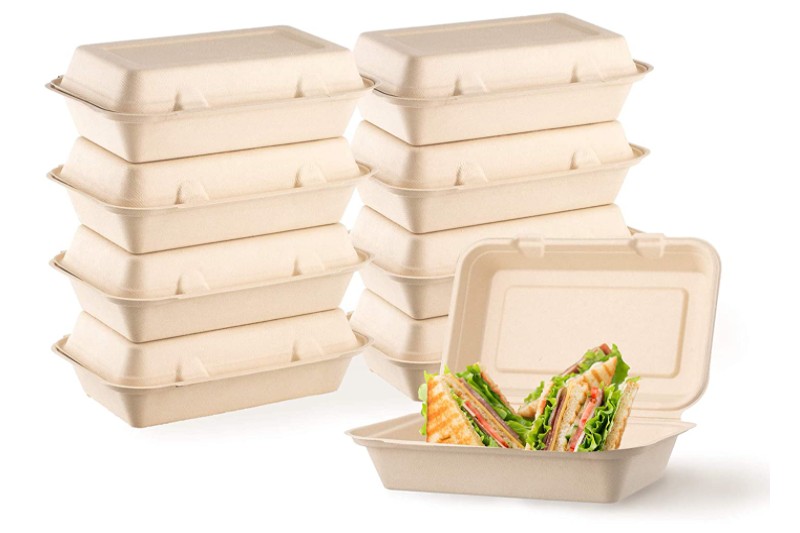 These clamshell containers from Harvest Pack are great if you're not trying to tote around food containers throughout your day. They're affordable and compostable, so you don't have to look around for a recycling bin or feel guilty about pitching them. Due to their biodegradable design, these containers are ideal for dry foods like sandwiches or salads. Any saucy food that sits in these for more than a couple of hours will start to seep through. These containers are 9 inches by 6 inches, but other sizes are available from Harvest Pack.
Best For Organization: C-Crest 10-Pack, Multi-Color Glass Food Storage Containers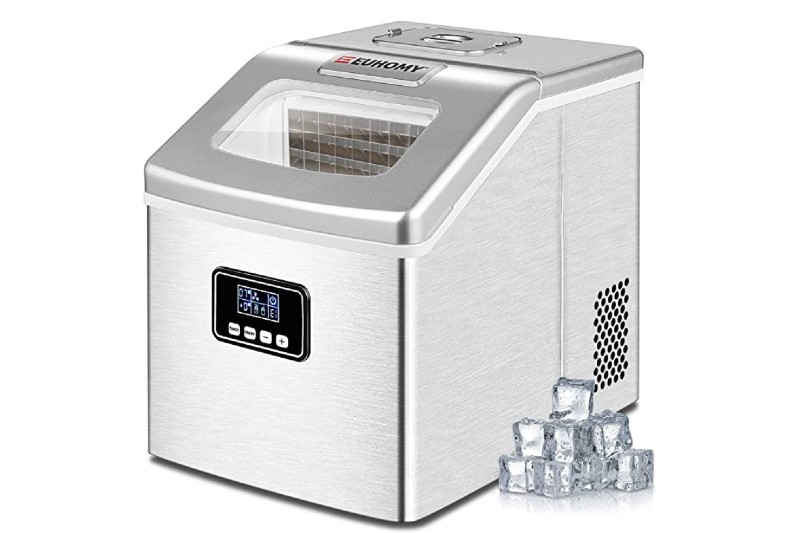 This food container set is perfect for all you Type-A personalities out there. The five different colors are perfect for planning your meals by the day or by corresponding ingredients. The containers stack nicely and can be easily tucked away in your fridge.
Best for Broths, Soups, and Stews: Thermos Stainless King Food Jar
A great way to tackle meal prep is to make a soup, stew, or chili that will last you through the week. And once you've cooked up for your favorite liquid meal (perhaps a bone broth diet?), store it in the airtight 24-ounce thermal container from Thermos. Its stainless steel body holds two or more cups of food and perfectly regulates temperatures for 14 to 24 hours. It's also a great option if you want something warm with your cold lunch but you don't have a microwave available.
Best for Portion Control: Bentgo Prep 2-Compartment Meal-Prep Containers
These Bento food containers are especially great for portion control. These have an overall 3-cup capacity, great for a couple of homemade tacos and veggie snacks like the image shows. They also come in various colors that can help you plan out your week by assigning a different color to each day.
Best Meal Prep Lunchbox: Prep Naturals Meal Prep Bag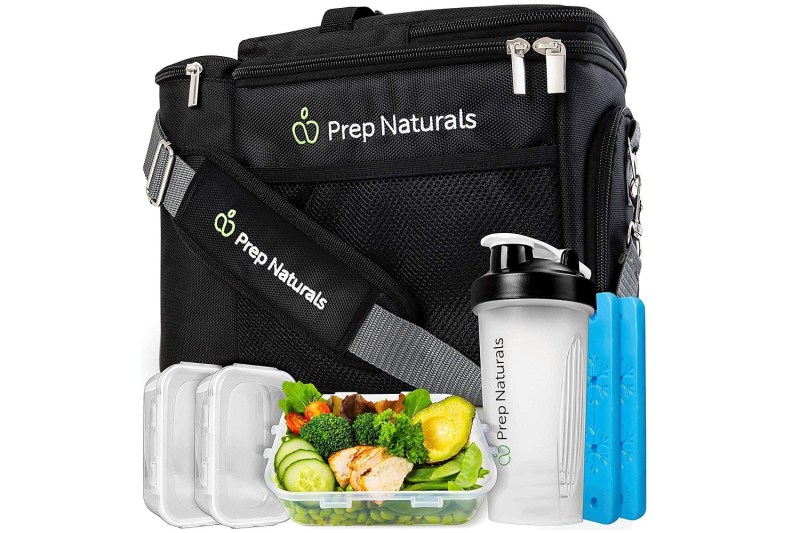 If you're buying meal prep containers, you might as well go for a lunch box set to make the most out of your purchase. Prep Naturals offers a meal prep bag that's packed with inclusions. Besides the spacious lunch bag, you will also get three large plastic containers, a water bottle, and two ice packs. These meal prep containers are freezer, microwave, and dishwasher safe. They also have smart locking lids to avoid leaks and spills. Stay hydrated and well-fed when you store your food and drinks in this lunch box set.
Best Large-Capacity Food Storage Container Set: Vtopmar Plastic Kitchen Storage Containers
Before getting organized with your meal prep, it's a good idea to also get organized in the kitchen. These large-capacity food storage containers are ideal for organizing your dry goods (flour, sugar, pasta, etc.). However, if you want to store a week's worth of chili or marinate a few steaks, these will do the job as well. This eight-piece set comes with 2.5-liter, 4.3-liter, and 5.2-liter containers, all with airtight seals, plus 24 labels.
Best BPA-Free Food Container: Rubbermaid 28-Set Food Storage Container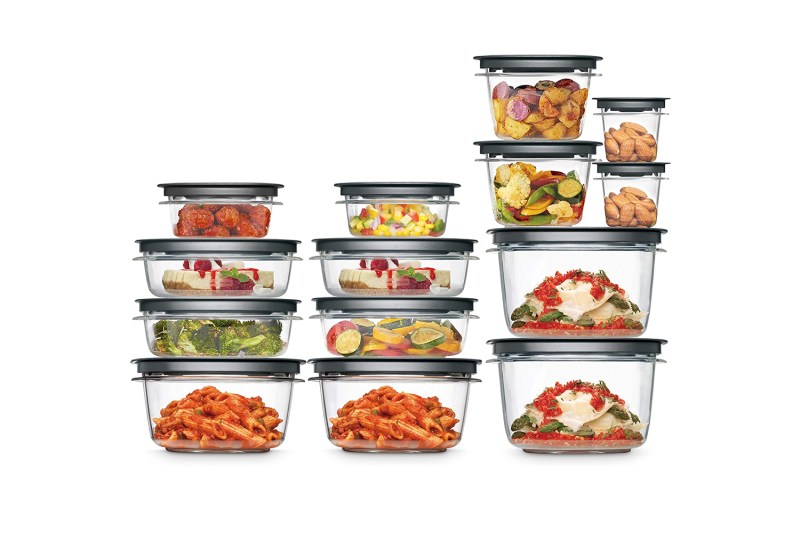 Let Rubbermaid's meal prep container set kick off your weight loss or healthy eating challenge. This BPA-free 28-set food container keeps ingredients and nutrient-packed meals fresh and organized while helping you power through any of said challenges one day at a time. The containers are shatter-proof and odor-resistant, so you can use them for months without losing track of your long-term wellness goals. You may also want to check out Rubbermaid's 6-piece, 10-piece, 12-piece, or, 20-piece meal prep containers if the 28-set is too much.
What Is the Best Size Container for Meal Prep?
The ideal size for your meal prep containers all depends on the application. If you're prepping raw ingredients for a future meal to cut down on cook time, you'll likely want a variety of small (half- to 1-cup) to large (6- to 8-cup) containers. On the other hand, if you're trying to control your portions of precooked ingredients meal to meal, you probably won't have a need for meal prep containers with a capacity of more than 2 or 3 cups.
What Are the Best Glass Meal Prep Containers?
For the best glass meal prep containers, you'll want to consider two main things. First, you'll want a glass container with thick, durable glass that can withstand small tumbles. Second, you'll want the glass container to have airtight lids. Silicon and snap-down lids work best. Pyrex, Bayco, and Rubbermaid are all known for their highly durable glass meal prep containers.
Are Glass Meal Prep Containers Better Than Plastic?
Glass meal prep containers do have their advantages over plastic ones. One of the biggest pros of glass containers is that the glass doesn't absorb scents or flavors from the food like plastic can. If you've ever stored something super garlicky in a plastic container, you know what we're talking about. Also, glass can stand up to high temperatures and can be reheated in both the oven and the microwave. Plastic definitely cannot go in the oven, yet most are microwave safe — just be sure to check the product specs. However, you always run the risk of chipping or breaking glass containers no matter how durable they are. This isn't an issue with plastic. Also, plastic containers will always be easier on the wallet.
Editors' Recommendations