There's so much to enjoy in December: gathering with friends and family, holiday movies you only watch once a year, and delicious food coming out of the kitchen. Whether your tradition is to make a holiday ham or to enjoy an eggnog cocktail, the holidays aren't complete without eating one or two (if not many) cookies. Sure, you can buy pre-made cookie dough from the grocery, pop it in the oven, and the result is tasty (sometimes we even skip the oven step). But with cooler temps and shorter days, spending some time in the kitchen baking fresh, warm cookies from scratch is a true pleasure.
This list of homemade cookies ranges from simple sugar cookies to more complex, multi-layered Neapolitans (sure to earn you a Paul Hollywood handshake). Gift these cookies to friends, family, and neighbors, bring them to gatherings, or enjoy them yourself as you sit by the fire. 2022 is just around the corner, so be sure to enjoy a few of these cookies before those resolutions kick in.
Best Sugar Cookies for Decorating
If you've got kids, nieces, and nephews, or just like decorating cookies yourself, you'll need a solid sugar cookie recipe to start from. With 11,182 ratings (averaging 4 stars) this Sugar Cookie recipe from All Recipes is tried and true. You will need a mixer (either a stand mixer or hand mixer will work), a rolling pin, cookie cutters, and a cookie sheet. Once your cookies are baked, use the recipe below to whip up a simple icing that you can dye with food coloring before decorating. My favorite thing about this icing from Pinch and Swirl is it doesn't include any corn syrup.
Ingredients:
Cookies
1.5 cups butter, softened
2 cups white sugar
4 eggs
1 tsp vanilla extract
5 cups all-purpose flour
2 tsp baking powder
1 tsp salt
Icing
.5 cup butter
2 cups confectioners sugar, sifted
2 tbsp water
1 tsp vanilla extract

Method:
In a large bowl, cream together butter and sugar until smooth. Beat in eggs and vanilla. Stir in the flour, baking powder, and salt. Cover, and chill dough for at least one hour (or overnight).
Preheat oven to 400 degrees F (200 degrees C). Roll out dough on floured surface 1/4 to 1/2 inch thick. Cut into shapes with any cookie cutter. Place cookies 1 inch apart on ungreased cookie sheets.
Bake 6 to 8 minutes in preheated oven. Cool completely.
For the icing, place butter in a small saucepan over medium heat. When butter has melted, whisk in remaining ingredients until very shiny and smooth (sugar has dissolved completely). Remove from heat and allow to cool slightly.
Best Holiday Gingerbread Cookies
Flavors of ginger, molasses, nutmeg, cloves; there's really nothing like it. A good gingerbread cookie warms you from the inside. A few things to note, many recipes call for softened butter. This is different from melted butter. Leave your butter out on the counter for a few hours or give it a few blasts in the microwave. You can experiment for yourself, but you will notice a different cookie texture with cold butter, softened butter, and melted butter. You'll also want to play around with the amount of spice in this recipe. If you don't like the taste of cloves, leave them out entirely. If you really like cinnamon, add a little more. This recipe from Delish can serve as a template in your search for your perfect gingerbread cookie.
Ingredients:
.75 c. (1 1/2 sticks) butter, softened
.75 c. packed brown sugar
2/3 c. molasses
1 large egg
1 tsp pure vanilla extract
3.25 c. all-purpose flour
1 tbsp ground ginger
1 tsp baking soda
1 tsp ground cinnamon
.5 tsp. ground cloves
.25 tsp ground nutmeg
.5 tsp kosher salt
2-inch piece fresh ginger, grated (optional)
Zest of 1 orange (optional)
.5 tsp finely ground black pepper (optional)
Sugar cookie icing, for decorating
Sprinkles, for decorating
Method:
In a large bowl, using a hand mixer, beat butter, brown sugar, and molasses until fluffy, about 2 minutes. Add egg and vanilla and beat until combined.
In a medium bowl, whisk flour, spices, baking soda, and salt until combined. With the mixer on low, gradually add dry ingredients to wet ingredients, as well as fresh ginger, orange zest, and black pepper (if using), until dough just comes together. (Do not overmix!)
Divide dough in half and create two discs. Wrap each in plastic wrap and chill until firm, about 2 to 3 hours. (Alternatively, divide dough in half and roll each piece of dough between two pieces of parchment to 1/4-inch thick. Chill until firm.)
Preheat oven to 350 degrees F and line two large baking sheets with parchment paper. Place one disc of dough on a lightly floured surface and roll until 1/4-inch thick. (Alternatively, peel off both sheets of parchment from dough, then replace one sheet of parchment back underneath dough.) Cut out gingerbread men with a 3-inch wide cutter and transfer to baking sheets.
Bake until slightly puffed and set, 9 to 10 minutes, depending on the size of your cookie cutters. Let cool on baking sheets for 5 minutes before transferring to a cooling rack to cool completely.
Repeat with remaining disc of dough. Decorate with icing and sprinkles as desired.
Linzer Star Sandwich Cookies
Slightly more advanced than the previous cookies, the Linzer Star Sandwich Cookie recipe from Alex Guarnaschelli is sure to impress this year. Her recipe calls for raspberry jam, which you can make yourself or buy at the store. You'll need a mixer, rolling pin, and a star-shaped cookie cutter to achieve the image above.
Ingredients:
2.5 sticks lightly salted butter, plus more for greasing the baking sheet
.75 cup granulated sugar
2 1/3 cups all-purpose flour, plus more flour for rolling the cookies
.5 cup slivered almonds, ground
.5 teaspoon ground cinnamon
.25 teaspoon ground nutmeg
1 cup seedless raspberry jam
Powdered sugar, for dusting cookies, optional
Method:
For the cookie batter: In the bowl of an electric mixer, whip the butter until smooth. Add the granulated sugar and continue mixing until the mixture becomes light and fluffy, 5 to 8 minutes.
In another bowl, combine and mix the flour, almonds, cinnamon and nutmeg.
Mix and roll the cookies: Because this dough has a good amount of butter, it needs resting time and it needs to be rolled fairly quickly. Lay three large pieces of wax paper in a single layer on a flat surface. Sprinkle each one with a light coating of flour. Remove the bowl from the mixer and, using a rubber spatula, blend the flour mixture in with the butter. When the ingredients are fully integrated, place one third of the batter on each of the pieces of wax paper. Coat with another light layer of flour and top with another piece of wax paper of the same length to make three dough "sandwiches." Press these wax-paper-and-dough-sandwiches down with your hands until the dough is fairly thin. This will save a lot of time on rolling later on. Place two of them in the refrigerator and work with them one at a time. Roll the first batch into as neat a shape as possible. What matters most is avoiding creases or cracks and getting it to about 1/8 inch in thickness. When the first is rolled, refrigerate it and repeat the same process for the other two. Let them chill at least 10 minutes.
Preheat the oven to 350 degrees F.
Make the cookie bottoms: Remove the first rolled sheet from the refrigerator and cut as many 1 1/2-inch stars (or rounds) as you can. Reserve the scraps in the refrigerator. Arrange the stars neatly in a single layer on a greased baking sheet. Repeat with the other two sheets, reserving any scraps.
Make the cookie tops: Cut a star, with the smaller cutter, out of the center of half of all the cookies. Roll the scraps in between two of the pieces of wax paper and cut additional stars, if desired.
Bake and assemble the cookie sandwiches: Bake the cookies until they are lightly brown, 12 to 15 minutes. Remove the trays from the oven and allow them to cool slightly on the trays for a few minutes before gently transferring them to a flat surface.
Place the raspberry jam in a small pot and bring it to a light simmer. Remove from the heat to cool slightly. Spoon 1/4 to 1/2 teaspoon raspberry jam on each bottom and place a top star squarely on each.
Dust with powdered sugar, if desired.
Classic Peanut Butter Blossoms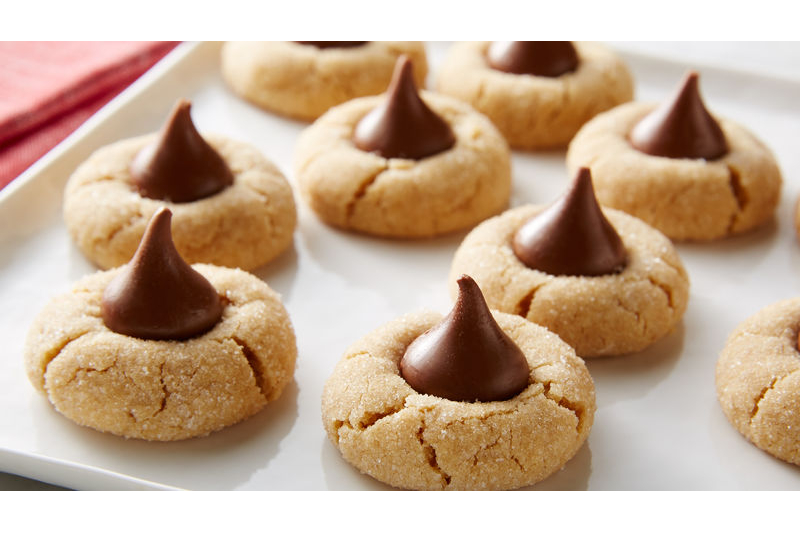 A favorite at holiday parties, and for good reason, this classic combo of chocolate and peanut butter is mouthwatering. The Peanut Butter Blossom recipe from Betty Crocker is easy to follow even for those new to baking. Enjoy!
Ingredients:
.5 cup granulated sugar
.5 cup packed brown sugar
.5 cup creamy peanut butter
.5 cup butter, softened
1 egg
1.5 cups Gold Medal all-purpose flour
.75 tsp baking soda
.5 tsp baking powder
Additional granulated sugar
Method:
Heat oven to 375 degrees F. In large bowl, beat 1/2 cup granulated sugar, the brown sugar, peanut butter, butter and egg with electric mixer on medium speed, or mix with spoon, until well blended. Stir in flour, baking soda and baking powder until dough forms.
Shape dough into 1-inch balls; roll in additional granulated sugar. On ungreased cookie sheets, place about 2 inches apart.
Bake 8 to 10 minutes or until edges are light golden brown. Immediately press 1 milk chocolate candy in center of each cookie. Remove from cookie sheets to cooling rack.
Eggnog Meltaway Cookies
If you truly love eggnog, and have already tried these delicious spiked eggnog recipes, consider baking with eggnog. The Eggnog Meltaway Cookie recipe from Food Network is great. You can whip up the dough easily in a food processor, they only take 25 minutes to bake, and we promise, they go quick.
Ingredients:
1 cup blanched almonds (skinless)
2 cups confectioners' sugar
2 sticks (1 cup) unsalted butter, at room temperature
1 tbsp bourbon
2 tsp rum extract
1 tsp pure vanilla extract
2.25 cups all-purpose flour
.5 tsp fine salt
1 tbsp freshly grated nutmeg, plus more for serving
Method:
Line 2 baking sheets with parchment.
Put the almonds and 1/2 cup of the confectioners' sugar in the bowl of a food processor and process until very finely ground, about 2 minutes. Add the butter and process until smooth, 30 seconds to 1 minute. Scrape the dough off the inside of the bowl if needed. Add the bourbon and rum and vanilla extracts and pulse until smooth. Add the flour and salt and pulse until the dough forms a ball.
Roll mounded teaspoons of the dough into balls about 1 inch wide and place on the prepared baking sheets about 1 inch apart. Refrigerate for 30 minutes.
Meanwhile, position oven racks in the top and bottom thirds of the oven and preheat to 350 degrees F.
Bake, rotating the baking sheets from top to bottom and front to back halfway through, until the cookies are firm when gently pressed, completely dry and just beginning to crack at the top, 20 to 25 minutes.
Cool the cookies on the sheets for 5 minutes; they will firm as they cool.
Meanwhile, put the nutmeg and remaining 1 1/2 cups confectioners' sugar in a pie plate or wide baking dish and mix well. Toss the warm cookies very gently in the sugar mixture until evenly coated; the cookies need to be warm for the first coating of sugar to stick. Cool the cookies on a wire rack completely, about 30 minutes, then toss again in the sugar mixture so they are very white. Sprinkle with additional grated nutmeg.
Store the cookies in a little bit of extra confectioners' sugar in an airtight container for up to a week.
Neapolitan Holiday Cookies
If you find the multi-tiered, colorful bakes on the Great British Baking show inspiring, this Neapolitan cookie recipe is for you. The batter for this recipe uses almond paste, sort of like a jaconde sponge. You'll whip up a big batch and then use food coloring to achieve the different colors. Raspberry jam and apricot preserve flavor this bake with a nice layer of chocolate on top.
Ingredients:
Cooking spray
8 ounces almond paste
1 cup (2 sticks) unsalted butter, softened
1 cup sugar
4 large eggs, separated
2 cups all-purpose flour
20 drops red food coloring
12 drops green food coloring
.25 cup seedless raspberry jam
.25 cup apricot preserves
6 ounces dark chocolate chips
Method:
Preheat the oven to 350 degrees F. Coat 3 quarter-sheet pans (or three 13-by-9-by-2-inch jelly roll pans) with cooking spray.
Line each pan with parchment paper and coat the paper with cooking spray as well.
Place the almond paste in the bowl of a stand mixer. Break it up into small pieces with a fork. Fit the mixer with the paddle attachment and add the butter and sugar to the bowl.
Beat the mixture on high speed until light and fluffy, about 7 minutes. Reduce the speed to medium, add the egg yolks, and beat until incorporated. Turn the mixer off and stir in the flour with a wooden spoon until well combined.
Transfer the mixture to a medium bowl.
Clean the mixer bowl thoroughly and fit the mixer with the whisk attachment. Beat the egg whites on high speed until stiff peaks form. Fold the egg whites into the batter until thoroughly blended.
Transfer 1 1/2 cups of the batter to a medium bowl, then transfer another 1 1/2 cups of the batter to a second medium bowl.
Add the red food coloring to one of the bowls and stir until the batter is tinted throughout. Add the green food coloring to the second bowl and stir until the batter is tinted throughout. Scrape each of the three batters into one of the prepared pans, using the spatula to spread the batter to the edges.
Bake, rotating and switching the positions of the pans halfway through, until the edges are golden, 12 to 14 minutes.
Let cool in the pans for about 5 minutes, then invert onto cooling racks and allow to cool completely.
To assemble, place the green layer on a large cutting board or a large inverted baking sheet lined with wax paper. Spread the raspberry jam evenly over the top. Place the yellow layer on top and spread with the apricot preserves. If there are large chunks of apricots, remove and chop them up to make them more spreadable. Top with the red layer.
Cover with plastic wrap and place a heavy cutting board on top to weight it down. Refrigerate overnight.
Place the chocolate chips in a microwaveable bowl and melt in the microwave on low power about 2 minutes. Spread the chocolate on top of the cooled cake and let dry slightly. Trim the rim of the cake with a serrated knife to make clean edges. Cut the cake crosswise into twelve 1-inch-wide strips, then cut lengthwise into 1 1/4-inch strips. The cookies will keep, covered, up to 1 week.
If this roundup of holiday cookies has your creative juices flowing, check out this New York Times cookie calendar with tons of recipes to keep you baking all winter long.
Editors' Recommendations