The magic wand that is your smartphone can do increasingly profound things. It can deposit everything from booze to ramen on your doorstep in under an hour. It can provide an intimate glimpse into the fridges and kitchens of your favorite celebrity chefs. And it can even direct the forager in you to the nearest fruit tree in the middle of the big city (by accessing sites like this).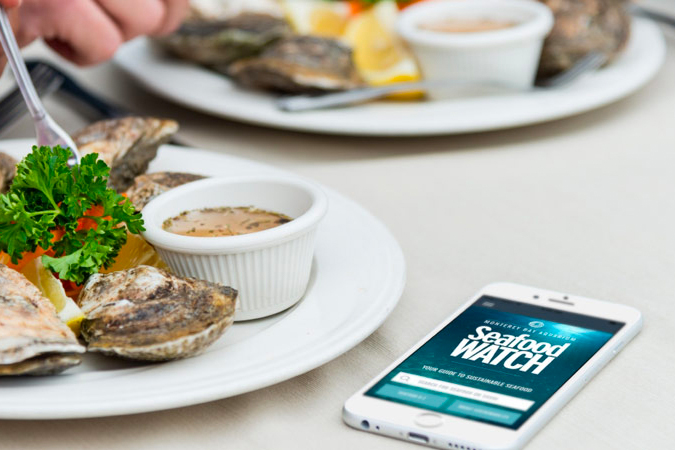 As food culture continues to evolve, we're fine-tuning our palates, investigating the origins of ingredients, and looking to share our finds — often by way of social media and apps. Here are five worthy of your device the next time you're in charge of dinner.
Open Table
Free; Available for iOS, Android, and Windows
Open Table seems like a gimme, but it's savvier than it gets credit for. In addition to having a colossal database of area restaurants, the app offers real-time reservation updates, the ability to search by cuisine and neighborhood, and enough imagery to satisfy even the biggest food porn addict.
Building a profile within the app makes you eligible for points and prizes and the integration with Facebook is quite clean. Open Table's claim to fame, of course, is its ability to secure your spot at your favorite restaurant without the dreaded phone call or wishful drop-in. In this regard, it's a true savior and frequent updates are only making it stronger.
The restaurant reviews are a mixed bag of helpful commentary and Yelp-like vitriol, as is often the case with loosely-filtered forums. The app has a sometimes annoying tendency of pestering users to review their experiences. Accounts can also be suspended if you commit four "no shows" over a 12-month stretch, but this is almost always a case of a busy restaurant host forgetting to confirm an arrival, not a misfiring app.
Jamie's Recipes
Free; Available for iOS
Popular food personality Jamie Oliver is the kind of guy you'd like to have a pint with. He possesses real cooking prowess without the customary ego and his British accent is always welcome. His app transports the chef and restauranteur into your kitchen, helping you knock out satisfying, seasonal, and mostly straightforward meals.
The app adds 15 new recipes a week to keep the creative culinary juices flowing, accompanied by sharp and useful imagery. The steps are simple and swipe-able, which is an added bonus when your hands are mostly tied prepping things. A handful of new tips and tricks are bundled with the recipes,on topics ranging from knife care to making the perfect batch of rice.
At $7, the expanded app is well worth the upgrade, affording access to 600 of Oliver's recipes.
Seafood Watch
Free; Available for iOS and Android
Vast as the ocean is, it's not infinite. The way we harvest food from the high seas contributes greatly to just how long we'll be able to enjoy said catch. This app, created by the Monterey Bay Aquarium, helps users shop for seafood more sustainably. Better still, it makes a supermarket stop for halibut more like a guided trophy hunt for the choicest sea critter.
An expansive glossary allows users to search by species, from abalone to wreckfish. Handy illustrations accompany your selection (in case you're wondering what a Turbot looks like) and the app makes educated recommendations on what to buy based on where the seafood is from and whether it was farmed or wild. Options are split into three categories: green for "best choice," yellow for "good alternative," and red for "avoid."
The app's strong suit — its abundance of info — may also be its downfall. Seafood Watch could stand to have a more simplified platform, with more emphasis on seafood brands or vendors. The GPS-synced function for finding nearby purveyors is a start, but it has some noticeable gaps.
ChefsFeed
Free; Available for iOS and Android
For a broader, all-encompassing kind of food app, ChefsFeed is a solid choice. The app offers recipes, guides, trends, excerpts, features, and more, putting a big finger on food culture's rapidly-beating heart. The content is well-curated and rarely bogus, culled from scores of food and drink pros all over the country.
The sheer scope of the app means there's something for everybody. Some of the more intriguing content dabbles in the social aspects of what we eat and there's a genuine sense of exploration and seeing things like grocery shopping and culinary traditions in inventive new ways.
Major cons include excessive sponsored content, sometimes limited local eatery recommendations, and a few technical bugs that make navigating a little bumpy at times.
Yummly
Free; Available for iOS and Android
Yummly is an expansive cookbook condensed into an app. The app boasts a certain preemptive quality, allowing you to prep properly with shopping lists that integrate across platforms and reminders to keep your head in the game.
The app's plusses are many, including expansive nutritional info tied to each recipe, allergy awareness, the ability to tailor meals around whatever you happen to have in the kitchen, and fairly sensitive filters that work around your specific tastes and ingredient preferences. Grill-heads will appreciate the sizable list of barbecue options and those attached to certain diets are equally accommodated. 
Editors' Recommendations