Spring 2022 cannot come fast enough. One pandemic winter is enough to wear most people down, let alone two in a row. Hence, it's time for a good drink. Some beverages are timeless, like a classic cocktail or a glass of Chianti.
Others seem to improve certain times of the year, like a resort drink during the bad-weather months to get you someplace warm, even if only in thought. Right now, we're looking ahead to budding plants, longer days, and more sunshine. That context calls for a special kind of liquid. There's a lot to love about spring cocktails, from their vibrant colors to their synergy of flavors. Here are some of the best floral cocktails, inspired by the most refreshing and colorful time of the year.
Lavender Lasso Recipe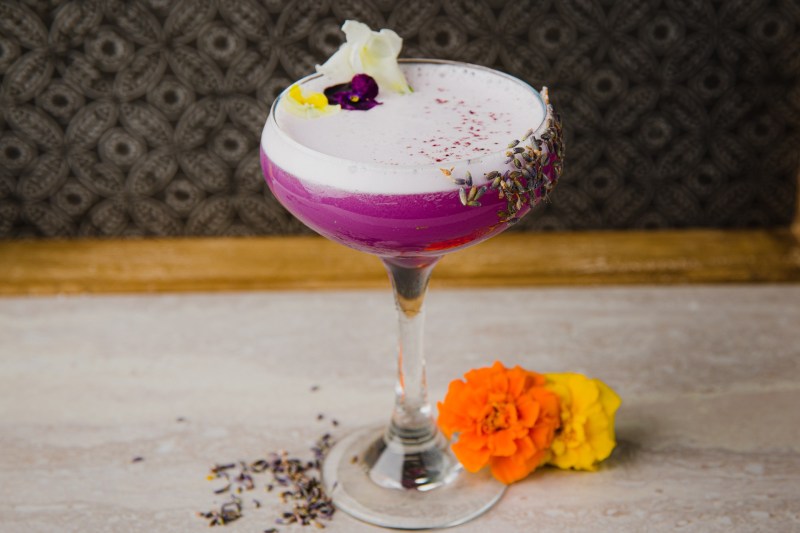 It's hard to imagine a more tantalizing drink than this one from Charlie Park, armed with lavender and an easy-to-make beer syrup.
Prep Time: 10 minutes
Total Time: 12 minutes
Yield: 1 serving
Ingredients
Method
Shake all ingredients vigorously with ice.
Strain into Martini glass or coupe rimmed with dried lavender flowers.
Lightly sprinkle ube dust over the froth when poured for contrast.
Iaponiko Anthos Recipe
This mix of gin, jasmine, and citrus takes advantage of the springtime cherry blossoms. The fruit tree bursts to life famously every year in Japan and does so in much of the U.S. as well. The cocktail, the work of José Andrés' D.C. restaurant — Zaytinya— is clever, using a carefully cut piece of citrus as the flower. If you want to use the real thing, try a primrose in its place.
Prep Time: 24 hours (to infuse spirit)
Total Time: 2 minutes (to mix drink)
Yield: 1 serving
Ingredients
4 ounces Marfil Brut Cava
1 ounce jasmine-infused Bombay Gin*
1/2 ounce lemon juice
1/2 ounce simple syrup
1/2 ounce pomegranate concentrate
Method
Combine all ingredients except cava in a cocktail shaker with ice and shake vigorously.
Fine strain into a wine glass then top with cava and ice.
Add lemon peel for garnish.
*Jasmine-infused Bombay Gin: Combine 1 bottle (1-liter) of Bombay Gin in a nonreactive container with 17.5 grams of jasmine tea. Let infuse for 24 hours in the refrigerator. After 24 hours, take out tea bags and fine strain through chinois.
Pearl Diver Recipe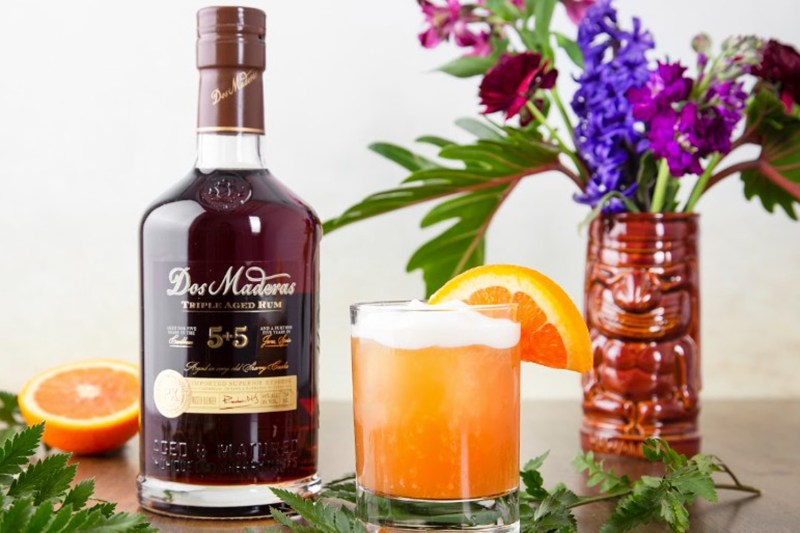 This classic tropical cocktail courtesy of Dos Maderas does great in something floral. Throw a tulip in place of a straw or, better still, toss in a few nasturtiums as you can eat the colorful little flowers.
Prep Time: None
Total Time: 2 minutes
Yield: 1 serving
Ingredients
3 ounces Dos Maderas Rum
1/2 ounce lime juice
1/2 ounce orange juice
1/2 ounce Don Gardenia Mix
1 dash Angostura Bitters
Method
Add all ingredients to blender with 1/2 cup ice and blend on high for 20 seconds.
Fine strain into glass.
Garnish with orange slice or flower of your choice.
Royal Dog Recipe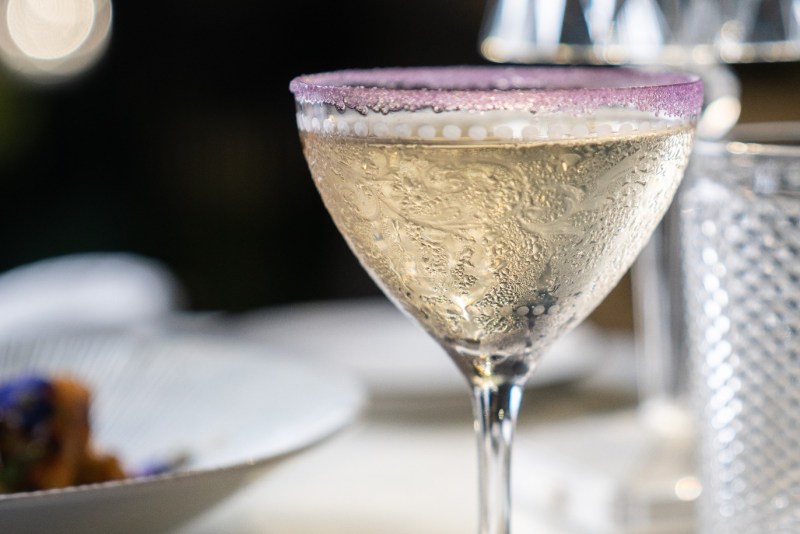 This drink created by Mico also takes advantage of the arresting aromatics of lavender. To add to the floral nature of the cocktail, try garnishing with zucchini flowers or pansies.
Prep Time: None
Total Time: 2 minutes
Yield: 1 serving
Ingredients
5 ounces St. Germain Elderflower Liqueur
2 ounces Ketel One Grapefruit & Rose Botanical Vodka
1 1/2 ounces Lillet Blanc
Lavender powder
Method
Place all ingredients except lavender powder with ice chips and shake for 15 seconds.
Rim your favorite vintage glass with lavender powder and strain.
Mai Tai Recipe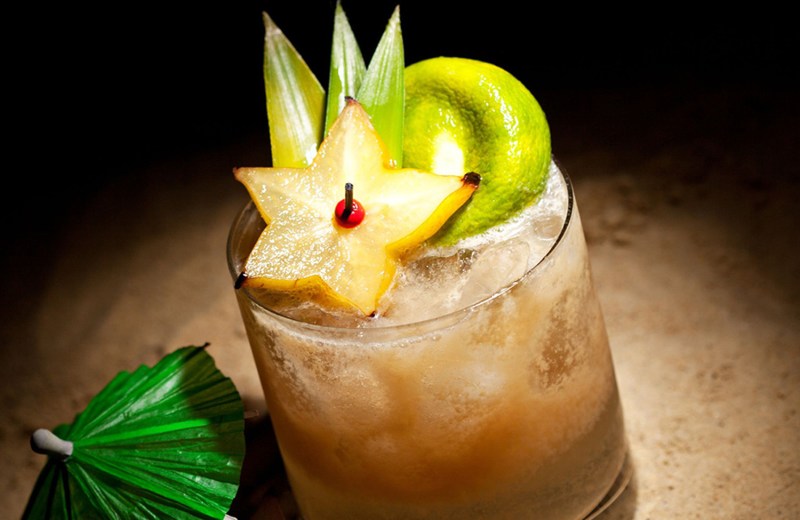 A tiki cocktail like the Mai Tai can send you straight to a deserted island somewhere in the warm waters of the South Pacific. A big part of the drink is its look, which benefits greatly from a flower or some combination of flowers. A go-to is the vanda orchid, which dresses the drink up beautifully. You can also cut out a piece of apple, pear, or pineapple. For the drink itself, stick with a classic recipe like the one from exotic cocktail guru Martin Cate.
Prep Time: None
Total Time: 4 minutes
Yield: 1 serving
Ingredients
2 ounces aged pot still or blended rum
1/2 ounce orange curaçao (Pierre Ferrand preferred)
3/4 ounce fresh lime juice
1/4 ounce orgeat
1/4 ounce rich demerara simple syrup (with a 2:1 ratio of water to sugar)
Method
Combine all ingredients with 12 ounces of crushed ice and some cubes in a shaker.
Shake until chilled and pour, ice and all, into a double Old Fashioned glass.
Garnish with a spent lime shell and mint sprig, or flower.
Grill & Chill Recipe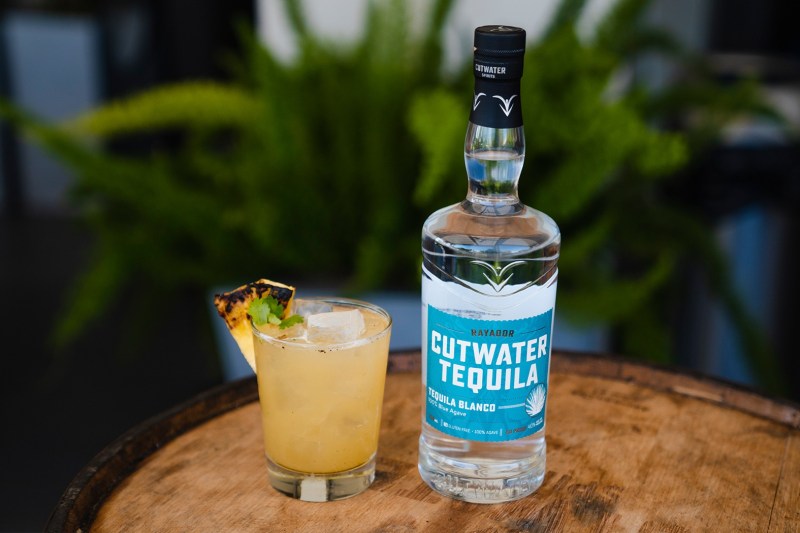 The key to making this drink as floral as possible is catching cilantro in its finest form. If you time it right, your sprigs will tout pretty little white flowers, fancying up your cocktail nicely. The recipe is provided by Cutwater Spirits.
Prep Time: 10 minutes (to grill fruit)
Total Time: 15 minutes
Yield: 1 serving
Ingredients
2 ounces Cutwater Tequila Blanco

1 ounce fresh lime juice

1/2 ounce agave syrup

3-4 grilled pineapple chunks

1 fresh ginger slice

1 pinch of cilantro
Method
Add pineapple, ginger, and cilantro to a shaker.
Add tequila, lime juice, agave, and ice.
Shake until cold and strain over fresh ice.
Garnish with a piece of grilled pineapple and cilantro sprig.
Mana Daisy Recipe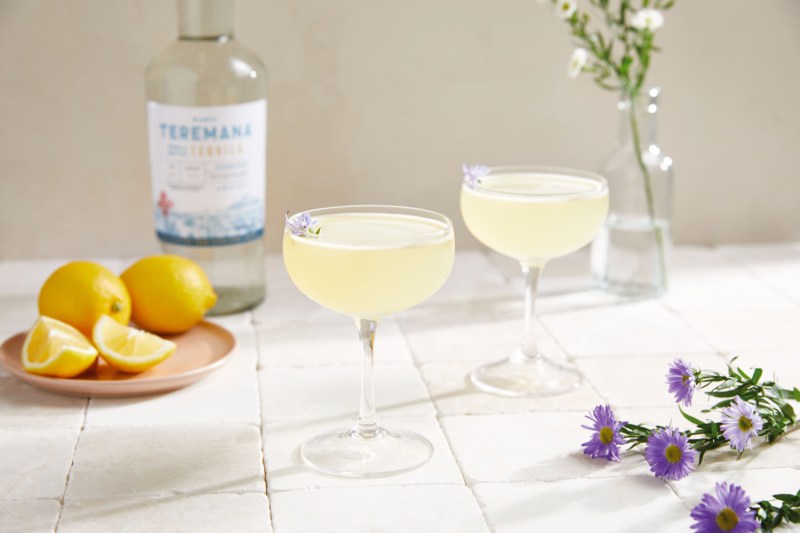 This drink, created by Teremana Tequila, is a refreshing sipper indeed. If you feel like making it more of a session cocktail, cut the tequila amount in half and add a bit more soda.
Prep Time: None
Total Time: 2 minutes
Yield: 1 serving
Ingredients
2 ounces
3/4 ounce lemon juice
3/4 ounce passion fruit syrup
Splash of soda
Method
Place lemon juice, passion fruit syrup, and tequila into shaker.
Shake and add a splash of soda directly to the tin before straining.
Strain into a coupe glass and garnish with edible flower.
White Flower Recipe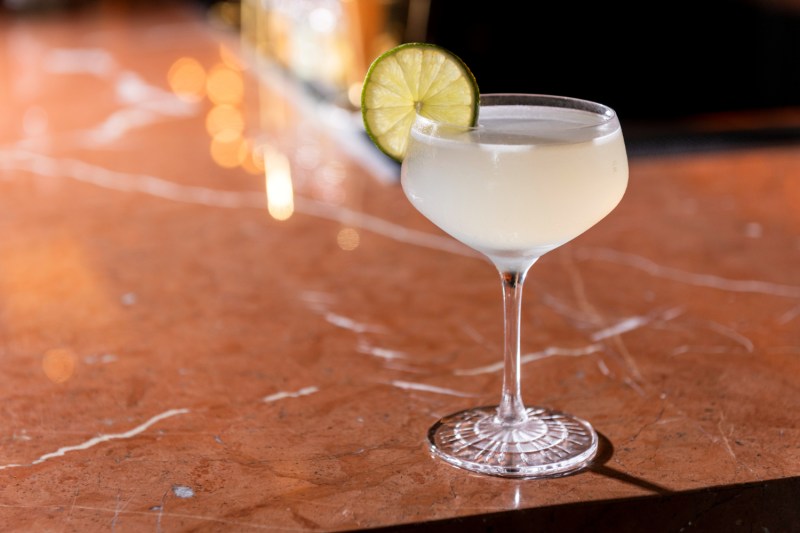 This drink concocted by Atlantic Grill is extra floral thanks to the addition of an iconic liqueur and given some tartness with the addition of cranberry.
Prep Time: None
Total Time: 2 minutes
Yield: 1 serving
Ingredients
1 3/4 ounces

Absolut Elyx Vodka

3/4 ounce St. Germain
1 1/2 ounces white cranberry juice
3/4 ounce lime juice
Method
Shake all ingredients and double strain into a martini glass.
Garnish with a lemon wheel.
Pretty in Pink Recipe
Also a great movie, this Pretty in Pink combines tequila with pink lemonade, citrus, and agave to dazzling results. This recipe is the work of El Tequileno.
Prep Time: None
Total Time: 3 minutes
Yield: 1 serving
Ingredients
2 ounces
3/4 ounces Triple Sec
2 ounces pink lemonade
1/2 ounce fresh lime juice
1 bar spoon agave syrup
Soda
Method
Add all ingredients except soda to a shaker over cubed ice.
Shake until ice cold and strain into a highball glass over cubed ice and top with soda.
Garnish with raspberries, edible flowers and a cucumber ribbon.
Neroli Recipe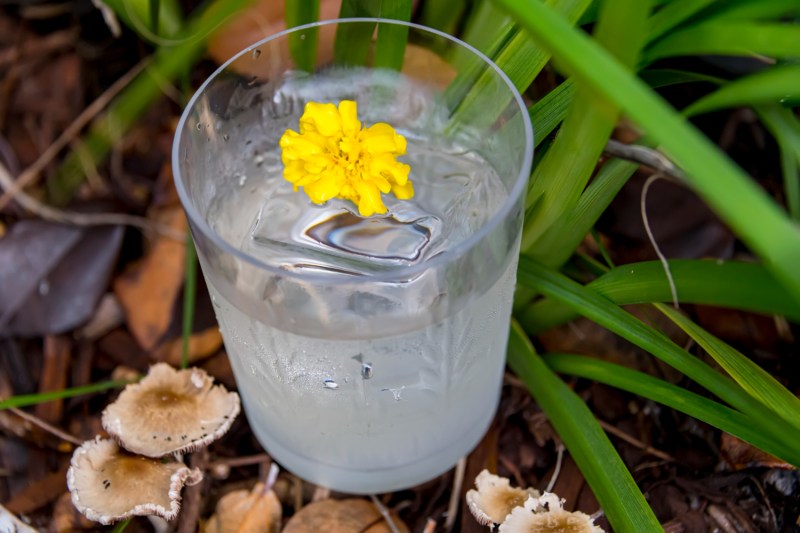 The work of Absolut Elyx, this cocktail gives vodka and sherry all the flower power. You'd never expect so much flavor to bloom from a relatively clear drink.
Prep Time: None
Total Time: 3 minutes
Yield: 1 serving
Ingredients
1/2 ounce
1/2 ounce Tio Peppe Fino Sherry
1/2 ounce Lillet Blanc
1/2 ounce Neroli Cordial
Method
Add all ingredients to a rocks glass, then stir.
Editors' Recommendations