When you think about signature cocktails, names like Tom Collins, Brandy Alexander, and Old Fashioned come to mind. Yet, for whiskey lovers especially, there's an unsung hero that's deserving of a big-time comeback. It's named Toronto, and it's a cocktail well-suited for the chilly days of midwinter.
The drink dates back to 1922 and is a riff on the beloved Old Fashioned. It's a great whiskey cocktail, for certain, but also one that can be experimented with, as the best versions tend to involve a mix of a couple of different whiskies. The key ingredient, however, is Fernet, the intense and medicinal amaro from Italy.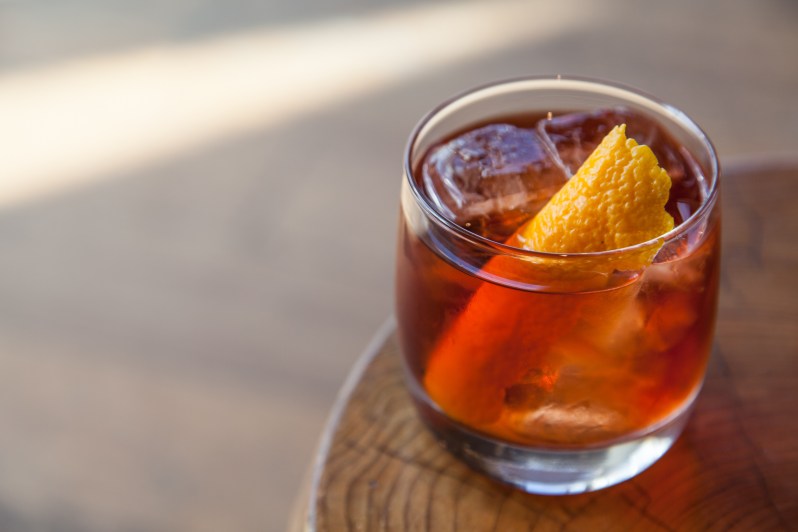 Now, a good Fernet cocktail recipe is a delicate thing. The liqueur can overpower a drink, turning it into a bittersweet mess. The beauty of the Toronto cocktail is the restraint. There's a moderate amount of Fernet, offset wonderfully by whiskey and bitters. You can even take the sting out of it further by serving it over ice and letting it dilute it a bit as you sip.
Back to the importance of your whiskey selections. Some recipes call for Canadian whisky, while others ask for rye or bourbon. Of the variations we've tried, we prefer the subtle spiciness injected by a good rye (which does well with the amaro), rounded out by a bit of a sweeter whiskey per the featured recipe below. It's a balancing act we encourage you to experiment with, and while you're doing so, be bold. Fernet is strong stuff and may demand a higher-proof whiskey to round it out.
Fernet-Branca is the iconic version, of course, but you don't have to stop there. Increasingly, American distilleries are turning out quality versions, from Tattersall in Minnesota to Leopold Brothers in Colorado. And if you don't have Fernet (shame on you, as you should), you can sub in Luxardo or Branca Menta. It's not quite as good, but it will still produce a quality cocktail.
Quite simply, it's fun to mix up a drink with a century-plus history. The Toronto cocktail may not have started in Canada (its exact origins are fuzzy), but it's definitely an ideal drink to take on a Canadian winter. The thawing power of the whiskies, enhanced by the nearly-30 botanicals crammed into Fernet, make for a special drink.
Toronto Cocktail
This Toronto cocktail recipe is a homespun one, inspired by the classic but given a little tweak in the form of maple syrup whiskey. Most recipes call for a bit of simple syrup to impart some sweetness but we prefer the rich molasses and caramel put forth by a sweeter whiskey, which stands up to the Fernet nicely. Also, if the Fernet in this version is too pronounced for your liking, dial it down to a quarter-ounce or consider serving over ice.
Ingredients
1 1/2 ounces rye (we suggest Templeton 6-Year)
1/2 ounce maple syrup whiskey (we suggest Catocin Creek Maple-Finished Whiskey)
1/2 ounce Fernet
Dash of Angostura biters
Lemon peel for garnish
Method
Stir all ingredients in a glass with ice.
Strain into a coupe or Old Fashioned glass.
Express citrus over drink and garnish.
Editors' Recommendations