Single malt scotch gets all the love, but the reality is that blends are what the people really want. The best-selling Scotch whiskies fall into the latter category, with familiar names like Johnnie Walker, Grant's, and Chivas leading the pack. Blends are often cheaper than single malts, although that is not the case when you get into the higher-end expressions. The difference is that while a single malt is a 100 percent malted barley whisky that comes from one distillery, a blended scotch is a marriage of whisky from different distilleries that also includes grain whisky, usually made from corn or wheat. A blended malt, however, is a blend of malt whisky from different distilleries minus the grain whisky. There are many good examples of blended scotch to choose from, and some new expressions are now available from well-known brands. Here are eight blends that you should try now.
Dewar's
Dewar's touts its whisky as being "double aged," meaning that after initial maturation and blending the blend is put into an oak cask for another six months to marry the whiskies together before bottling (other brands use a similar process). The blend consists of grain whisky and single malts drawing from the Dewar's portfolio (Aberfeldy, Aultmore, Craigellachie, Royal Brackla, and Deveron), among others. Dewar's White Label is a very popular whisky here in the U.S., but try the age statement blends (12, 15, 18) for something a bit more complex and rich.
Johnnie Walker
Is there a more popular blend than Johnnie Walker? Everyone around the world seems to know and drink this whisky, which is made from grain whisky and single malts from the expansive Diageo portfolio (Lagavulin, Talisker, Caol Ila, etc.). Maybe skip Red Label and start with Black, but as prices increase all the way up Blue Label, the blend loses the grain whisky and becomes a marriage of just single malts. Johnnie Walker has partnered with Game of Thrones over the past year, and the newest releases are blends called A Song of Ice and A Song of Fire. Ice is centered around single malt from Clynelish and meant to be enjoyed on the rocks, while Fire uses Caol Ila as a core whisky and is meant to be enjoyed neat.
Chivas Regal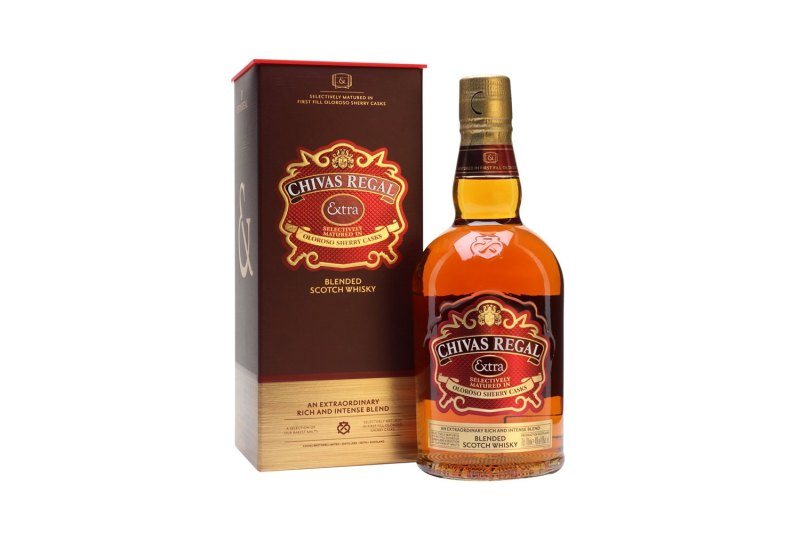 Chivas is another world-renowned blend, part of the Pernod Ricard family of whiskies. The core expression is a 12-year-old whisky, with the age expressions peaking at 25. But there are some other interesting (and expensive) whiskies to enjoy, including the Japanese oak-finished Mizunara; Ultis, a blend of five single malts (Allt-á-Bhainne, Braeval, Longmorn, Strathisla and Tormore); and The Icon, which blends whisky from shuttered ghost distilleries and comes in a crystal decanter.
The Famous Grouse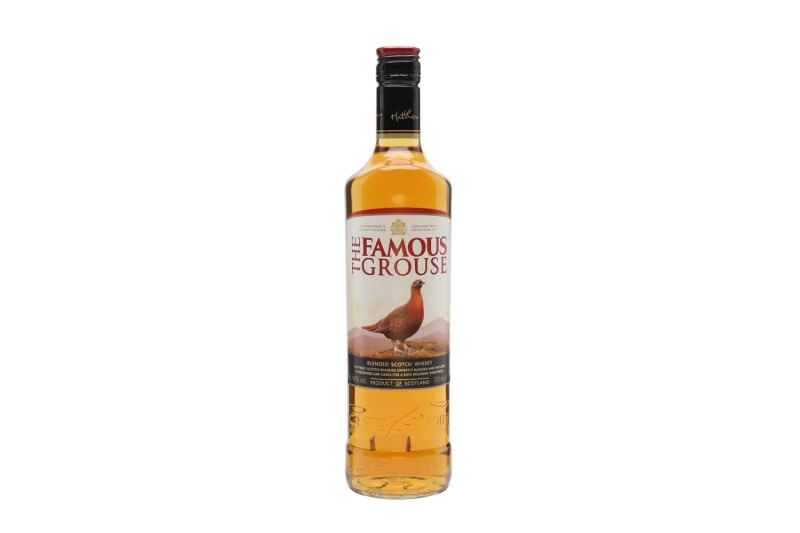 The Famous Grouse, a very popular blend in its home country of Scotland, is owned by Edrington. This means that single malts like The Macallan and Highland Park are certainly found within the blend, along with whisky from many other Scottish distilleries. The sherry cask influence is evident in this sweeter blend, but you can find a smoky version in Smoky Black and an even richer whisky in the port cask-finished Ruby Cask expression. While it's not the most complex blended scotch out there, The Famous Grouse is incredibly easy to drink.
Compass Box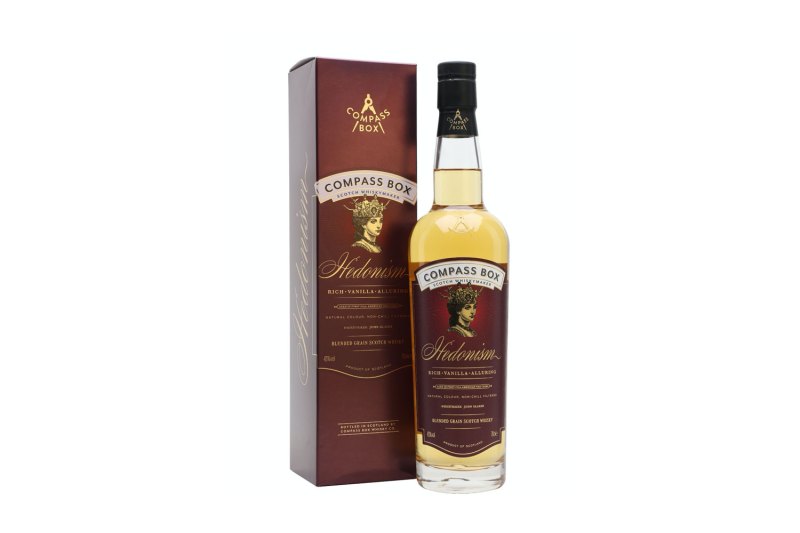 Compass Box is a new-school whisky blender, sourcing and marrying malt and grain whiskies from various distilleries into whatever they damn well please. They call themselves "whiskymakers," meaning they source both casks and liquid which they then blend and marry in oak, and finally bottle and come up with some innovative names. Along the way, Compass Box tries to be as transparent as they are legally allowed to be. The core expression is called Hedonism, which is a blend of grain whiskies. Beyond that the portfolio veers all over the place, with releases like The Spaniard (whisky aged in Spanish wine casks) and Tobias & The Angel (blend of whisky from Clynelish and Caol Ila) leading the way.
Copper Dog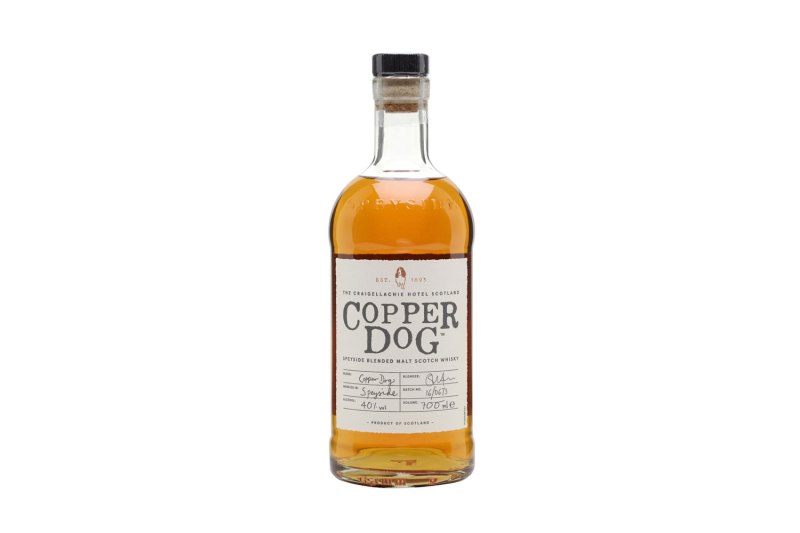 Copper Dog is a blend of eight Speyside single malts that was created in part by the folks behind the pub of the same name at the charming Craigellachie Hotel in Speyside. This is another easy-drinking, if not attention-grabbing blend, full of sweet sherry notes and a bit of dry spice. Diageo is the driving force behind this blend, so while the whiskies included are not disclosed you can try your hand at guessing where they come from based on the flavor profile and knowledge of the extensive Diageo portfolio.
Royal Salute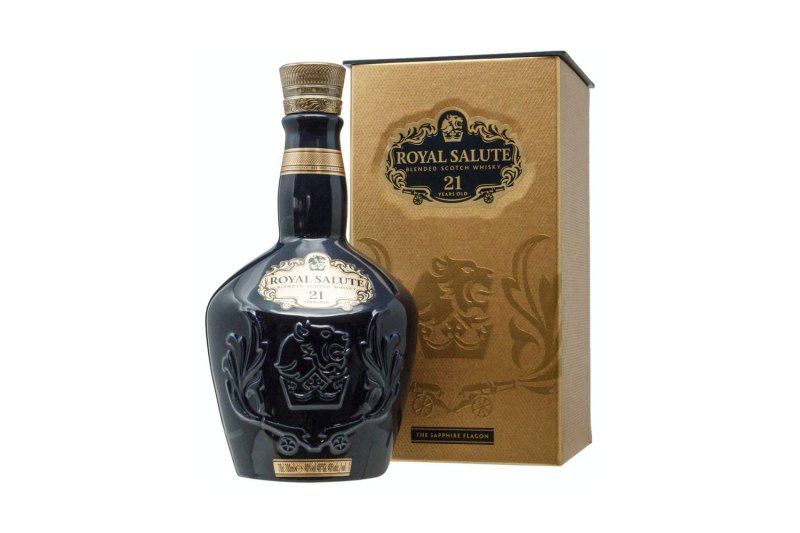 Royal Salute is a blend from Chivas Brothers that maintains a completely separate, luxury brand identity from Chivas Regal. This summer Royal Salute unveiled a new look for its Signature 21 Year Old blend, along with two new whiskies as part of the core lineup – The Malts Blend and The Lost Blend. The former is made up of more than 21 single malts aged for at least 21 years, while the latter is a peated blend available exclusively at duty-free shops. Overall, Royal Salute is a blend that drinks like a single malt.
Monkey Shoulder
William Grant & Sons is the parent company of esteemed single malt distilleries like Glenfiddich and The Balvenie, as well as a product of blends like Grant's. Monkey Shoulder is a newer creation, a premium blended malt that was intended to be a component of mixed cocktails. Surely whisky from the WGS distilleries are in the mix, but others are included as well, as is the custom with Scottish blends. The brand launched here in the U.S. about seven years ago, but has increased in popularity as people have discovered the joys of blended malt cocktails.
Editors' Recommendations