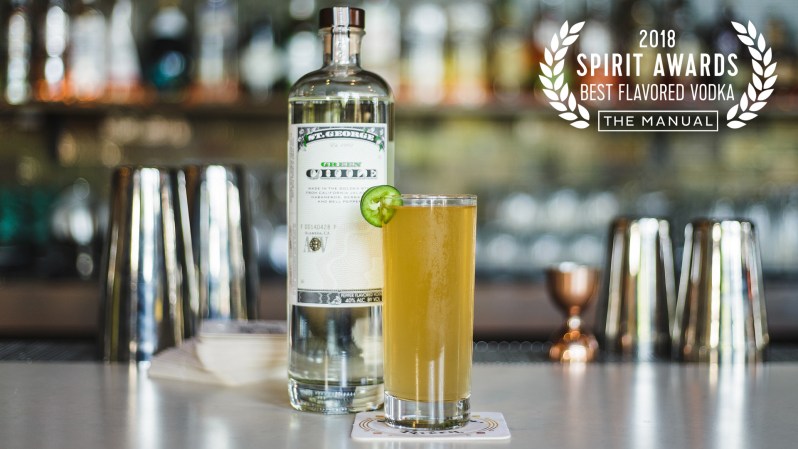 The Manual Spirit Awards recognize the people making the best damn booze in America. Across nine categories — Bourbon, Rye, Single Malt American Whiskey, Unaged Rum, Aged Rum, Vodka, Flavored Vodka, Gin, and Brandy — we blind-tasted multiple products from around the country to determine our champions. Each of the winning bottles was judged on appearance, aroma, palate, finish, and how well the product represented the category as a whole. Our focus on smaller craft distillers in the U.S. allowed us to highlight spirits that, we hoped, our readers either have not heard of or had the opportunity to try yet.
Best Flavored Vodka
St. George Spirits Green Chile Vodka
As the category name suggests, flavored vodka is a spirit that is, at first, colorless, odorless, tasteless, and bottled at no less than 60 proof, but has had some sort of flavoring added (as well as sugar, in some cases). Since any natural component can be included, liquor store shelves hold everything from typical flavors such as fruits or vegetables to cotton candy, Swedish fish, and more.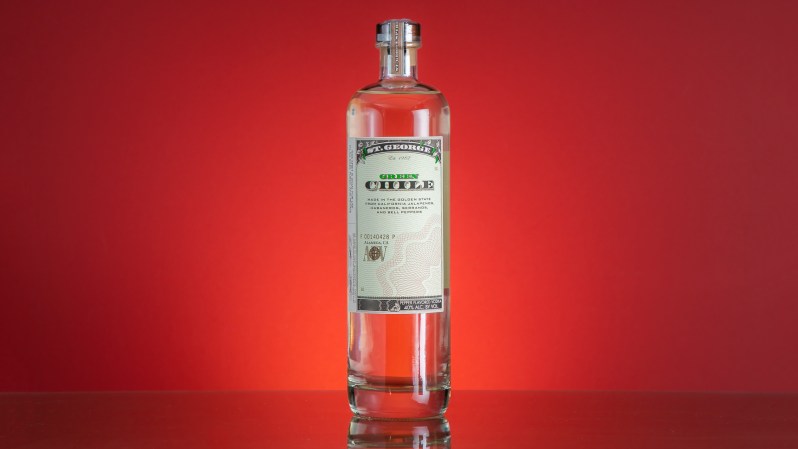 This category was difficult because each vodka expressed such different flavors. In order to pick a winner, we chose based on what we felt came the closest to expressing the truest nature of the ingredients featured. In the case of the St. George Spirits Green Chile Vodka, a blend of hot and sweet peppers brings out incredibly vibrant aromas and flavors without being overwhelming.
St. George Spirits Green Chile Vodka is made with five different types of peppers (jalapeño, Serrano, habanero, and red and yellow bell peppers), as well as lime and cilantro to create a full-bodied, spicy liquor. It is available in most states.
Tasting Notes
Appearance: St. George Green Chile Vodka is clear with a greenish tint.
Nose: You know immediately what you are getting with this vodka. Fresh jalapeños and spice greet you before you get to the citrusy lime and bright, garden-y cilantro notes.
Palate: Alive is probably the best way to describe the palate. This vodka reveals itself over multiple sips, with the various peppers — jalapeño, serrano, habanero, bell — all seeming to come to the surface at one time or another. The heat from the peppers is present, but not overpowering, playing nicely against the heat of the alcohol. Throughout, you get an undercurrent of the citrus and cilantro that you originally got on the palate.
Finish: Clean and neat, the medium-short finish leaves you with vegetal flavors and heat on your tongue.
About the Distillery
St. George Spirits, one of the pioneers of craft distilling in America, was founded in 1982 by a German man named Jörg Rupf who visited Alameda, California, and found the local produce to be amazing, but the local beverages less so. Rupf came from a family of distillers and set out to make eau de vie (a clear fruit brandy) using fruit from the Bay Area. Although eau de vie was a niche product in America, Rupf inspired a new generation of distillers who would build the craft movement. Rupf and St. George's current master distiller, Lance Winters, expanded the company's product line and found huge success with the Hangar One vodka brand, which was eventually sold. After that, St. George Spirits had the financial freedom to experiment, creating a wild array of spirits. In addition to various vodkas, eau de vie (which St. George now calls "fruit brandies"), the distillery also makes gins, single malt whiskey, and even absinthe, among others. St. George's current vodka lineup includes All Purpose (a mellow spirit made with pears), California Citrus (infused with Valencia oranges, Seville oranges, and bergamot), and Green Chile.
How to Enjoy It In a Cocktail
Bull Shot
With a spicy flavor profile, there are only so many classic cocktails that Green Chile Vodka would work in. We decided to go with the Bull Shot, as this is The Manual, and what is more Manual-esque than a cocktail that involves a meat-based product? Salty, beefy, spicy, the Bull Shot is like a meal in a glass. Think of it like a Bloody Mary without the tomato (which is what it was originally meant to be).
Glass: Collins glass
Tools: Stirring spoon
1 oz St. George Green Chile Vodka
.5 oz vodka
4 oz beef bouillon
.25 oz lemon juice
1 dash Tabasco sauce
1-3 Jalapeño slices, seeds removed
Method: Pour ingredients into Collins glass and stir well. Add ice. Make a cut in jalapeño slices and slide onto the rim of the glass to garnish.
Best Flavored Vodka Runners-Up
| | |
| --- | --- |
| Hangar One Makrut Lime Vodka | Prairie Organic Cucumber Flavored Vodka |
| Hangar One | Prairie Organic Spirits |
| Alameda, California | Minneapolis, Minnesota |
| | |
| If you need a boost of crisp citrus flavor in a cocktail, you can't go wrong with Hangar One's Makrut Lime, a great flavored vodka out of California. It makes for a simple, yet flavorful, vodka and soda. | Minnesota's Prairie Organic uses a corn base and English cucumbers for a fresh, cool flavor. The result is a soft vodka that easily imparts pleasant cucumber flavors without being overwhelming. |
Editors' Recommendations