Rags to riches stories, it seems, don't come as often as they used to. The story of Benihana — incredibly humble beginnings, in particular — is a pretty good one, a better read than any Horatio Alger tale.
The Japanese steakhouse and teppanyaki chain was started in New York in 1964 by Hiroaki Aoki. The name may sound familiar as he's the father of Steve Aoki, music magnate and DJ. The senior Aoki was an accomplished wrestler who was so good he qualified for the 1960 Olympics in Rome. Instead of grappling on the biggest stage, he opted for a life in restaurants.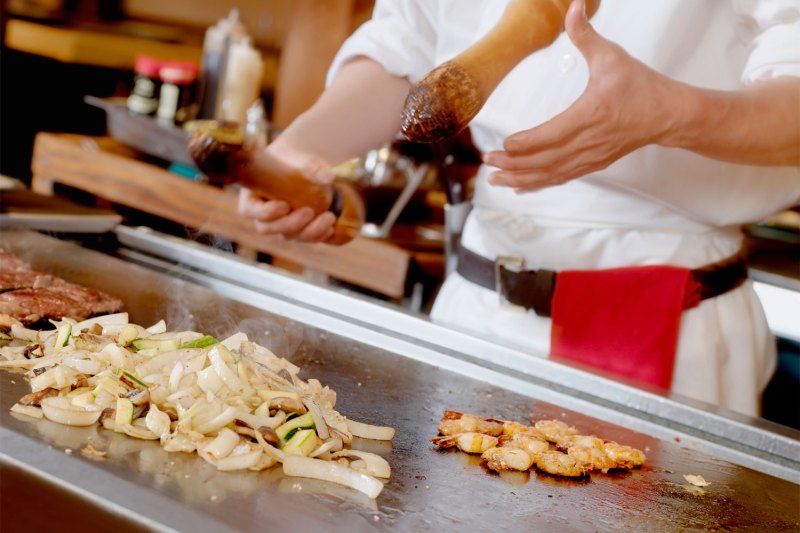 First, he needed the money. Aoki drove an ice cream truck through Harlem, ultimately coming up with about ten grand to start the business. His ice cream was often served with a Japanese cocktail umbrella stuck to its sugary core. Benihana, he thought, would be a theatrical restaurant, combining the knife skills of a sushi bar with an interactive, prepared-at-your-table sort of experience.
What perhaps comes to mind first — and something that has surely evolved since the beginning of the restaurant — is the food presentation. While there, you will be seated around the grill — sometimes with strangers, depending on the size of your party — and your chef will not only prepare your foods, but s/he will do it with flair, flinging and slinging his utensils around while making jokes and volcanoes of fire made from onion towers.
The place did well. Soon, the original West 56th Street location had siblings. Famous visitors dined there, like The Beatles and Muhammad Ali. At its peak, there were more than 100 locations. Today, the franchise is based in Florida and is composed of around 70 restaurants. Aoki passed away in 2008. By then, the company had grown and undergone some serious corporate infighting which had minimized his role. While there have been ownership and restructuring shuffles of late, though, the Benihana approach has stayed much the same.
Those who've been there know the drill. There's the red and black interior and the uniformed chef, operating before a steel grill (a style otherwise known as teppanyaki). The drinking mugs have become almost iconic, tiki-like in build, with the most famous modeled after Hotei, a delightfully pudgy fellow who appears to be raising the roof.
While there are plenty of cold edibles, like sushi, you're wise to put your chef to work while there. There are tuna steaks, beef steaks, and chicken teriyaki that need the heat and dice treatment. There are also sea treasures like shrimp and scallops. The all-in crowd can even order up twin lobster tails and experiment with the house-made dipping sauces.
The mixed drinks list imparts Asian ingredients to a wide variety of classics, like Mai Tais, Martinis, Tom Collins, Long Island Iced Teas, and more. They sling group-friendly punch bowls and a margarita made with yuzu. The wine and beer offerings are predictable, save for a nice house plum wine. And there's a healthy sake list, including a custom Junmai-style made by TYKU for the restaurant.
The nod to Japanese culture within any given Benihana is all the cooler given that founder Aoki's dad, Yunosuke, is the descendent of a samurai. An entertainer by trade, it's said that he launched a coffee shop in Tokyo, one that used real sugar that he pedaled twenty miles for by bike.
Today's Benihana outlets probably don't compare to the original NYC spot in terms of grub and entertainment value. But they still offer a glimpse of that love for flair that seems to be engrained in the Aoki DNA. Fans of Korean BBQ, Brazilian steakhouses, and all kinds of other eateries that spend added energy on the presentation and performance side of the experience will find some joy here. And so will kids, as every Benihana birthday bash can attest to.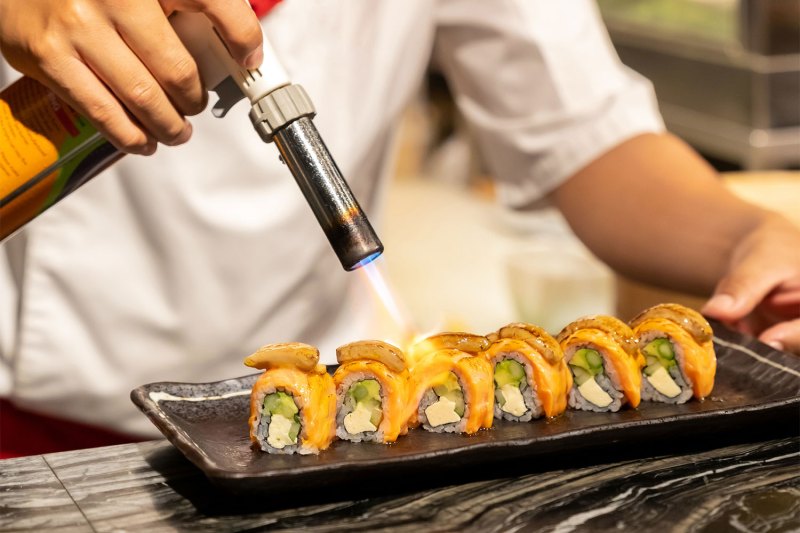 Part of its ability to hang on can almost certainly be attributed to the Food Network. Grabbing a meal here is a bit like having a cooking show host take over your restaurant table. There's also a more dated element at play, something that might be swinging back into popularity for nostalgia's sake. It's the supper club aspect, wherein your meal is curated by a joke-telling chef with a solid handle on their cutlery and hot surfaces. Benihana is a fun cocktail made of equal parts Hibachi, Iron Chef, and Vegas.
Editors' Recommendations