Quick, go to your home bar. What bitters do you have on the shelf? We'd bet money that you have at least one bottle of Angostura bitters handy. You know the bottle — yellow cap, label that doesn't seem to fit. Yeah, that one. Angostura, the best-selling bitters in the world, is known for its utility in just about every cocktail. Like, ever. The thing is, did you know that it could also be used as the main ingredient? While the bitters themselves are only 44.7 percent alcohol by volume, they're not normally something you'd think of to base a cocktail around. Until now.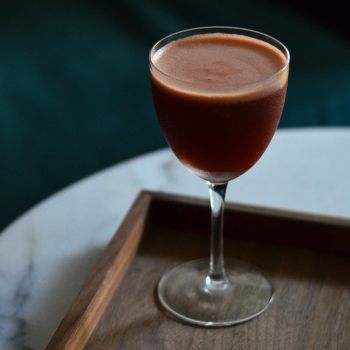 When we first heard about it, we were surprised, but let us tell you something: It is good and we are hooked. The drink is called the Trinidad Sour and it was invented by bartender Giuseppe Gonzalez, who was working at the Clover Club in Brooklyn at the time. After its creation, it grew in popularity thanks to the blend of über bitter with sweet and sour. It can now be seen on cocktail menus across the country and the world.
We're going to share the recipe with you — it would be wrong to keep such a delight from interested and educated parties such as yourself — but first, we thought it prudent to take a step back and dig into what Angostura bitters is and who makes it.
Angostura got its start in 1824 when founder Dr. Johann Siegert was the surgeon general in Simón Bolivar's army based in Angostura, Venezuela. Siegert designed the aromatic bitters as a medicinal tincture that would help alleviate stomach ailments.
(Sidebar: Can you imagine living in a time when booze was a legitimate "cure" that your doctor gave you? Sure, everything else probably sucked, but you could get a booze prescription!)
A few decades later, in 1870, Siegert's three sons moved to Trinidad, where Don Carlos Siegert began promoting Angostura as an ingredient for cocktails and other recipes. From there, its popularity grew. After starting with bitters, the brand expanded to rums as well, which Angostura has been producing and blending for 130 years now.
As far as the label: According to the company, the oversized label was created when the Siegert brothers tried to divide and conquer: one sourced bottles and the other was responsible for the label. The initial error has persisted and, to this day, is the signature of the brand. (Whether this is true or not remains to be seen, but it does make a nice story.)
But what about the contents inside the bottle? Well, those are a secret recipe that's remained unchanged since 1824. It is said that only one person knows the entire recipe at any given time.
We'll throw one more fun fact at you: The largest purveyor of Angostura bitters in the world is Nelsen's Hall Bitters Pub on Washington Island off the northeast tip of Door Peninsula in Door County, Wisconsin, which regularly sells over 10,000 shots of the stuff per year.
Now, it's time to learn to make a cocktail. Here is The House of Angostura's version of the Trinidad Sour, which it calls the Angostura Sour.
Angostura Sour
1 oz Angostura aromatic bitters
1 oz fresh lemon juice
1 oz Demerara syrup*
1 egg white
Method: Dry shake, then shake with ice and double strain into a chilled sour glass.
*Demerara syrup: 1 part Demerara sugar, 1 part hot water. Stir to dissolve.
Editors' Recommendations