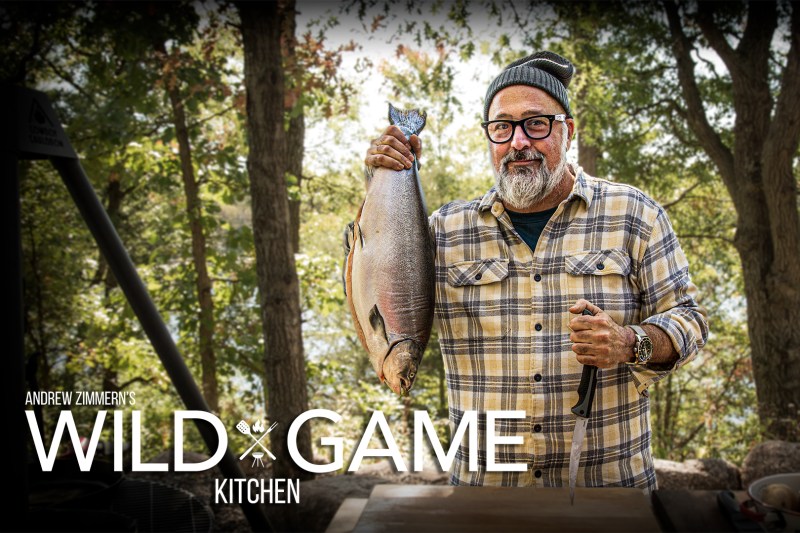 Chef Andrew Zimmern, outdoorsman and renowned food media star, is a busy man. From his popular substack, Spilled Milk, to his cooking videos on Instagram, Zimmern loves sharing his expertise on all things food. Lately, one of his most passionate missions is teaching Americans all about wild foods. His latest show, Andrew Zimmern's Wild Game Kitchen on the Outdoor Channel, showcases that mission with a hearty serving of creative and approachable outdoor-themed recipes beyond the typical crockpot and burgers.
"It's great for enthusiasts of all skill sets, right?" Zimmern said. "It doesn't take a lot. You can do it on an inexpensive, little kettle grill. Or you can have some big, fancy rig. It can be as simple as grilling hot dogs and hamburgers, or you can be doing whole hogs."
And with dishes like grilled turkey legs with creamed greens and zesty lemon orzo to wild hog adovada with cilantro-lime rice and charred tomatillo salsa, the third season of Wild Game Kitchen promises delicious food along with advocating another goal — how wild foods might just be better for both health and society.
Andrew Zimmern's advice on cooking wild foods outdoors
Consider your environment
One of Andrew Zimmern's tips about outdoor cooking is to keep flexibility at the forefront, namely the environment, which can be the best part of outdoor cooking or the most challenging obstacle.
"Instead of just challenging all five of your senses — which regular cooking does, all cooking does — it challenges that, what I call it that six sense," explains Zimmern. "Which is — how am I managing my fire and the temperature of the air and the winds and anything else that sort of pops up? And it's not as simple as turning down a knob to make the temperature lower or turning up a knob to make the temperature higher. Set it and forget it meals. Is your liquid going to evaporate? Is your fire gonna die and leave you with a cold, raw piece of meat?"
There's so much variety when it comes to wild game
Another aspect of wild foods is the sheer variety. For Zimmern, one of his favorites is mushrooms, an ingredient he uses widely to add umami flavor to various dishes. Elk and venison, a healthier red meat, is another prized ingredient he prefers over beef. Finally, there are wild game birds such as duck, pheasant, pigeon, and goose, all meats Zimmern thinks should be more widely embraced throughout America. Zimmern enjoys cooking his pheasant with a cream sauce made with apple cider, currants, heavy cream, and fresh herbs, an upgrade to the standard crockpot version. But his favorite game birds might be duck and goose, both full of fat and flavor.
"Duck is so forgiving, so is goose, so is lamb for that matter," said Zimmern. "But duck and goose — like lamb — you can cook it to medium, rare, or you can cook it well done. It's gonna be tender both ways. There are very few foods like that, that are so forgiving."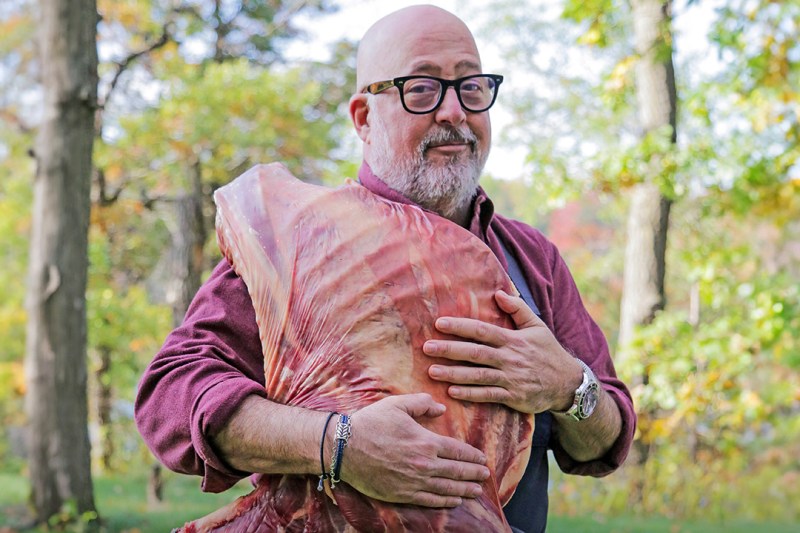 A mission of renewability and diversity
In Chef Andrew Zimmern's opinion, outdoor cooking and wild foods aren't just delicious fun; it's also a way to address a serious issue — the climate crisis and factory farming.
"Food from the wild, fish from the wild, plants from the wild all help reduce our pressure on factory farm-raised foods," explains Zimmern. "And I think that's vitally important if we want to solve our existential climate crisis and our seemingly existential hunger and waste crisis, which is not going away, even though we can afford to do something about it, which is, to me, a criminal act."
Finally, there's resourcefulness and cultural diversity, aspects of wild foods that aren't often discussed. This philosophy is a direct result of Zimmern's extensive travels throughout his career as the host of various television shows, namely Bizarre Foods on the Travel Channel.
"Everything I've learned that people say, whoa, that's cool, I learned from someone's grandma in some faraway place," explains Zimmern. "And that really is the truth. I learned how to be more resourceful and how to be greener in my home, recycle everything, and waste nothing by living with tribal people where nothing is wasted or thrown out. And it's why, when I am hunting, to bring it back full circle."
Sweet & Sour Braised Pigeon
Ingredients:
3 squab or pigeon, cut into light and dark quarters
5 tablespoons olive oil
4 ounces sliced pancetta, minced
1 onion, diced
2 carrots diced
1 tablespoon fennel seeds, toasted and crushed
2 bay leaves
1 1/2 cups pitted green olives (such as Lucques or Ceragnola)
1 whole dried hot chile (such as arbol chiles)
3/4 cup sweet red vermouth
3/4 cup dessert wine (such as a muscat, Riesling or sauternes)
3 tablespoons Banyuls or sherry vinegar
1 cup crushed San Marzano tomatoes
Method:
Working in batches, season and brown the pigeon in the olive oil over medium heat in a large cast iron skillet. Reserve.
In a large Dutch oven, cook the pancetta until lightly browned. Add the onion, carrots, fennel seed, bay leaves, olives, and the chile. Cook until softened.
Add the vermouth, wine vinegar, and tomatoes. Gently simmer for 15 minutes or so, stirring.
Add the browned pigeon pieces to the pot. Simmer, uncovered, for 20-30 minutes until meat is tender and liquids have reduced.
Season with salt, pepper, and some more vinegar for balance and serve.
Editors' Recommendations