Boonville, California brewery is releasing a diverse group of tart brews for 2017.
A few years ago, the beer style known as Gose almost went extinct. There are many different reasons for a beer style to fall out of favor. Whether it's changing palates, availability of ingredients or simply lack of interest, the presence of beer styles on store shelves depends on the ever-changing tastes of the buyer. Goses aren't for everyone and the style's specificity is most likely what led to its temporary disappearance.
The Gose beer style is identified by relatively low alcohol by volume, at least fifty percent wheat malt, and typically a bit of coriander spicing. All good so far. The kicker that makes Goses a different breed is a sharp tartness from lactic acid and the jolting addition of salt. But in the growing and diversifying world of craft beer, it seems there is a place for everyone, even the divisive Gose.
Boonville, California's Anderson Valley Brewing Company has devoted a large section of its line to Gose variations. The brewery spreads the beers out through the year, but June is peak Gose time, as several labels are now available for purchase.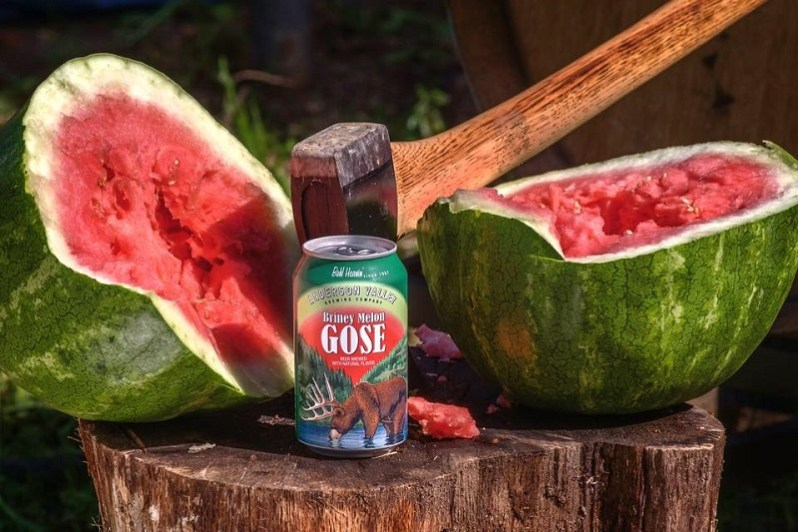 Briney Melon Gose was released in cans in March and ends its availability this month. Perfect for anyone that salivates at the thought of salting a slice of watermelon, the fruity, thirst quenching brew is a perfect relief for hot summer afternoons. G&T Gose, shorthand for Gin and Tonic, is a 22oz bottle release and also leaves stores in June. Juniper and lemon peel prop up the beer's crisp tart sour and salt and pepper finish.
Newly available in cans this June is the return of The Kimmie, The Yink and The Holy Gose which will remain through August. This is the most traditional Gose in Anderson Valley's quiver and brings a refreshing lemon-infused brininess to the collection.
You'll need to wait a bit longer for Blood Orange Gose, which will be back in stores September through March. The addition of (you guessed it) blood oranges to the fermentation creates an intense salty and sour beer with added deep citrus notes.
If you're on the fence about Goses, Anderson Valley has a variety of beer cocktail recipes available on its website which may serve as a nice entry point to the style. The Sifter Goserita is the brewery's take on a watermelon margarita utilizing The Kimmie the Yink and the Holy Gose, lime juice, simple syrup, fresh fruit and your favorite Tequila.
Anderson Valley Brewing is widely distributed throughout the United States, including the west coast, most of the Eastern seaboard, the southeast and southwest. Use the brewery's beer locator to find a distributor near you.
Editors' Recommendations