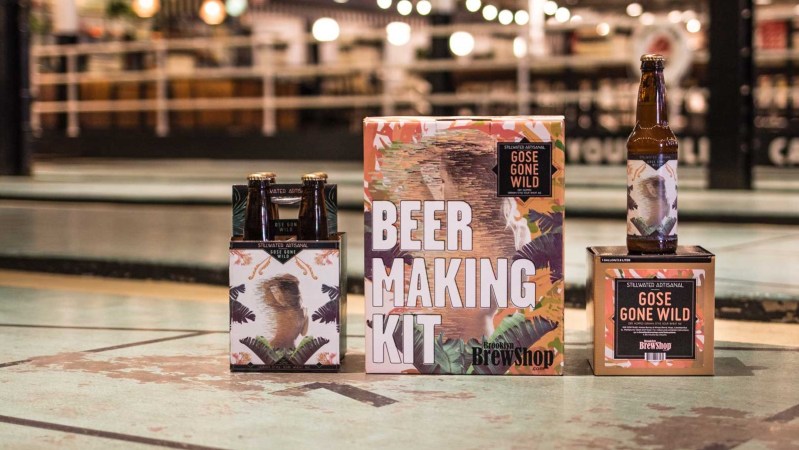 This once-elusive beer style is becoming more popular and more accessible, and now you can make your own Gose at home.
The craft beer scene is a culture of experimentation, and few commercial brewers are content to sit back and rest on past successes. There's an itch to try something different and surprising and new – and it's an itch home brewers often want to scratch too.
Maybe you've mastered your home brew recipe for an IPA or a Pilsner and now you want to move on to the next challenge. If you're a fan of the funky, unpredictable flavor of sour beers, there is now a home brew kit dedicated to creation of a sour German wheat ale. The Brooklyn Brew Shop has just begun offering the Gose Gone Wild Beer Making Kit, allowing home brewers to replicate the Stillwater beer by the same name.
Gose Gone Wild is Stillwater Artisanal's take on Westbrook Brewery's Gose, a popular sour ale brewed with coriander and salt. Stillwater adds a huge helping of Citra & Amarillo hops before fermenting with various strains of Brettanomyces to turn up the volume on the sour, funky, hoppy notes.
Gose is a beer style that nearly went extinct when the last brewery commercially brewing Gose closed in the mid-1940s. But lucky for us, a former brewery employee continued making the beer and passing the recipe through generations. The style was brought to life again in the commercial world of craft beer in the 1980s, and now there are more than 100 versions of Gose being brewed in the US alone. These beers rely on wild yeast and bacteria for fermentation, a combination which creates a beer with a moderate amount of alcohol and a distinctly lemony sour, salty base.
The Gose Gone Wild Beer Making Kit includes all the ingredients you need to make this dry-hopped, sour German wheat ale. This kit uses a kettle souring method featuring lactobacillus, the same culture used in yogurt, sourdough and cheese.
Editors' Recommendations