Take me out to the ball game, take me out to the crowd. Buy me some peanuts and Cracker Jack. Wait a minute, is that still what people eat at baseball stadiums? We can't remember the last time we saw peanuts, and now that Cracker Jack comes in a bag instead of a box, we're just not interested. But baseball stadium food has come a long way since footlong hot dogs and stale popcorn. In fact, some ballparks are now culinary destinations whether the offerings are legendary hometown favorites or dishes of celebrity chef proportions. Either way, we went in search of the very best baseball stadium food so you can eat well when you hit a game this summer. Have a look and wash it down with one of those $15 beers.

Citi Field, home of the New York Mets, might be the very best stadium for food in the country. Seriously though, they have everything. Mama's of Corona offers traditional Italian sandwiches and homemade cannoli. New York restaurant mogul Danny Meyer has three delicious outposts. Shake Shack is your one stop shop for burgers, fries and shakes while tacos and quesadillas are available from El Verano Taqueria. His famed Manhattan BBQ joint Blue Smoke is serving up Kansas City spare ribs, pulled pork and a smoked bologna sandwich. Pat LaFrieda's steak sandwiches are not to be missed, and Two Boots is there with special pies if you're in the mood. Esca's Dave Pasternack is behind the menu at Catch of the Day with seaside fare like po'boys, fried calamari and crab cake sandwiches.
Over on the West Coast, the San Francisco Giants are doing it well at AT&T Park. If you're craving a fresh catch, a Dungeness crab sandwich from Crazy Crab'z puts the crustacean between two slices of garlic-buttered, grilled sourdough. Traci Des Jardins and Jorge Lumbreras put two eateries on the ballpark culinary map with Public House and Mijita. At Public House, wash down comfort food staples like mini corn dogs, fried mac and cheese, pulled pork sliders and steamed mussels with your choice of 20 craft beers on draft. If you're in the mood do for Mexican, hop next door to Mijita where you'll find tacos, tamales and a jicama salad. Take a to-go margarita back to your seat for dessert. Looking for an alternative to fried food? Hit up the Farmers' Market Cart for a gruyere grilled cheese and seasonal antipasti.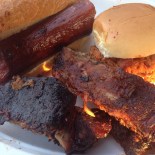 If you find yourself at Citizens Bank Park for a Phillies game, a Tony Luke's cheesesteak and Bull's BBQ are age-old favorites. Over at Yankee Stadium in the Bronx, grab a turkey sandwich from Parm or Lobel's hand-carved prime beef sandwich if you're not into getting a proper steakhouse experience at NYY Steak. Over in Houston, Astros fans won't want to miss Texas Smoke, serving freshly smoked brisket from Ronnie Killen and Bryan Caswell. Catching an Orioles game? A Maryland crab cake sandwich is in order from Charm City Seafood. Or if you're in the mood for BBQ, retired Orioles first baseman Boog Powell is serving up platters of his pit-roasted beef, coleslaw and baked beans.
Did we miss something? Tell us about your favorite hometown baseball stadium fare in the comments.
Lead image via Serious Eats
Editors' Recommendations