True crime is everywhere. From shows like The People V. O.J. Simpson, The Case of: Jon Benet Ramsay and everything on Investigation Discovery, you almost literally cannot escape our country's obsession with murder and killings. This focus, too, has made its way into the realm of podcasts with more and more popping up every day, covering every imaginable murder, crime, and conspiracy you can think of.
Because of the popularity of many of these podcasts (and because it's the Halloween season), we asked bartenders from across the country to craft four cocktails (and one mocktail) to pair with some of the top true crime podcasts around.
Serial


(Serial began on NPR and in its first season, covered the 1999 death of Hae Min Lee and the subsequent trial of Adnan Syed. For its second season, Serial tackled Pfc. Beau Bergdahl's alleged desertion and imprisonment in Afghanistan, as well as the aftermath of this event.)
Rough Cut
(Created by Danny Neff, Roebling Tea Room, Brooklyn)
1 oz rye whiskey
.25 oz Amaro Montenegro
.5 oz Spicy Ginger Syrup,
.75 oz Lime juice
soda to fill
Method: Combine all ingredients except soda into a mixing tin. Add ice and shake vigorously. Strain into a highball with ice and top with soda.
My Favorite Murder

(My Favorite Murder is one of the top-rated podcasts available for download (in general, not just true crime). In each episode, hosts Georgia Hardstark and Karen Kilgariff look at different murders and crimes that they've selected, including reading listener's hometown murders. Hardstark and Kilgariff offer a great balance between comedy and horrifying crimes.)
The Georgia
(Created by Lov Carpenter, Spiaggia, Chicago)
5 oz Buffalo Trace
.25 oz Ramazzotti amaro
.25 oz lemon juice
.25 basil syrup
peach slices.
Method: Muddle 2-3 peach slices with basil syrup. Add bourbon, amaro, and lemon, shake with ice, double strain into coupe, garnish with basil flower.
The Karen
(Created by Sam Slaughter)
3 oz cold brew coffee
.75 oz cherry juice
.25 tsp vanilla extract
orange peel
ground clove
Method: Combine coffee, cherry juice, and vanilla in a shaker tin with ice. Shake vigorously. Take a coupe glass and express orange peel over the top, then rub the rim with peel. Drop in. Pour coffee mixture in and top with one small dash of clove.
Related: Scotch on a Budget
Sword and Scale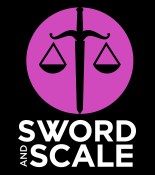 (Sword and Scale is for those looking to really dig into heavy true crime. Unflinching in content, Mike Boudet delivers everything from 911 calls to recordings of serial killers and, basically, everything you could ever think of that could cause a nightmare.)
Crime of Passion
(Created by Weston Lou, Hakkasan, NYC)
Pulp of 1/2 a Passion Fruit
.5 oz Agave Nectar
.5 oz Pineapple Juice
.75 oz Lime Juice
2 Dashes Bob's Peppermint Bitters
75 oz Bird's Eye Chili Infused Montelobos Mezcal *
Method: Add all ingredients to a cocktail shaker. Add fresh ice cubes to shaker and shake until well chilled. Double strain in a rocks glass over fresh ice cubes. Garnish with a Pineapple Leaf.
*Bird's Eye Chili-Infused Montelobos Mezcal: Chop up 6 Bird's Eye Chilis. Add to bottle of Mezcal. Let sit for at least 24 hours (let sit longer if you want the Mezcal spicier). Then strain out chilis.
Last Podcast on the Left
(Last Podcast on the Left is a podcast hosted by comedians Ben Kissel, Henry Zebrowski, and Marcus Parks. They cover a wide range of topics, from heavy hitting murderers like John Wayne Gacy and Ted Bundy to alien conspiracies, cover-ups, and more. Often more irreverent than not, LPOTL is for those that can take a terrible joke, or crack one.)
The Weegee Shuffle
(Created by Warren Bobrow, The Cocktail Whisperer)
2 oz Mezan xo rum
1 oz Fruitations cranberry soda and cocktail syrup
2-3 dashes Angostura bitters
Crushed ice
Seltzer to taste
Thyme
Method: Fill old fashioned glass with crushed ice and add the syrup. Pour over the rum and stir. Slap the thyme and add to glass. Pour over the seltzer then add angostura.
Editors' Recommendations