Today we meet canoe builder (and wine industry executive), Trent Preszler.
I am a third generation farmer living on the North Fork of Long Island, NY. Originally from South Dakota, I went to a one-room schoolhouse near the Standing Rock Sioux Reservation. Later, I studied at Iowa State University, and earned an MS and PhD in Horticulture from Cornell University. I grew up looking out at the Dakota horizon over fields of golden wheat. These days I look eastward over the Atlantic Ocean to points unknown.
I started building a canoe in 2014 shortly after my father passed away – over the winter during some historic blizzards. I have my dad's old shop tools and his trophy elk and deer antlers in my woodshop. I live in a secluded beach cabin on the North Fork that has amazing views across Peconic Bay over to The Hamptons. I make boats in a separate barn studio that was built in 1820 as the original Mattituck Village Blacksmith.
My primary material of choice for boatbuilding is aromatic red cedar, but I'm also exploring a broad range of hardwood biodiversity including walnut, maple, and exotic tropical species such as Zebrawood, Ziricote and Movingui. I'm building different boats with different species of trees as a means to explore the diverse colors, grains and textures in wood. Biodiversity inspires my creativity—not just in wooden boatbuilding, but also nature photography.
Some people say that when you build a canoe, you're planning your escape. But for me, it's a process of making order out of chaos. You buckle down on a task and make something beautiful and useful. Then when you're done, as you paddle away, it's freedom. In 2015, I rowed a wooden boat around the entire island of Manhattan to help raise $250,000 for my favorite charity: Rocking the Boat, a youth development organization in the South Bronx that teaches kids how to build wooden boats.
At Preszler Woodshop I handcraft heirloom quality canoes using traditional woodworking techniques. Each boat is painstakingly molded from hundreds of hand-cut wood strips during an exacting process that takes up to a year to complete. My canoes are functional works of art meant to be passed down through generations. My practice is imbued with the elements of the outdoorsman: wood, water, sky, and life.
In my "day job" I am CEO of Bedell Cellars, a 100-acre, certified sustainable vineyard and winery founded in 1980. I'm most proud that our Merlot was the official red wine served at President Obama's Inauguration. I am also Chairman of the Board of the New York Wine & Grape Foundation, and incoming Chairman of WineAmerica, the national association of wineries.
As for my personal style:
Jeans: When I'm building boats in my woodshop I always wear Levis 501s. I inherited my favorite pair of 501s from my Dad when he passed away. They fit me perfectly and are so soft after about 20 years of wear.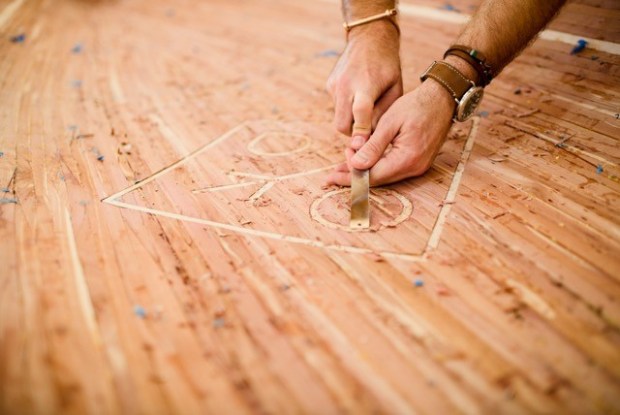 Shirts: When I'm in comfort mode I love lounging in my Feathers Hoodie from Burkman Bros. My BFF Allen introduced me to Doug and Ben Burkman a few years ago and I want to buy everything on their website. When I'm working in the woodshop I usually wear a Topo Designs plaid flannel, or a chambray shirt with wood buttons from A Kind of Guise with the sleeves rolled up. When I step it up a notch I have a huge assortment of dress shirts by Todd Snyder that I absolutely love. (By the way, Todd and I are both proud alumni of Iowa State University!)
Pants: I can usually be found wearing super comfy wool-silk button fly cuffed dress pants from Norse Projects; I like them so much I bought three colors. I only own one pair of khakis because they're perfectly tailored by Dries Van Noten and I can't imagine anything else being better.
Suits: I have a go-to navy blue suit from Our Legacy that I love for its versatility. And I had a custom black tux made at Seize sur Vingt in SoHo a few years ago that has served me well on so many occasions.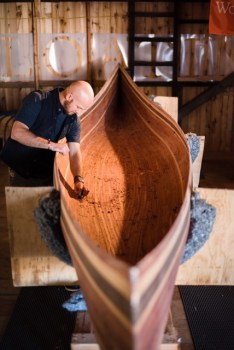 Shoes: In my canoe woodshop I only wear Red Wing's 8882 Heritage Moc Toe work boots and I have two pair in mahogany and indigo blue portage leather. For a casual walk around town or day in the office I'm usually wearing Common Projects original Achilles low sneakers.
Accessories: I try to make sure all my accessories are American made to support other craftsmen. The only time I take off my green Shinola Runwell watch is to sleep and shower! I wish I could develop a canoe partnership with Shinola, I have such respect for their brand. I also never take off my rose gold screw cuff from Miansai. Last year I bought a custom 5-panel waxed canvas and leather hat from Seasoned USA that's molded to my head most of my waking hours. I love Seasoned USA because all their caps are hand sewn in California using all American materials.  
Outerwear: My favorite outerwear tailor is Kai D. Utility Tools & Clothing for Artisans in Brooklyn. Kai is a supreme talent and makes everything in his shop with exquisite attention to detail. My one and only winter coat is a gorgeous navy wool Adventurer Jacket that Kai made for me. The cut is loosely based on an M65 Japanese military jacket.
Favorite Cologne: Wonderwood by Comme des Garcons (how predictable that even my cologne is wood)
Your favorite App: ESPN. I'm a die-hard college basketball fan, especially the Iowa State Cyclones.
Favorite piece of technology: That's a tie between my car and my camera. There's no finer machine on the road than my BMW 328 eco-diesel. And I'm also obsessed with nature photography — testing the limits of my Nikon D810.
Next tech purchase: Well I'm sure nobody's heard of the Powermatic 209HH wood planer, but I'm gonna get one in 2016. It will make a huge difference in the controlled precision process of cutting wooden boat planks.
Photos courtesy of Laura Barisonzi. 
Editors' Recommendations