As a native-born Michigander, nothing makes me prouder of my home state than its instinctive knack for bringing nature and industry together. Perhaps no Michigan-born brand represents this dyad better than Wolverine. (There's a reason we're known as the Wolverine State.)
Wolverine has not only been building boots since the late 1800s but has remained steadfastly loyal to its Michigan roots. The company still crafts its iconic footwear out of headquarters in Rockford, Michigan, sustaining a unique connection to the people and the place that made the company who it is. The boots are more than just a beautifully made example of heritage foot fashion — they're the real deal, every pair combining comfort, durability, function, and style. Even today, 135 years after the company was founded, Wolverine makes boots according to its original construction methods and archival patterns.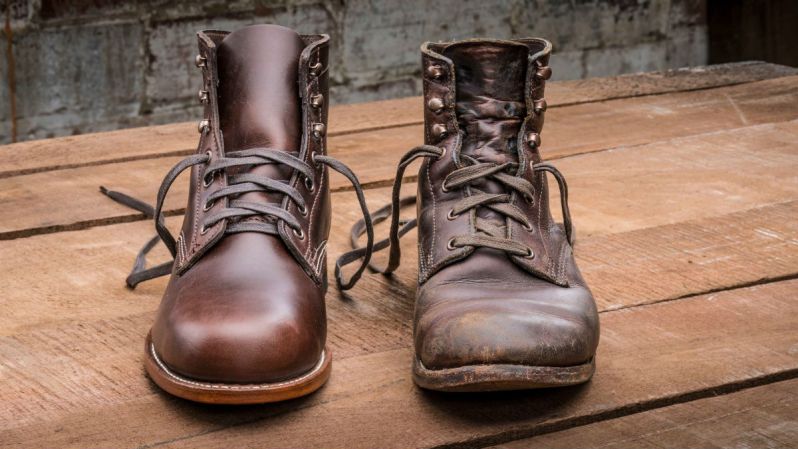 The 1000-Mile Boot is the calling card of Wolverine, manufactured since 1914. Crafted from horsehide treated with an innovative tanning process that made it uniquely soft and pliable, it offered exceptional durability and long-term value to the wearer.
Founder G.A. Krause was not only a consummate craftsman but also a workingman's advocate. He created one of the nation's first profit-sharing plans, selling shares of his highly successful company to his employees. His product and his vision were always designed for men and women who understand the meaning and value of a hard day's work.
For the company today, this is more than just a branding concept. For the past three years, Wolverine has put extra muscle into supporting the skilled workers of America through Project Bootstrap, an initiative that outfits trade school students around the country with a pair of tough-as-nails Wolverine boots that can carry them throughout their career.
This Labor Day, Wolverine takes the project one step further with the launch of a new partnership. Dirty Jobs host (and longtime Wolverine fan) Mike Rowe has created a limited-edition version of the 1000 Mile Boot that pays homage to the masons, carpenters, construction workers, and other skilled workers who serve as the backbone of American industry. Recreated from the original 1000 Mile, the mikeroweWORKS edition will feature red, white, and blue stitching and a mikeroweWORKS-embossed leather hashtag. One-hundred percent of all sales will be donated to benefit the mikeroweWORKS Foundation, a non-profit helps train people for skilled jobs and has provided over $3 million in scholarships for trade schools.
At a time when 82 percent of construction firms project increasingly difficulty in recruiting and hiring qualified workers, it's more important than ever for successful individuals and companies to invest in the future of America by supporting the training of skilled workers.
The limited edition mikeroweWORKS 1000 Mile Boot will be available for purchase online via Wolverine one week leading up to Labor Day: Tuesday, August 28 through Tuesday, September 4.
Editors' Recommendations