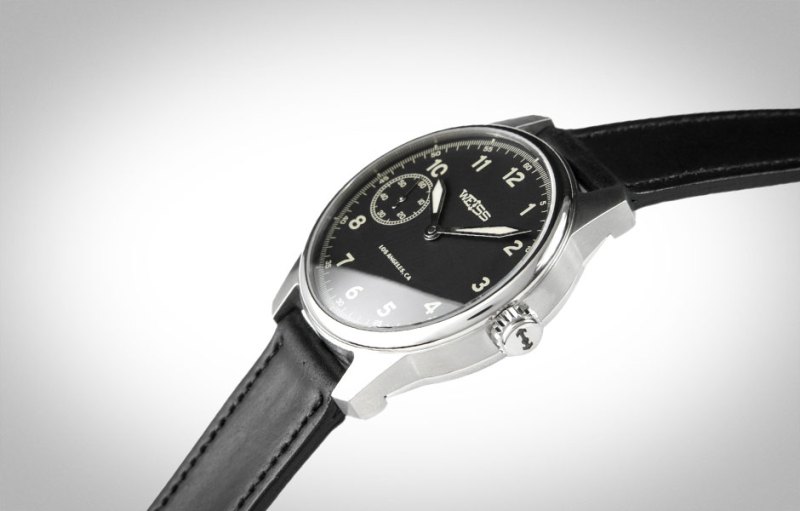 Limited editions watches don't normally start rolling out just two years after a company's first year in business, but Weiss Watches pulls off the feat like a pro. This month, they dropped their first ever limited run two Field Watches, featuring new dial color combinations and Horween Shell Cordovan straps. Not only are they fine looking timepieces, but with quality, good ol' made in the U.S.A. craftsmanship behind them, they're a solid investment.
The Limited Issue Dark Blue Dial Field Watch features a dark blue dial, latte numerals, silver hands with latte lume, and brown handmade Horween Shell Cordovan strap. Only 100 pieces will be produced. The Limited Issue Black Dial Field watch features a black dial, latte numerals, silver hands with latte lume, on a black tonal handmade Horween Shell Cordovan strap. Only 200 pieces will be produced. New Shell Cordovan strap options will also be available.
As to why Weiss is going limited run before their junior year? Cameron Weiss, Weiss Watch Company founder and master watchmaker stated, "We are asked all the time for special versions of our watches. We felt it was time to release a set of limited issue timepieces to mark our two year anniversary."
Current Weiss timepieces feature a Swiss made mechanical movement that is hand finished and assembled in Los Angeles. All stainless steel cases, case parts, case-back screws, dials, crowns, gaskets, sapphire crystal, spring bar tools and white pine packaging are designed, engineered and manufactured in California. Weiss is, as of now, the only watchmaker in the United States designing, engineering, and manufacturing their own cases and dials, as well as finishing each movement by hand.
The Limited Edition Field Watches will be available only on the Weiss website, and soon through select Barney's New York locations.
Both editions retail for $1500, featuring individual serial numbers and Certificates of
Authenticity.
Editors' Recommendations