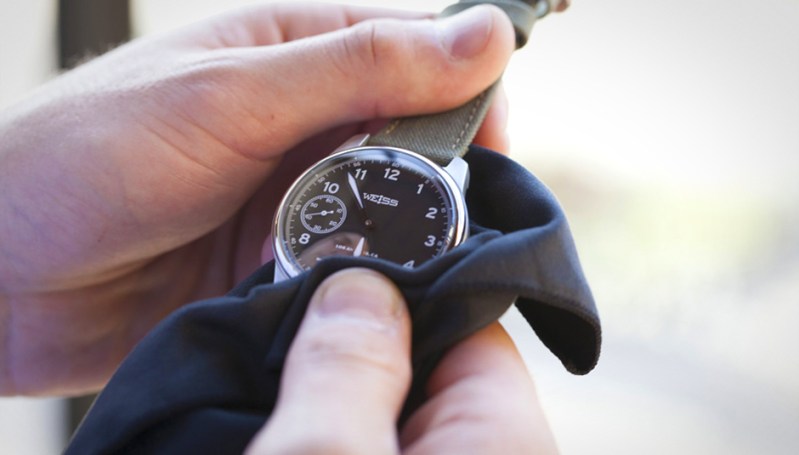 Quality timepieces are often associated with the same few countries of origin; Switzerland of course, and Germany.  One brand that is hoping to change this perception is The Weiss Watch Company.  At the helm is Swiss trained watchmaker Cameron Weiss.   WOSTEP certified, Weiss spent years training under the masters at watch houses Audemars Piguet and Vacheron Constantin.   Working hard to resurrect watch manufacturing in the United States circa the late 1800s early 1900s, Weiss is hitting the niche hard with its latest offering; the Standard Issue Field Watch.
At 42mm in diameter, this Stainless Steel cased watch is designed and almost totally manufactured right here in America.  Dials, hands, cases, and accessories are made in house as well as the finishing of the Swiss movement parts.  Once assembled, this classic timepiece can confidently bear the name of its home city as imprinted on the dial; Los Angeles, California.
Beneath the in house manufactured brass dial lies a Weiss caliber 1001 manual wind mechanical movement with forty-six hour power reserve.  All sandwiched together with two sapphire crystals for easy visibility of both the dial and movement, the Stand issue Field Watch is ready for a strap.  Black and white dials are offered with a selection of strap colors which include olive, navy, and black.
Weiss offers a classic design reminiscent of the old American made Walthams at an extreme value for the quality.  Nicely packaged at $1,100 for the Standard Issue Field Watch with additional strap and strap change tool (also manufactured by Weiss) , this timepiece is sure to make some waves in an already competitive segment.  Check out everything The Weiss Watch Company has to offer.
Editors' Recommendations