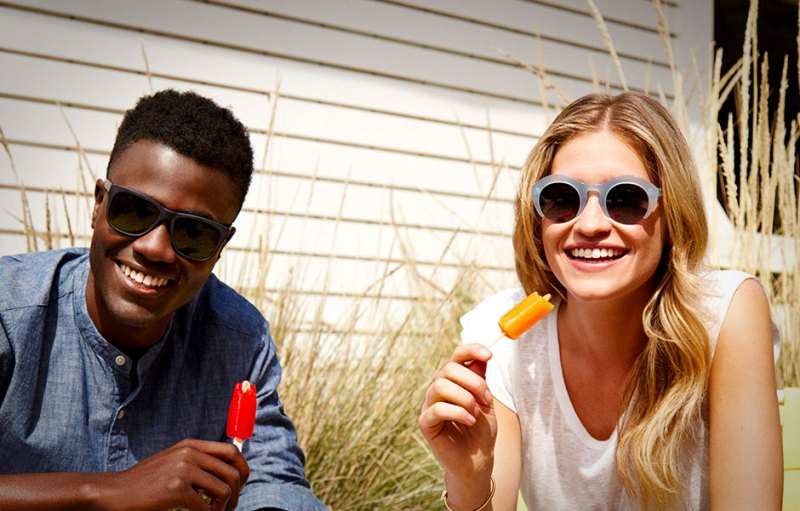 With the sunny months of June, July and August just around the corner, Warby Parker co-founders Neil Bluemthal and Dave Gilboa dish on the opening of their new maritime-inspired showroom and the sunwear trends that will have everyone swooning this summer.
Warby Parker, the innovative and affordable designer eyewear brand, has just opened their latest gathering space inside Alchemy Works: Harbor House in Newport, CA.
"The Warby Parker showroom inside of Alchemy Works: Harbor House takes inspiration from the shop's maritime surroundings, as well as the world of mapmaking and seafaring," begins Bluemthal. "When we design a new space, we love to explore the surrounding atmosphere and channel elements of it into the physical store."
"As customers enter," continues Gilboa, "they'll notice a cartography-inspired floor design, walls decorated with a world map illustrating every time zone, and an antique brass map installation."
The space beautifully embodies the adventurous and worldly spirit of the brand. Its opening also perfectly aligns with the launch of Warby Parker's summer 2016 collection, which just went live this past week.
Related: Feel Good Friday: Sunglasses Made of Discarded Fishnets?
The collection is quintessential Warby, with designs that are classic, while also undeniably forward-thinking and trendy.
"For our summer sunwear this season, we're featuring semi-rimmed styles and flash electric lenses," starts Gilboa.
"We'll continue to release new sun styles in the upcoming months as summer approaches, with stylish riffs on classically flattering silhouettes."
These silhouettes include the Eastman for men, which is Warby's take on the timelessly square frame and the Tilley for women, a classic cat-eye frame with oversized proportions.
"We were inspired by all the sensory experiences of summer—the sound of cannonballing into the pool, the feeling of beach sand beneath your toes, the smell of freshly cut grass," adds Bluemthal.
"These sensory experiences are, of course, heightened when your eyes are shaded by a great pair of sunglasses."
Check out the full sunwear collection, here and scope out the new Harbor House space, here.
Editors' Recommendations