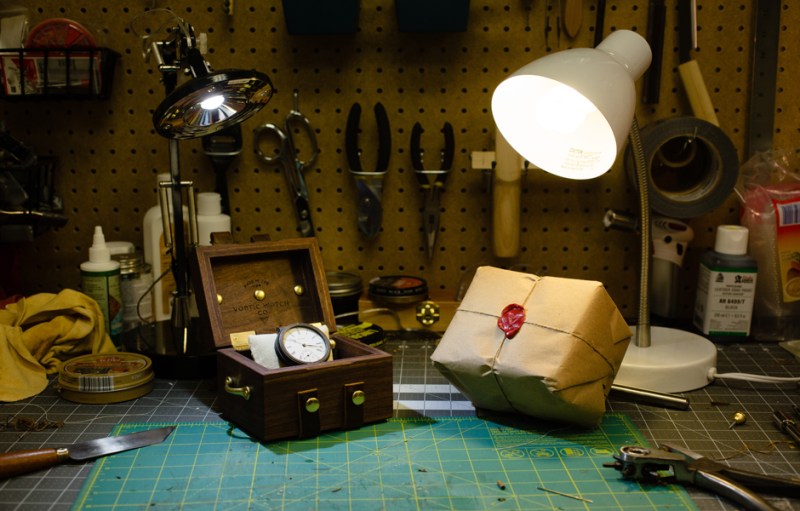 You'd have no idea by just visiting the homepage of the Fort Collins-based Vortic Watch Company that the co-founders of this elegant watch company sat in undergraduate classrooms at Penn State University a mere 24 months ago. What began as a simple class project, quickly turned into a bona fide business venture that took three college kids from dorm rooms to business meetings quicker than they'd ever imagined. Perhaps most impressive is the fact 25-year-old CEO R.T. Custer and his business partners — 23-year-old COO Tyler Wolfe and 25-year-old CMO Frank Barber — achieved this by literally turning the clock back to the mid to late 1800s, repurposing antique pocket watches into some of the most beautiful pieces you've ever seen.
Though you've likely seen a repurposed pocket watch in some fashion, it's guaranteed you haven't seen one the way Vortic does it. Starting out by finding old timepieces online, Custer and his team developed a way to 3D print a compatible case which would help restore the watch. The 3D-printed model allows the movement to essentially float inside the case, giving it a one-of-a-kind look and design. After partnering with a 3D printing company to develop the steel and bronze cases, Vortic also bought its own Formlabs Form 1+ stereolithographic machine to manufacture its product's plastic components.
From the 3D printing of each piece's case to the packaging of their final product, Custer and his team's attention to detail is absolutely stunning. Due in large part to Vortic's idea that the customer experience is paramount to a successful business, no stone goes unturned in leaving those who buy one of these remarkable pieces in absolute awe. Constructed by a local Fort Collins carpenter, each piece's unique packaging perfectly displays the company's intention of crafting a positive customer experience. By using salvaged American walnut, brass hardware, and finishing each box by hand, the final packaging is a work of art in itself. Vortic even stamps the box's wrapping with the kind of wax seal used to fasten parcels sent on railroads over a century ago.
"Most companies don't show you how their products are made because they don't want you to know," Custer told The Manual. "We do everything in-house and each one of our products are 100 percent Made in the U.S.A."
Because of this attention to detail and righteous product, there's no surprise Vortic — a combination of vortex and tick, like a clock — continues to enjoy its meteoric rise to relevancy. With plans on tap to move into an upscale, remodeled farm in Fort Collins (to establish its first brick and mortar), and goals of expanding into roughly 10 retail stores around the country by holiday time, it's an understatement to call Vortic a success story. Though before Custer and Wolfe even thought of seeing their product on store shelves or in revered publications, the duo encountered a bit of a rough patch early on.
After speaking with Custer about the genesis of Vortic Watch Company and how it managed to enjoy exponential growth throughout its infancy, the co-founder did admit to running out of money shortly after graduating from Penn State in May of 2014. Though forced to walk away from what had taken Penn State businesses classes by storm (the co-founders won a business plan competition, earning them grant money for research), Custer moved to Fort Collins, Colorado to pursue a career in industrial engineering.
It wasn't until the end of that summer Tyler contacted Custer admitting some frustration of his own career path and insisted they get the band back together and give Vortic an earnest second shot. At this time, the duo decided to take their innovative watch plan to the crowdfunding site Kickstarter to see if they could raise enough money to operate the business. The thought was that even a modest $10,000 in funding would allow them to manufacture a handful of watches and enable them to get back to doing what they loved.
"I told him that if we hit our $10,000 goal, he could move to Fort Collins and live with me while we operated the business out of my house," said Custer. "What happened next though was that we hit $10,000 in just the first 12 hours of the campaign, the response was incredible."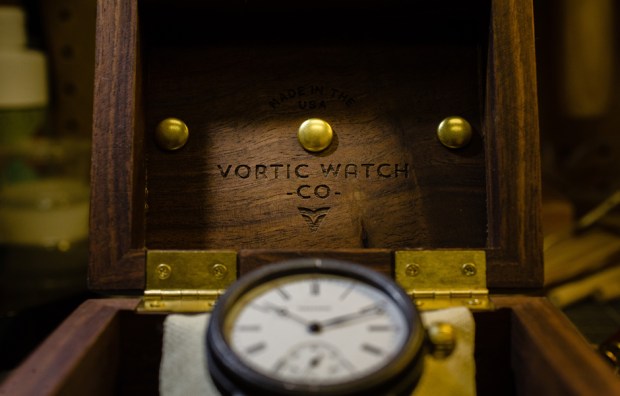 All told, Vortic raised an astounding $41,035 over the course of its entire listing on Kickstarter, meaning Wolfe was on his way to Fort Collins. More importantly, the raised funds meant the small Vortic team had to assemble roughly 50 watches in light of the success, a load of work that baffled Custer and company. After spending literally every second of every night and weekend on the orders, Vortic shipped its final Kickstarter-backed watched roughly one year ago.
Several times during my conversation with Custer, I couldn't help but sit in awe of not only the sheer quality of Vortic and its products but of the company's increasing momentum in an otherwise crowded industry. However, armed with one of the most innovative business plans ever introduced to the world of watches, Vortic Watch Company appears less like a flash in the pan and more like a company built for the long haul.
Editors' Recommendations