A bag that makes the security line less of a pain in the ass.
Every time we travel we go through the existential crisis of whether to pack a big, ugly roller that fits everything, or wind up smelling unsavory in reworn clothes packed in a small, yet stylish weekender bag.
These are the simple annoyances that keep us up at night, and we're not alone.
A new Kickstarter campaign is setting out to market the ultimate weekender bag that can carry five days worth of essentials, in a modern carry-on made from 100-percent full grain Italian leather and waxed canvas.
It's called the Tuscatti Weekender, and it looks damn fine.
The designers of Tuscatti packed this modern jet-setting bag with 14 features meant to reduce time spent at airport security and increase optimal packing power and travel ease. The Tuscatti has thoughtful details like magnetic latches, a laptop sleeve, sunglasses hook, phone pocket, passport holder, and umbrella loops.
Yeah— all the things you don't think of until you're traveling and realize how important a simple sunglass hook can be.
The aesthetic is equally as functional, having a cross-culture appeal that would look just as slick in Manhattan and Italy. The real heart-melting element, however, is the full grain Italian leather. It's beautiful… and I don't think I've ever called a bag beautiful before.
The Tuscatti's clean outside design is a complete contrast to the intricate and strategically placed interior pockets. And we appreciate that thought from both a practical and stylistic perspective. It makes the weekender both highly useful and timeless.
As of March 30, the Tuscatti had about 30 backers pledging around $10,000. The total goal for the campaign that ends on May 5 is $36,000. Although the bag itself has an MSRP of $595, Kickstarter early adopters will get it for $369.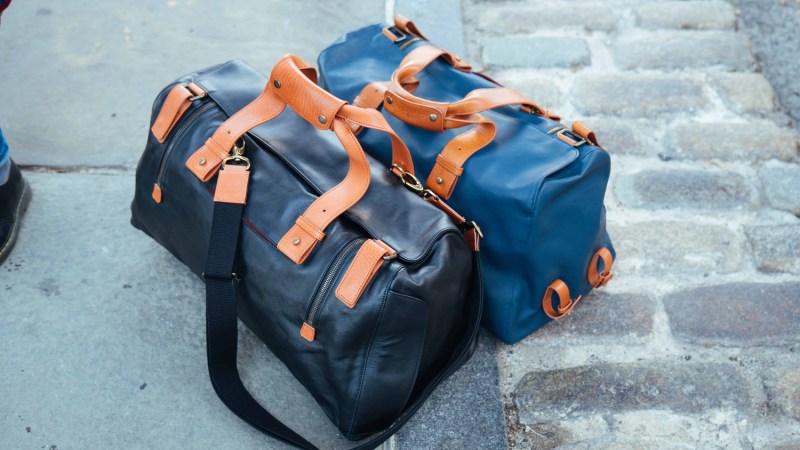 The makers of Tuscatti have also added unique perks to specific pledge amounts, bundling other classic travel essentials like their leather Dopp Kit, Passport Case, Luggage Tag, and Wallet. That means a complete overhaul of your current travel essentials.
Each piece, including the Weekender, comes in a range colors, including midnight black, cohiba caramel (our favorite), ocean blue, and French Bordeaux (a maroon-ish color). Depending on your personal preference, these colors give off a certain vibe; the black is polished and elegant, the orange, vegetable-tanned leather is more raw and authentic, while the canvas is casual and youthful.
Tuscatti is being made available for modern travelers worldwide. And don't be surprised if your girlfriend tries to kidnap the bag for her next spa weekend.
Photos courtesy Tuscatti
Editors' Recommendations