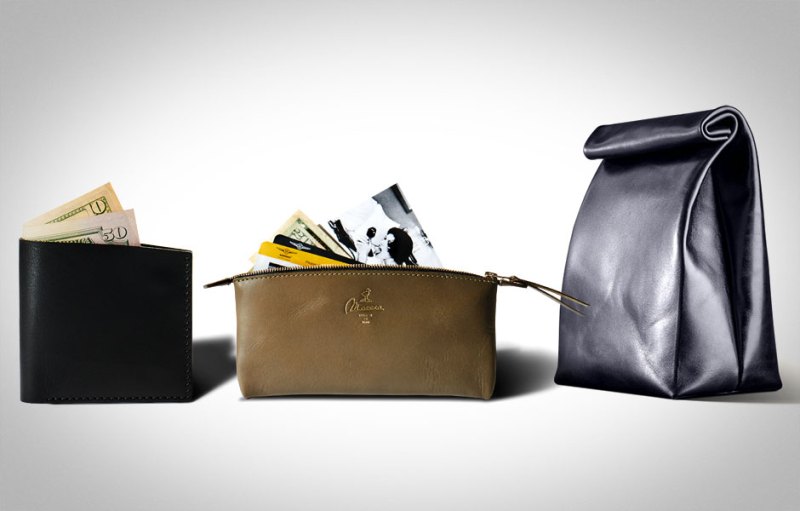 Let us introduce you to Moreca Leather Goods, a high-end company based in Ukraine that makes everything from satchels to lunch bags. The Ukrainian brand designs and sells products that combine a sleek, high-end aesthetic and an old-world handcrafted sensibility.
Their products are simple and dominated by clean lines. The Bifold Noir, for instance, has a compartment for your cash, two credit card slots—that fit up to eight cards for all you high rollers—and two brass buttons to secure the wallet shut.
But Moreca's goods riff on the tradition of clean and simple design by adding unexpected twists. The Noir is asymmetrical, creating a cliffside effect when closed and a mountain silhouette when open. The teeter-totter effect of the criss-crossing card slot lines makes the wallet feel playful, taking what could be a run-of-the-mill product and making it visually appealing. All of Moreca's products, in fact, are like geometric poetry.
The premium black chrome tanned leather will only get better with age—developing a deep patina over time, making it the perfect gift for your future grandson. The high level of quality and craftsmanship spans their entire collection.
Moreca also offers laptop pouches to protect your tech, fly pouches (which are perfect for travel—you'll never again have to worry about losing your passport) and an everyday-use pouch, which could be the answer to organizing your messy attaché.
The company, founded in 2009 and based in Kiev, is spearheaded by two brothers: Anton and Oleg Duma. Born to a family of aviators, no wonder the designs these brothers come up with seem like travel essentials.
Another product that caught our eye? The lunch bag. A simple fold-over bag made from rich black leather. Now you can brown bag it every day in style.
Check out the full collection here. Or, to see their couture line, check out Moreca Atelier.
Editors' Recommendations