The original sport sandal-maker, Teva, has teamed up with streetwear powerhouse, Publish, to bring out a limited-edition Original Universal Premier sandal design that blends Teva's outdoor ardor with Publish Brand's unique, utilitarian aesthetic.
The Teva X Publish collection also puts each brands' opposing craftsmanship to the test, as the capsule features tees and joggers that are ready for both the concrete jungle and the real forests beyond.
We were kind of surprised when we heard the two were collaborating on a sandal, but, considering the already successful exploration of meshing outdoor and streetwear brands, and each organizations determination to stay grounded in their respective style roots, we knew the Teva X Publish collection would impress.
We weren't wrong.
"We are extremely excited to partner with Publish Brand," said Teva Senior Marketing Director Erika Gabrielli. "Merging streetwear with the rugged functionality of Teva, this collaboration draws inspiration from opposing aesthetics to create one cohesive collection. The collection represents a creative exploration of expression and design where outdoor intersects with street in a fresh way for fans of both brands."
See how street meets trek in the full collection below.
Teva X Publish Original Premier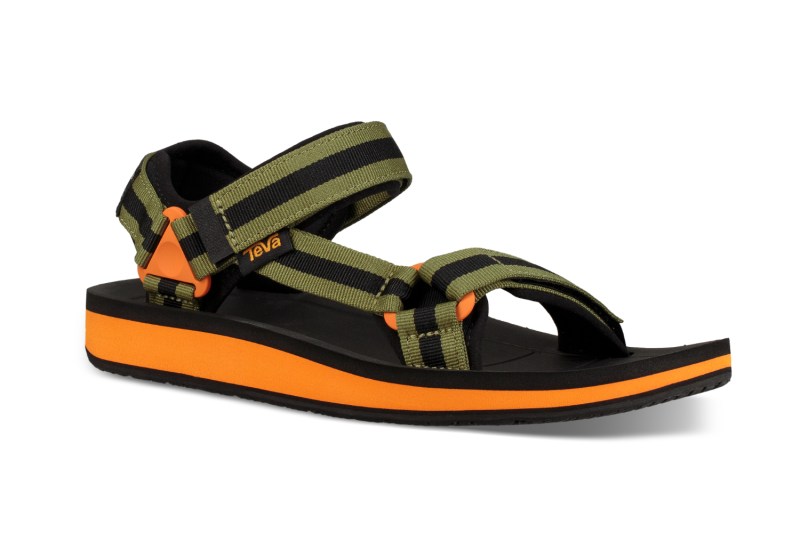 The original premiere sandal captures that standout, classic style and venturesome spirit of Teva's first sandal, only this time, with the addition of Publish Brand's contemporary artistic taste. The military-inspired sandal boasts a bright orange sole stripe and orange strap connectors juxtaposed against green-and-black-striped straps, as well as a black responsive and cushioned FloatLife™ footbed.
The blazing orange color is reminiscent of safe hunting attire designed to stand-out against the camouflage-inspired olive green hues. The opposing aesthetics are a somewhat surprising match, but this combination is exactly where the Teva X Publish collection comes together as a whole.
On top of its serviceable, stylish design, the sandal also boasts quick drying ability for better function in water and features a hook and loop closure that is just as easy to unfasten as it is to keep your foot securely strapped and comfortable throughout the day. The Original Universal Premier sandal will retail at $100, available in sizes ranging from 7 to 14.
Teva X Publish Tee
The tee, which retails for $40, sports a minimalist design drenched in a matching blazed orange color and is constructed from a brushed microfiber fabric for a lightweight feel and breathability. Finished with a Teva branded front pocket, this shirt fits in whether you're trekking the urban streets or ambling your way down your favorite hiking trail.
Teva X Publish Jogger
Complementing the sandals and tee is the Legacy Jogger, one of Publish Brand's greatest creations. The jogger retails for $92 and is customized with a reinforced saddle, a tapered leg, olive green thigh seam stripes, and a DWR coating that repels water and stains as much as the sandals do.
For a look at more sandals, check out our favorites for the summer season.
Editors' Recommendations