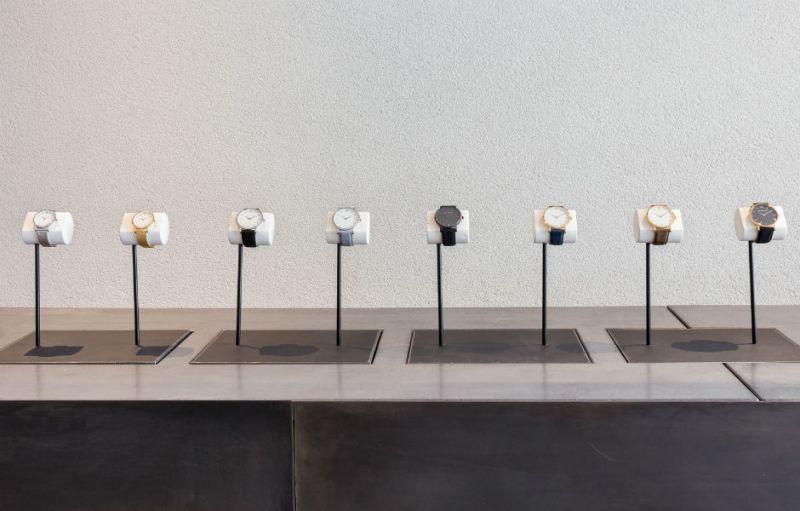 Larsson & Jennings, the London-based watch label, combines Swedish design with Swiss precision. The in-house design team partners with Swiss manufactures to ensure quality with each watched. The leather is sourced locally from Anglo-Swedish tanneries, and combined with hand-finished metals for premium detailing. Currently, Larsson & Jennings is stocked in over 100 luxury retailers around the world, and this summer, Larsson & Jennings opened its first American flagship store at 355 Bleecker Street in New York's West Village.
Larsson & Jennings's West Village location features 470-square-feet of retail space, and carries the label's complete collection. The brand tapped the London-based design consultancy Studio Mills to design the interiors. The designers looked towards both  the charming neighborhood's cultural history, along with its architectural legacy. White terracotta, the same material of the exterior of the nearby Our Lady of Pompeii Church, is used in the glazed white bricks located at the rear of the store. The studio juxtaposed polished concrete against white stucco walls to further use the materials that are prevalent in the West Village. The German brand e15 provided the feature lighting and furniture, including the iconic Jean stool, as well as the North pendant and floor light, as well as the suspended Span lighting. Customers are invited to take a seat on the Douglas fir chairs spread throughout.
At the back of the store is an interactive area where customers are encouraged to get to know the brand better. Discover LJX, Larsson & Jennings's bespoke personalization service, as well as a fika bar, where visitors can partake in one of Sweden's most popular rituals — enjoying a cup of coffee prepared by the barista-trained Larsson & Jennings staff. A projector shows off the brand's latest campaigns so that customers will be immersed in every aspect of the brand.
"Opening a physical touchpoint in the U.S. to follow our existing London flagship is an exciting step for us, as we launched just four years ago as an ecommerce-only business," says Larsson & Jennings CEO, Andrew Jennings. "Expanding into the U.S. has always been an ambition of ours and we're excited to literally put ourselves on the map with our Bleecker Street store."
For more information, visit larssonandjennings.com.
Editors' Recommendations