In a few short weeks, it seems the pandemic shut down just about everything. Restaurants, bars, concerts, public gatherings — all manner of fun was suddenly off-limits. That's meant that now, more than ever, people are heading into the great outdoors for their next adventure. For anyone who loves planning, tracking, and sharing every aspect of their workouts and activities, a good multisport smartwatch is key. We tested Suunto's new Suunto 7 to see how it stacked up. Here's what we found.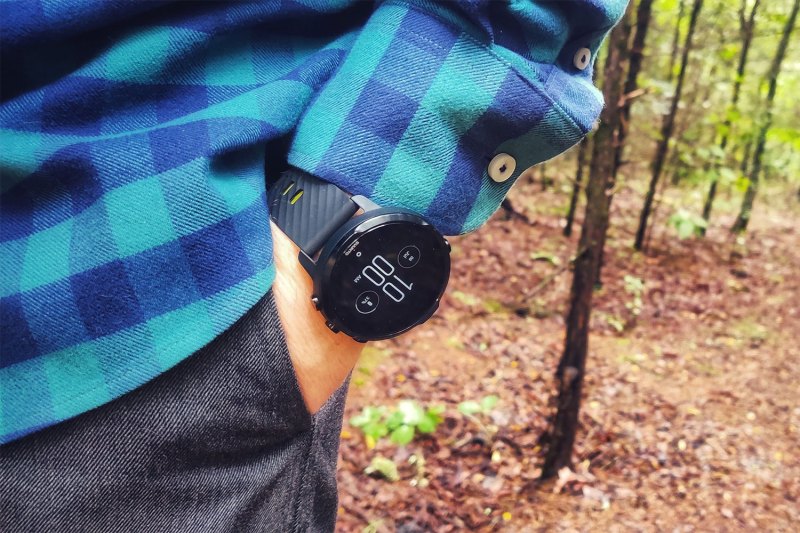 Setup
Out of the box, setting up the Suunto 7 is straightforward, if a bit tedious. That's less a knock on Suunto and more the reality of setting up a sophisticated, multifunction smartwatch. There are quite a few steps, although none are especially tricky. My test watch arrived with about a 50% battery charge. From unboxing and topping off the battery to setup and putting it on took a little over an hour.
Design
Finland's Suunto has long been a favorite among hardcore adventure-seekers, so most of its products target endurance athletes, triathletes, and adrenaline junkies who happen to love tech gadgets. The Suunto 7 is designed for a more mainstream audience. At first glance, it's every bit as handsome as an Apple Watch.
The stainless steel bezel wraps around a bright, crisp 1.4-inch screen made of ultra-durable, scratch-resistant Gorilla Glass. The soft silicone strap is pliable and comfortable. It just feels like a premium smartwatch. Interchangeable faces and wristbands make it easy to personalize the overall look. Our Black Lime tester, for example, felt bold, rugged, and adventure-ready. In Graphite Copper and Sandstone Rosegold, however, the Suunto 7 looks like a luxury timepiece. In every configuration, the Suunto 7 is billed as "adventureproof." That's Suunto-speak for dirtproof, shockproof, and waterproof, so it's designed to work literally almost anywhere.
The display is customizable as well, allowing wearers to dial in a background that suits them, including a compass, a traditional watch face, or a "heat map" that's color-coded to show popular nearby running and hiking trails. Swiping through the watch's menus, apps, and settings (e.g., swipe up for notifications, left for Google Fit, etc.) is as easy and intuitive as using any upmarket smartphone. The screen is incredibly fast and responsive, making navigating all of its menus very satisfying. Four stainless steel buttons on the sides also provide quick access to its most used features, and some are customizable.
Features
The Suunto 7 is billed as a multisport watch for the masses — a "daily driver" for everyone from C25K-ers to marathon runners. Thanks to its integration with Wear OS by Google, it delivers on that promise for everyday tasks. When synced with a smartphone, it provides calendar updates, previews of incoming texts and calls, and sneak peeks at to-do lists directly on the wearer's wrist. It also seamlessly integrates with Google Pay, Google Assistant, and a long list of other Google products. Through built-in Wi-Fi, the watch is able to sync all your Google account items and download new maps and software automatically. For the most part, all of these features worked as advertised. One minor sticking point is that notifications didn't always sync accurately with our phone. That meant having to clear the same alerts multiple times on both the watch and phone.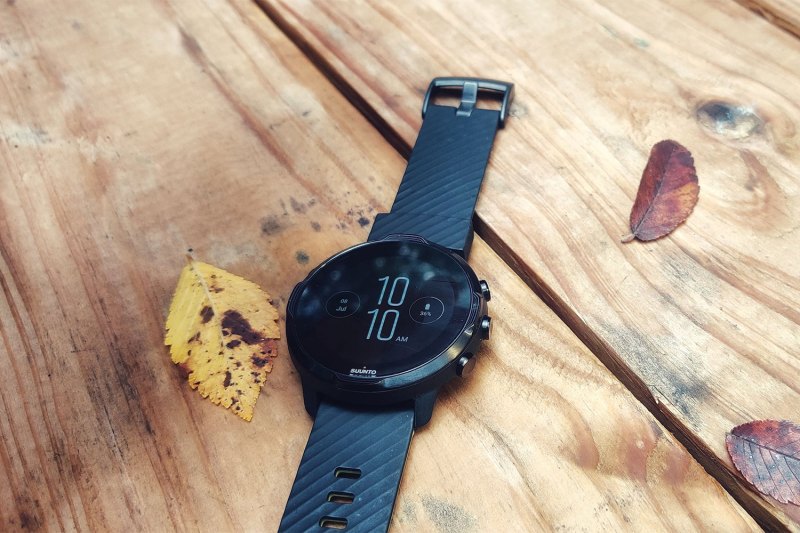 Where the 7 excels is in doing what Suunto does best. Clicking one of the watch's dedicated bezel buttons brings up the Suunto app. Here, you can accurately track your exercise in more than 70 dedicated sport modes. That includes the basics like hiking, running, and swimming, plus niche activities like boxing and horseback riding. Whatever your flavor of outdoor activity, it's probably already built-in. What's more is the app features its own GPS-enabled mapping system, and it syncs well with Google Fit, Endomondo, and Strava.
Battery
Smartwatches have come a long way in the last few years. Most promise to last at least a full day with normal use. Suunto touts a 48-hour battery life under average use for the Suunto 7. With GPS tracking switched on, that drops to around 12 hours, which is still respectable. We found these numbers to be spot-on. In our testing, wearing it from wake-up to bedtime, then charging it overnight proved to be the perfect routine. The 450mAh battery also charges quickly — from zero to full in about hour, so it needn't be off your wrist for long.
Conclusion
The Suunto 7 is trying to be all things to all athletes, and it mostly succeeds. It offers excellent battery life and almost every feature athletes of all skill levels could want in a handsome, customizable package. For most folks, however, it's probably overkill, especially with its roughly $500 price tag.
Pricing and Availability
The Suunto 7 is available in five colorways with a retail price of $499. The battery and strap are warrantied for one year, while everything else is warrantied for two.
If the Suunto 7 isn't quite your speed, check out our picks for the best tactical watches.
Editors' Recommendations