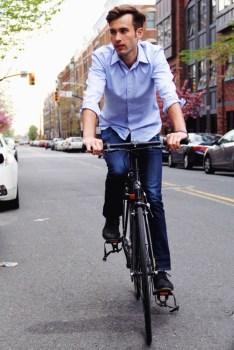 This past winter was a pain – and while most of us prayed for higher temperatures – heat stroke wasn't exactly what we were hoping for. The summer heat may be brutal across the nation – but thankfully there's a dress shirt out there we can wear to work that will help us cool off.
TAHAANGA is a recently launched New York based men's apparel company, and they are fusing our two favorite topics: fashion and technology.
Technologically advanced fabrics play a big role in TAHAANGA's clothing, but so does quality and feel. These shirts are made in Italy – and here's the kicker – they're sweat resistant.
Not only are they sweat resistant – these dress shirts have a ton of other "features" as well.
Who knew a shirt could have so much depth?
Moisture-control technology
Breathability
Quick-drying fabric
Wrinkle-resistant (for those of us who forget to dry-clean)
Anti-bacterial and odor-resistant (for those of us who forget to be clean)
According to TAHAANGA, the odor resistant anti-microbial treatment will begin to slowly degrade after 50 washes – so maybe you should consider letting a professional clean your shirts – or start wearing deodorant.
Right now you can pre-order the Preston Tailored-Fit shirt – it's machine washable and has darted back details and signature red stitching. The barrel cuffs are adjustable and have contrasting fabric on the interior, so this shirt will look cool rolled up. The buttons are also made from pearl for a dapper touch.
If you're wondering, the name TAHAANGA originates from the Maori word for "naked" – the idea behind this? The creators wanted to make shirts out of a fabric that felt like a second skin. But in all seriousness, a shirt that says "no" to pit-stains is pretty awesome. Pre-order your TAHAANGA shirts here.
Editors' Recommendations