Ask any athlete — be it professional, collegiate, or otherwise — about their experience buying dress shirts and you're likely to get the same, sigh-backed response from almost all of them.
Though the wording may differ, the general consensus is most off-the-rack dress shirts fail to offer ample room in the shoulders, chest, and arms while offering a particularly poor cut in the midsection. Due in part to how frustrating this is for people all over the word, two University of Michigan athletes decided to just make the very thing they yearned for: a professional looking dress shirt for an athletic body. After a brief bout of experimentation, the two launched State & Liberty.
For State & Liberty co-founders Steve Fisher and Lee Moffie, a recent surge in companies trying their hand at athletically cut dress attire intrigued them to take a crack at it themselves. Despite many of these new brands toying with performance fabric in pants and shirts, the duo still felt as though there just wasn't a true athletically tailored fit available to them. So instead of continuing to purchase clothing that wasn't completely up to snuff, Fisher and Moffie set out to do one better and started their own company.
"In the Fall of 2015, we started experimenting with prototypes and eventually made some shirts that we were proud of and launched our website in January of '16," Moffie told The Manual. "For the first eight months, we worked on the company on a part-time basis selling to friends and family while I played my second year of professional hockey and [Fisher] worked data analytics for the Detroit Tigers."
Available only via State & Liberty's website, Moffie and Fisher's clothing line draws business inspiration from Bonobos and Warby Parker, two prolific e-commerce companies. Aesthetically speaking, Moffie admits that while the patterns and styles of the shirts aren't necessarily groundbreaking, the fact they offer a uniquely tailored fit should allow them to stand out from the competition.
After spending a few days with a State & Liberty shirt of our own, we're confident in saying no dress shirt boasts as clean of a cut for an athletic build. Couple this with the fact the brand offers a variety of fashionable patterns and the stress of shopping for a great fitting (and great looking) dress shirt lowers significantly with State & Liberty.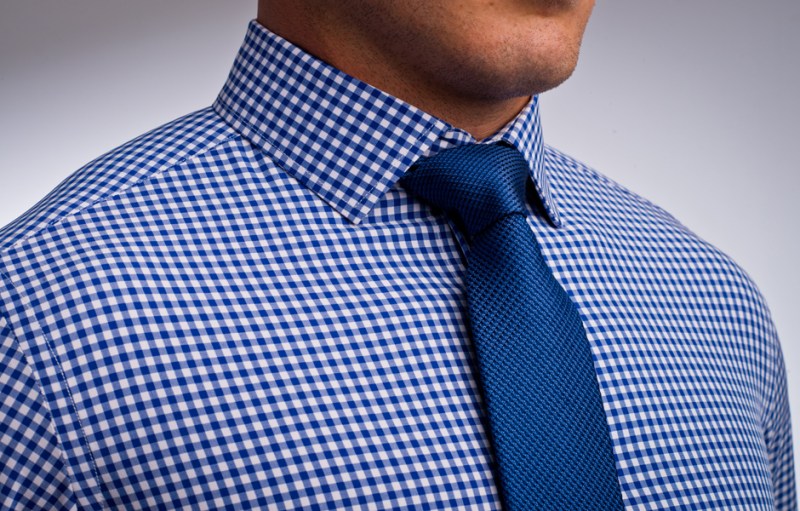 "Typically, off the rack dress shirts aren't made for the athletically fit because they are not the masses and we set out to change that," Moffie continued. "Our fabric is great for guys because it is extremely comfortable (stretchy and moisture wicking) and extremely low maintenance (wrinkle-free and machine washable)."
Moving forward, the brand has its sights set on launching four new shirts this fall before unveiling a couple new designs in early November in preparation for the holiday season. To get a look at the entire State & Liberty collection, head on over to the brand's website.
Editors' Recommendations