When it comes to watches for men, Seiko has long been a name that resonates with both enthusiasts and the uninitiated. The brand's rich history and commitment to quality timepieces have solidified its place in the world of horology.
In the realm of Seiko watches, the Prospex collection stands out as a symbol of adventure, durability, and precision. And now, Seiko has added a new twist to its iconic Prospex Alpinist series, introducing the Seiko Prospex Alpinist GMT. But it's not just any GMT watch; it's a timepiece that takes you on a journey, even if you're just sitting at your desk.
The Prospex Alpinist GMT unveiled
The Seiko Prospex Alpinist collection has always been about rugged elegance and the spirit of exploration. The addition of a GMT function to the Prospex Alpinist takes that spirit to new heights. GMT watches have long been favored by travelers and globetrotters for their ability to track multiple time zones. Seiko has embraced this feature, and the result is a timepiece that appeals to outdoor enthusiasts and people who value aesthetics, as well as functionality.
The Seiko Prospex Alpinist GMT comes in two captivating dial options: a classic Black (SPB379) and a stunning Sunburst Blue (SPB377). The dial features applied indices, luminescent dots for excellent visibility in low-light conditions, a date window for daily functionality, and a compass for the explorer in you. The compass is a nod to the SeikoAlpinist's heritage, as it has always been a go-to tool for mountaineers navigating their way through the wilderness.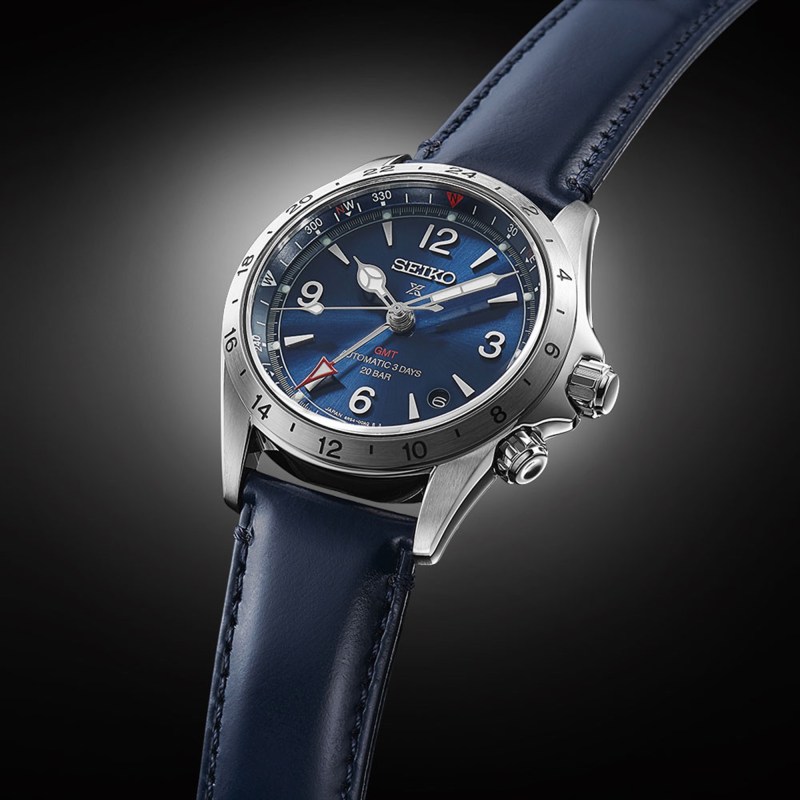 Built for adventure
Seiko knows that its Prospex Alpinist series is synonymous with adventure, and it has made sure the GMT version lives up to that reputation. The case material is rugged stainless steel, which not only looks good but can take a beating. The case dimensions are just right at 39.5 mm, making it versatile for various wrist sizes. To protect that beautiful dial, Seiko has used sapphire crystal, known for its exceptional scratch resistance.
But what sets the Seiko Alpinist GMT apart is the movement inside. It's powered by the Seiko 6R54 self-winding GMT caliber, and beats at 21,600 vibrations per hour, ensuring precise timekeeping. It boasts a substantial 72-hour power reserve, meaning you can take this watch on a weekend getaway, and it will keep ticking through your busy days without missing a beat.
The water resistance is 200 meters, making it suitable for water-based escapades. Whether you're diving into the deep blue or caught in a sudden downpour, the Prospex Alpinist GMT can certainly handle it. And if you're looking for versatility in style, the watch comes with two strap options: a sophisticated blue leather strap for SPB377 or a classic black leather strap for SPB379.
Seiko watches has paid attention to the details that matter. The case back is a screw-in display back, allowing you to admire the intricate movement within. It's transparent, offering a peek into the heart of your watch. The sapphire crystal on the front is treated with an anti-reflective coating, reducing glare and ensuring that the dial remains visible in all conditions.
The final word
In the world of luxury watches, Seiko has always been a brand that delivers exceptional value, and the Prospex Alpinist GMT is a testament to this commitment. The addition of the GMT function elevates its practicality, and the design stays true to the Alpinist's heritage, honoring its roots. So, whether you're planning an expedition to the mountains, a business trip to a different time zone, or just an evening out with friends, the Seiko Prospex Alpinist GMT is definitely up for the challenge.
Editors' Recommendations