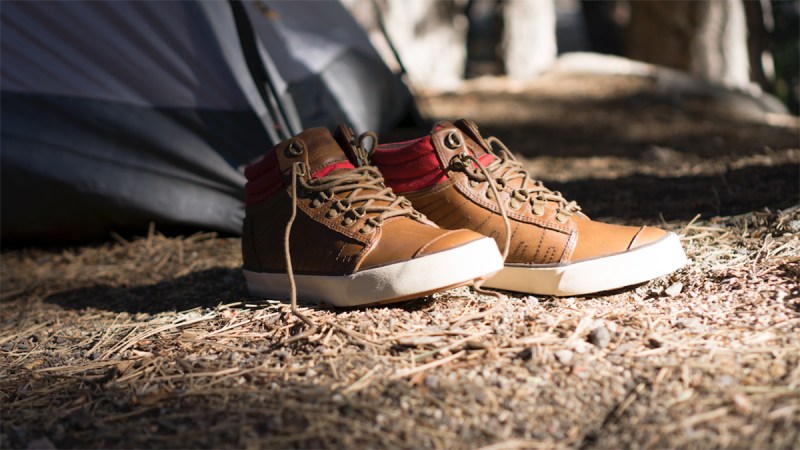 If you're pressed for space on a day hike, an extra pair of shoes is always a bulky challenge.
Typically, hiking boots are engineered for the trails (and look like it). That means plenty of angular lines, odd colors and technology that's great for the dirt, but not for happy hour after. You're going to need shoes that can take you to some of our favorite paths and then jump right over to our favorite watering holes (because who isn't thirsty after a good hike?)
Outfitter Ridgemont saw this problem and created the Outback II: a comfortable hiking/casual hybrid that stands up to a morning hike, but can clean up nicely for dinner after (just like you should too).
The shoe itself is built from 2mm waxed, full-grain leather with waxed cotton canvas, a bespoke open cell insole, and a high-density 100% vulcanized rubber outsole. The leather is fully coated in a water-repellent material for additional protection too.
The exterior of the boots are protected via a lockstitch side seam and a composite lasting board for extra comfort and durability in the forefoot.
While the Outback II was previously released in black, olive and burgundy colorways, the auburn/red combo is their most formal (and we think best looking) release to date. It's certainly one of the dressier options we've seen as far as hiking boots without spending a fortune.
We're always looking for ways to pare down the amount of gear we have to haul with us whether in the trunk of the car or in the bowels of our backpacks. Ridgemont is helping set the trend of more competent hiking shoes that aren't going to tear through terrain for days on end, but will get through a day out in the woods just fine. (Your boots will likely need a bit of TLC afterwards and we've got you covered there too.)
The Ridgemont Outback II is on sale right now for $95 and you can get yours here.
Editors' Recommendations