After being told that his "typical" straight leg jeans choice made him look like a grandpa, Leo Tropeano attempted to up his style game by trying a slimmer pair.
But after trying on numerous models by many different brands he left the dressing rooms unsatisfied – they all were either too tight, too trendy, or a combination or both. So he finally decided to create his own denim pants that blended embarrassment-free masculine looks, comfort, and affordability. Now this young Chicago-based entrepreneur is selling them (quite successfully) directly online with his brand Mugsy Jeans. He recently shared the story behind the brand's birth and explained why Mugsy is at the forefront of modern men's denim….
When and why did you launch Mugsy Jeans?
What's cool about Mugsy is that it was born out of my own frustration with the jeans market. I am a business guy by background and was in public accounting for years and I knew I always had the itch to start my own company but I didn't know in what. Then Mugsy just came around organically. I was living in New York a few years ago and had recently graduated college and I knew that I needed to start dressing better so I decided to start with jeans since jeans are a staple of every guy's wardrobe. I was shocked that I couldn't find a better fit – something more stylish that wasn't super uncomfortable. So a light bulb kind of went off in my head and I thought maybe this is a problem I need to solve. So I started from there. I developed a fit with more space in the crotch where guys need it most and then a more tailored fit in the legs where you want it to be more stylish and we went from there. That was probably four years ago. I didn't launch the line until summer of 2015 but I spent a few years developing it.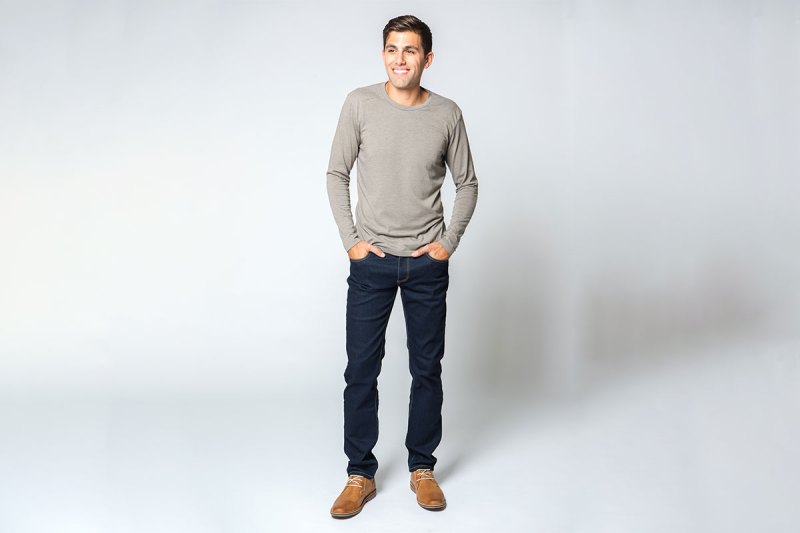 What sets Mugsy apart from other jeans brands?
Basically we make stylish jeans that are as comfortable as sweatpants. And on top of that they are at a $98 price point, which is pretty hard to beat.
What fabrics do you use?
The denim of our current line is all custom developed by us and our manufacturer. We worked with them over the course of a year just to make this denim certain to our specifications. It's cotton based which is typical for denim and gives it that classic denim look and style but we've also reinforced it with some polyester which makes it stronger, warp-resistant, wrinkle-resistant and then we've added Spandex for flexibility and mobility. We've even included some synthetic silk in there to give it that soft and super comfortable feel.
How many different fits do you offer?
Currently we just have our one slim fit that's not too tight and not too baggy. It's just kind of your classic slim fit. But we're actually looking to expand to an athletic fit for guys with bigger legs or who prefer a looser fit in the leg. We're hoping to launch that this spring.
And you're sold directly online only?
We're actually in two stores in Chicago but 99 percent of our focus is online. We like the direct to consumer model because that allows us to give awesome customer service. Currently I answer almost all of the emails myself and try to be as involved with the customers as I can. That's one benefit of selling direct. And beyond that we can keep our costs super low which means we can keep our prices more affordable.
Do you have a "typical" customer?
I like to call our typical customer the post-college pre-baby. We tend to float in that 23 to 35 age range. The majority of our customers are urbanites who are generally fit guys.
And Mugsy is your father's nickname for your mother?
Yeah. Two Christmases ago I was home prepping for the launch and I was really focusing on the name. I knew I wanted it to be something different but I just didn't know what. I was literally sitting on the couch at my parents' home in New Jersey and my dad called my mom "Mugsy" and I just kind of looked up and said, "What was that? I never heard you say that before." And he said, "Oh, it's my new name for her." It's his pet name for my mom and I thought it had a cool connotation to it and story so I kind of rolled with it from there.
What are the plans for Mugsy's future?
For the immediate future we are working on expanding the line. If you go to our website now you'll notice we have our one fit in three styles. We want to offer a few more styles for our slim fit and we're hoping to launch three this spring and then we're also hoping to launch an athletic fit with a couple of styles in there as well. The goal is to keep expanding and offer different products for all the different kinds of Mugsy guys out there. In particular we have had a lot of requests for pants you can wear to work so we're really hoping to expand beyond the normal blue jean.
What is it about a blue jean that makes it such an iconic garment?
The blue jean is just the classic staple for every guy's wardrobe. It goes with everything and it's so multifunctional and diverse in the way that you can use it. It's just the perfect pant for guys. With Mugsys we are looking to expand and take that pant from something that looks good and can be used in almost any style and make it also comfortable so now you have something that really is the best all-round best pants for guys.
Why should readers of The Manual check out your brand?
We're doing new stuff. We've reinvented the men's jean with our custom denim and our fit. I think that Mugsys kind of do it all – something that you look good in that you are extremely comfortable in. And for me, even beyond the fashion and clothing aspect Mugsy is more about making you your best you. I think it takes being in pants or jeans or clothes that you're supremely comfortable in and that you are your true self in to make that happen.
Editors' Recommendations