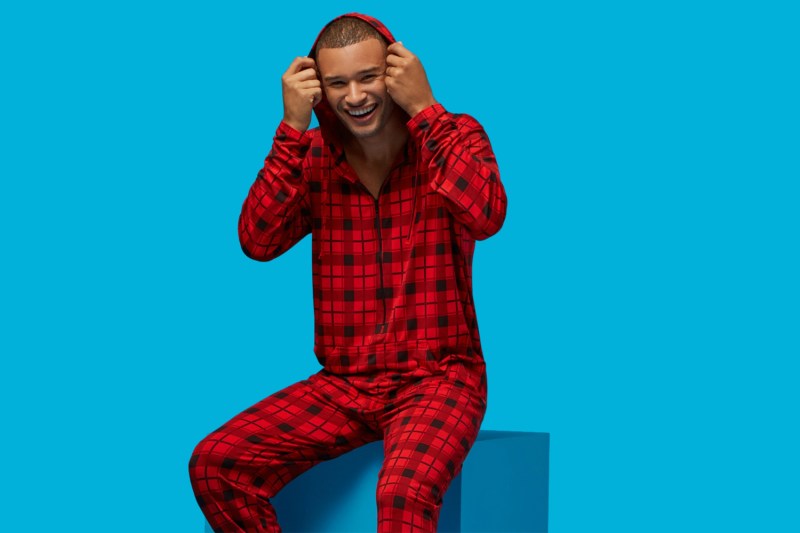 It's the holiday season and time to do some serious lounging. You might be looking for the "right thing" to wear while kicking around the in-laws' house on Christmas morning. You might need also need something cooler than sweats for evenings around the fireplace at the ski lodge you're sharing with your ski buddies. Heck, you might just need something to pull on around your drafty house that offers a bit more coverage than a bathrobe.
Enter the men's onesie.
It's like a sweatshirt with legs … baby clothes for adults … one-stop dressing … astronaut chic. It's comfortable, snuggly, and, most importantly, nice and warm on a cold spring's night.
However, if toddling around the house looking like, well, a toddler doesn't quite work with the chill, masculine image you've been working so hard to maintain, get the same effect with a union suit. It's a classic, proven solution, with lumberjack swagger. And, in a pinch, the right one is even an excellent solution for a base layer if you're venturing out into the cold. The long, full-torso front opening can also let you be as buttoned-up or as unbuttoned as the mood (you should pardon the expression) suits.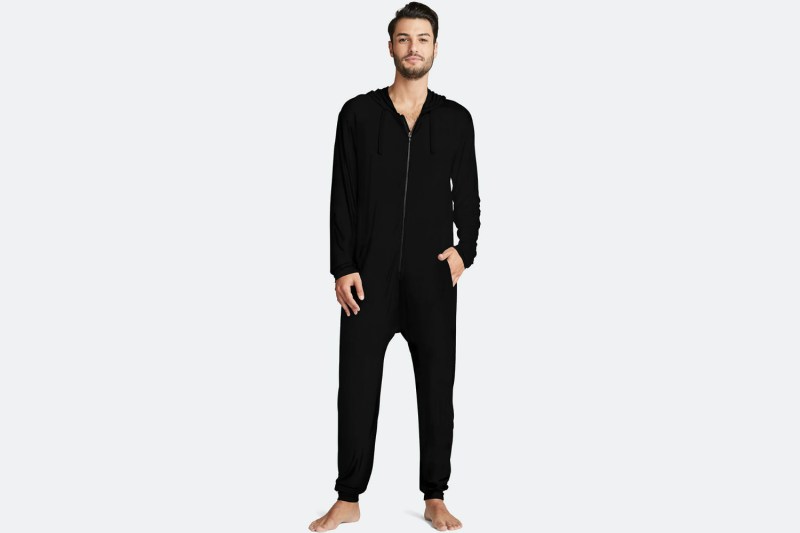 MeUndies makes this updated version of the onesie so comfortable you'd better get her one, too. It's available in a range of colors, but we like the black or dark sapphire best. It has a drawstring hood, full-zip front, and is made from super soft Modal with just a hint of stretch. Yes, there is also a unicorn pattern — just say "no."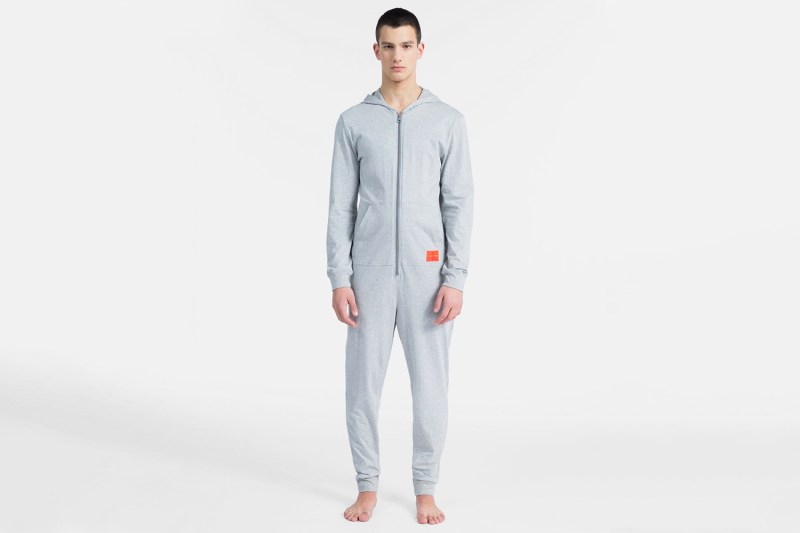 Of course, Calvin Klein would do its iteration of the onesie in a more streamlined version. It also features a hood and includes handy kangaroo pockets on the front, just like your favorite hoodie. It's made from a plush french terry fabric for extra soft cuddling. There is a CK logo on the back if that kind of stuff is important to you.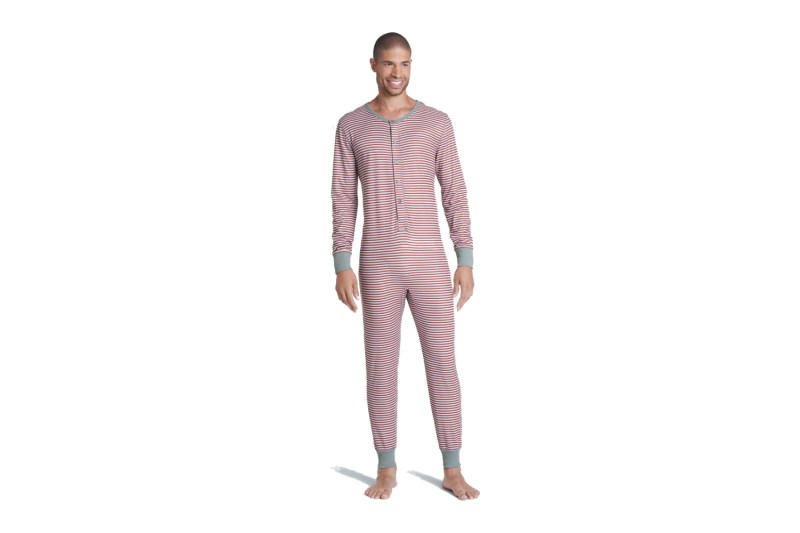 Definitely blurring the line between onesie and union suit, Jockey's version of one-stop dressing includes this festive version with red, grey, and white candy cane stripes, perfect for the holiday season, but a warm look all spring long. It's made with a brushed waffle-knit fabric for warmth and softness.
For the ultimate holiday lounging experience, J. Crew does the union suit up in a classic Buffalo Check, also known as the Rob Roy tartan. Cotton jersey knit makes it soft and comfortable, while the fit is a bit more relaxed than a classic union suit. Seems like the perfect thing to wear whilst sipping a fine bourbon.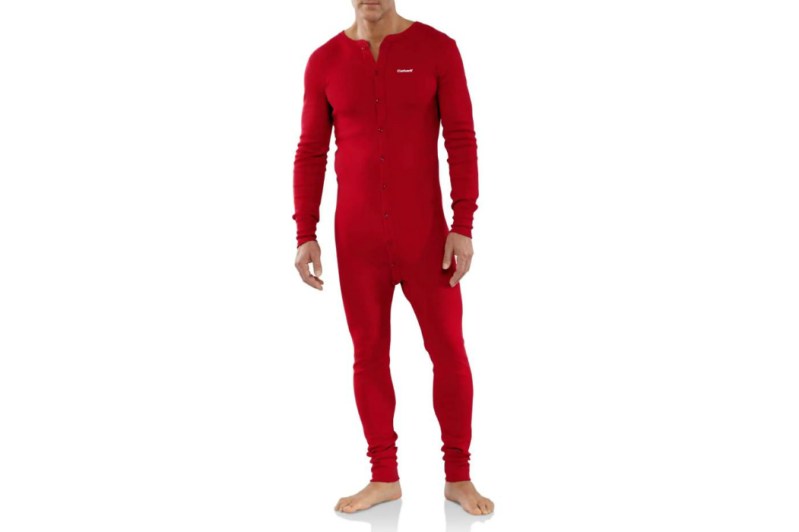 It's classic. Bright red. A hint of Santa Claus, but with a rugged workwear appeal. Carhartt stitches it up in a lightweight, 100 percent cotton of ringspun fabric that's as comfortable as your favorite T-shirts. Just don't be surprised if somebody wants to sit on your lap, Santa
Stitched up in a warmer thermal waffle-knit fabric, Duluth's union suit is a cotton, polyester, and spandex blend for comfort, no shrinkage and more movement, perfect for the job site or the home site. The heathered red color adds a weathered, vintage finish.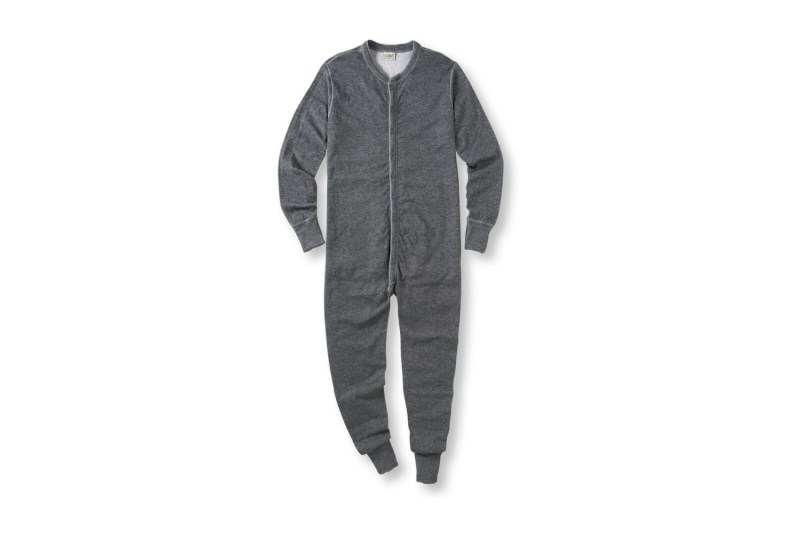 For more serious conditions, turn up the heat with L.L. Bean's two-layer version. It's the classic union suit silhouette, rendered in a toasty cotton, merino and nylon bend. The two-layer construction creates insulation for maximum warmth and the interior layer is all cotton for maximum comfort against your skin.
2(X)IST features a long, slim fit complemented with a deep, metal-buttoned closure. There's also a handy locker loop on the back. Though it comes in a dapper black, we like the blue stripe combo for a more playful approach.
If you're a resident of the Southwest or South and union suits and onesies are a bit too warm for your weather, you can always hang out in these best pairs of underwear. No pants necessary.
Editors' Recommendations