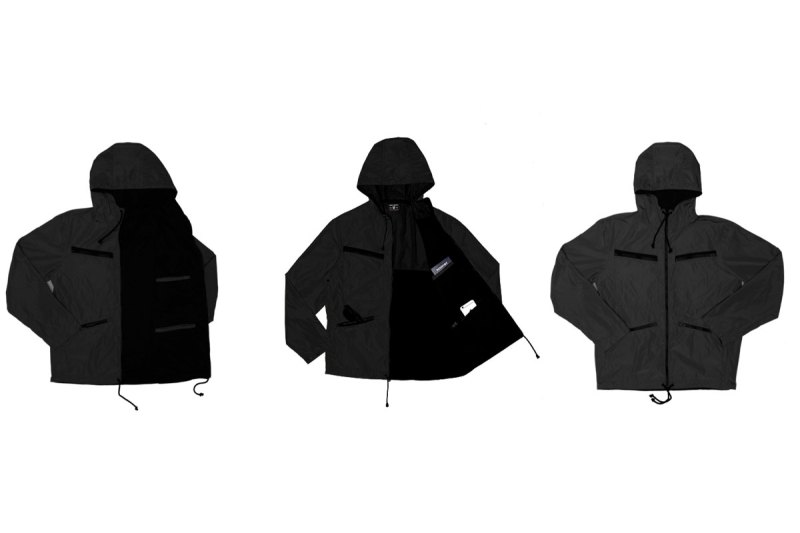 As a writer with considerable travel experience, few things are more important to me than a trusty jacket. It goes everywhere I do and has to be ready for early mornings and long nights. Hell, I might even sleep in it.
So when I had the opportunity to try out a new all-weather jacket from Los Angeles-based Langly, I jumped. Founded by outdoor photographer Evan Lane and former Yeezy developer Jerrod Cornish, the company makes rugged photography bags meant to take a beating. This week, they're launching a line of Made-in-the-USA gear that follows the same ethos.
I made the All-Weather Zip my everywhere jacket for a couple of days. I wanted to see how it would perform walking around Portland with its standard, unpredictable fall weather, the perfect proving ground for an all-weather Langly jacket.
Out of the box, it's a handsome piece. Mine was black, but it does come in orange, navy and olive as well. Zippers are nicely placed and the reflective material in the drawstrings is a major plus (something I wish all manufacturers would consider). The zippers give way to four additional pockets inside – none of which I used due to ample storage in the outside pockets. At first, I was hoping for a mid-weight shell that would keep me warm enough with just a t-shirt underneath, but the Zip's purpose is more lightweight.
When paired with a flannel, the jacket provides a nice bulwark against the elements. Portland weather partly cooperated, so I saw first-hand the jacket's outstanding performance in the rain. Water essentially beaded off the high density nylon much like it does on my Subaru after a wax–and that's a major plus. Coupled with the flexibility of the material, I was dry from start to finish.
As a short guy, it's always been a struggle to find a jacket that fits right. Medium sizes are typically built for someone six feet tall which almost always results in 2-3 inches of sleeve draping off my fingertips. Not the case with the Zip. I was shocked by the near-perfect fit on my five-foot-six frame. A button on the cuff helps line up everything nicely as a finisher.
Langly did a great job evolving their outdoor reputation into clothing; which is no easy task. As my winter travel starts ramping up, I may have to consider an All-Weather Zip as an investment in packable dryness.