Founded in 2014 by two Wharton School grads, Chris Wichert and Johannes Quodt,
KOIO
(its name is an echo of the Italian word for leather, "cuoio") is in the business of making some of the best hand-crafted Italian leather sneakers that money can buy.
Wichert and Quodt's goal in creating KOIO was to construct their personal "dream shoe" that "would accompany [them] on any quest and adapt to any situation." And what better place to find craftspeople to take on this challenge than the center of luxury shoe leathers–Italy.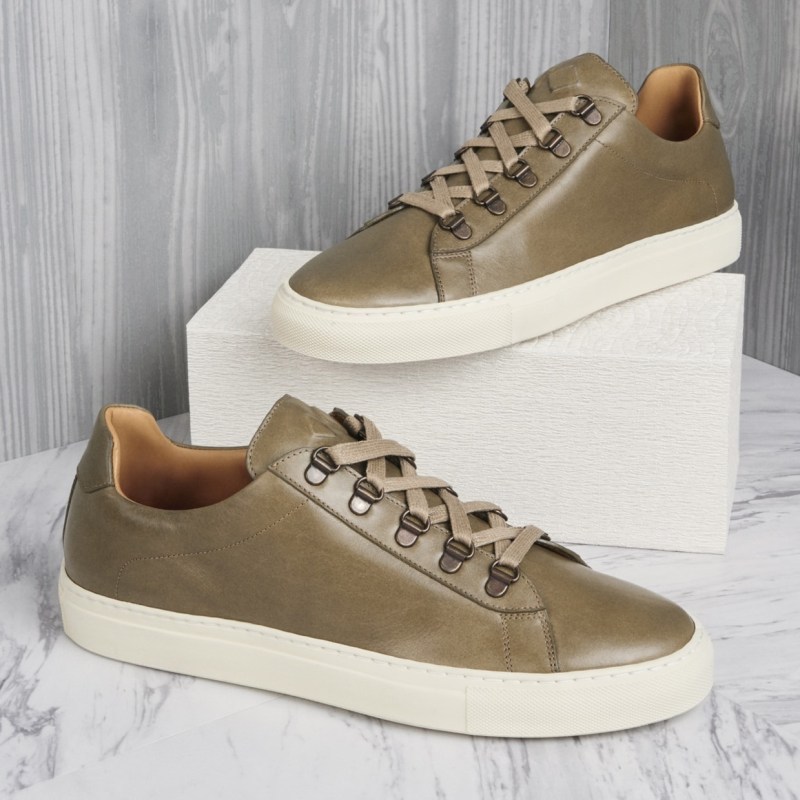 KOIO visited 34 different Italian leather factories before finally settling on one that matched their creative and manufacturing vision. Centered in the coastal village of Civitanova, KOIO's shoes are produced using a combination of handcrafting techniques and modern cobbling machines. Each Primo sneaker, for example, is composed of 88 separate parts and requires more than four hours to create a single pair. For a behind the scenes look at the manufacturing process, check out the brand's vision video here.
Made with premium calfskin leather, the brand has three styles of footwear currently available: The Primo, a high-top that comes in 11 different colorways; The Gavia, a traditionally styled sneaker that comes in eight colorways; and The Capri, a low-top with four different finishes.
KOIO's clean lines, muted colors, supple leathers, and complimentary laces all add up to a refined, versatile, and long-lasting leather sneaker. Pair any of these styles with chinos and a crewneck and you've got the perfect relaxed weekend-ready outfit.
Retailing between $250 and $370 for each pair (depending on style and color), these shoes won't be a good fit for the deal-driver. But for a man who wants one pair of luxury kicks, KOIO is the way to go. And, taking into consideration the hand-made and high-quality nature of these shoes, some may even see this as a bargain.
Editors' Recommendations