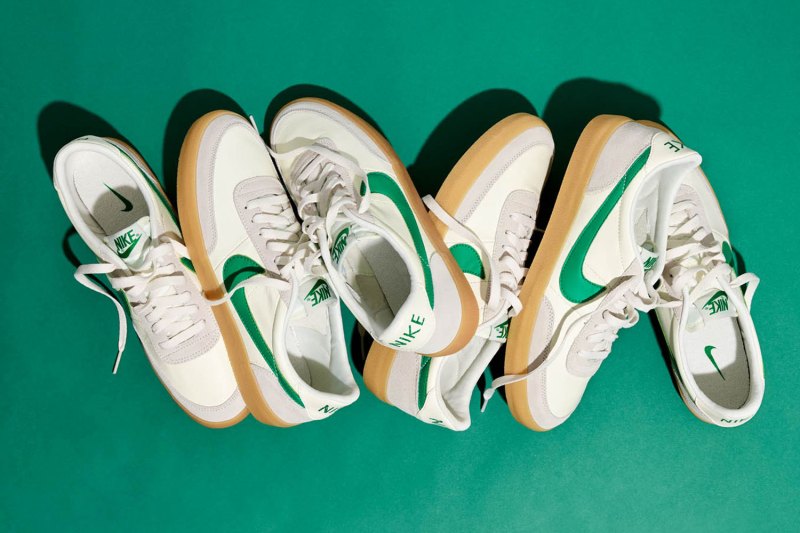 About as long as Western civilization has existed, shoes have been a status symbol. From the long-toed poulaines of 15th century Europe to the demure Toms slip-on of the 2000s, footwear is a functional emblem of where you rank within the cultural pecking order.
But of all the types of shoes to become a status symbol, could anyone have foreseen that it would be the humble sneaker that would eclipse all other types of footwear? And to make this irony even sharper, it's not the souped-up sneakers that achieve this iconic status, but the simplest and most nostalgic designs.
Case in point: the Nike Killshot.
The Killshot started life in 1979 as a "court shoe," with a low profile and soft sole that kept racquetball players comfortable and nimble. With its leather body, suede detailing and utilitarian white-on-natural color scheme, it was a forerunner of today's athleisure styles. It wasn't just meant for sports—it was meant to show in non-sporting environments that you, the wearer, were sporty. But not so sporty that you didn't care about fashion.
J. Crew X Nike Killshot II
Over the years, the Killshot gathered a fan base outside the court. When it was first re-issued in 2009, it wasn't only the sneaker world that went wild. The Nike Killshot is the ultimate "lifestyle shoe"—a go-anywhere, do-anything closet staple.
Since 2015, the Nike Killshot has been available in collaboration with J. Crew, who bumps the exclusivity of these highly covetable kicks by offering them only as limited editions (and limiting purchases to one per customer). The most recent iteration was released this year, this time with a vibrant green swoosh in addition to the original navy blue colorway.
Combining quality-first minimalism with a Wes Andersonian nostalgia, the Nike Killshot is a study in casual elegance. Or is it elegant casualness? Or does it even matter? The main thing is that these hella comfortable sneakers go great with everything you wear, all the time, every day. From broken-in denim to aloha shorts to a wedding tuxedo, you can wear the Killshot with anything. That is, if you can get your hands on a pair.
The green version of the sneaker is already sold out, so unless you want to pay a collector's fee for a pair of your own, you'll probably just have to wait until the next re-release (or settle for the more sedate white-on-navy color scheme.. Take our advice and buy during the pre-sale.
Editors' Recommendations