You're relishing a glass of your favorite wine, and then the unexpected happens: You spill the content of your favorite wine glass on your treasured shirt. Just your luck that you're drinking red wine instead of a glass of white burgundy wine. Well, you don't need to worry about it. When you act quickly, you can easily get rid of the wine stains from your clothes. The trick is to wash your cloth before the stains settle deeply into the fabric. Here are the best ways to tackle wine stain problem and save your favorite clothes.
Related Guides
3 DIY Wine Stain Removers
For these three DIY wine stain removers you can repeat the process until the stains are completely removed. And before using any stain remover, do not rub your cloth or you'll spread the stain.
Baking Soda to Remove Wine Stains
Baking soda is a do-it-all solution for a variety of DIY issues.
Use a paper towel or a clean cloth to soak up the stains.
Sprinkle some water on the stains and dab the area with a paper towel.
Create a paste using one part baking soda and three parts water.
Apply the paste to the stains and allow it to dry.
Once dry, remove the paste using clean water.
The stains should clear once you wash your clothes.
White Vinegar and Laundry Detergent to Remove Wine Stains
Vinegar neutralizes the stain while the detergent cleans the fabric. Be sure to get cleaning vinegar, which is 20% more acidic than regular food vinegar.
Soak up the spilled wine as much as possible.
Apply the cleaning vinegar to the stains.
Cover the stain with liquid detergent.
Allow it to dry, and then wash it off with clean hot water.
Rubbing Alcohol to Remove Wine Stains
For a stubborn wine spot, apply rubbing alcohol to the stained area. The wine stains should begin to clear as you soak the area with rubbing alcohol.
Use a clean sponge to soak the stained area with rubbing alcohol.
Wipe the area dry using a damp cloth.
Be sure to wash your clothes once the stains have cleared.
Red Wine Stain Removers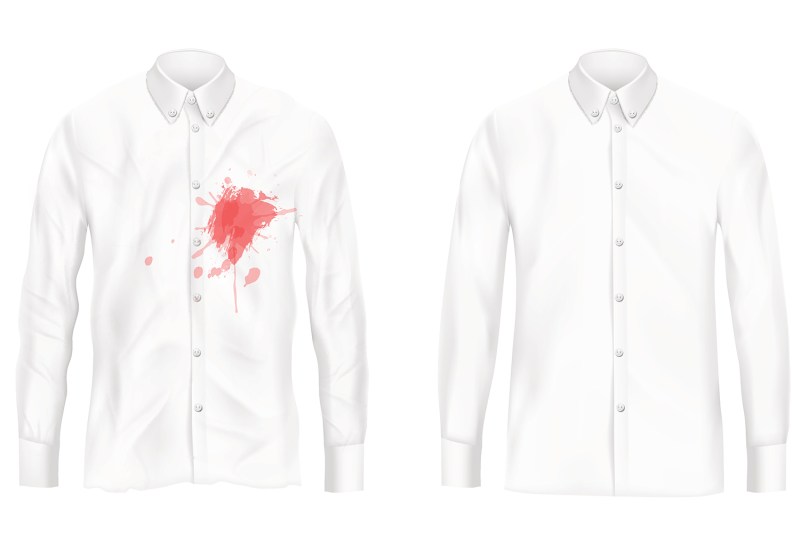 There are several commercial stain removers you can use:
Wine Away

Gonzo Wine Out

Chateau Spill
How to Remove Old Red Wine Stains
If you have a red wine stain that you didn't clean in time or you didn't know about, you may still have luck getting rid of it. While old stains tend to be difficult to remove, you can use a bleaching agent. Non-chlorine oxygen bleach will make an ideal option for colored clothing. Follow these steps:
Rub dish soap or laundry detergent into the stained area.
Soak the clothes in cold water for about 1 to 2 hours.
Apply a stain remover to the stained area.
Wash the cloth on a normal cycle.
Does Red Wine Stain Permanently?
A wine spill can stain your clothes permanently if you heat them in a dryer while the stains haven't been completely removed. The stains shrink into the fibers, making it difficult for stain removers to dilute and wick them away.
Editors' Recommendations