Want to wear your whisky? Now you can in a way. Josh Peskowitz, fashion veteran and co-founder of men's concept shop, MAGASIN, has hand-picked four of his favorite labels to create one-of-a-kind pieces for Glenfiddich's Wardrobe XXI capsule collection. The creative minds behind E-Tautz, Camoshita, Hamilton and FEIT each created an element of one full menswear look: overcoat, suit, shirt and boots. Check out the short film of Josh in Scotland, it may cause you to drink at your desk.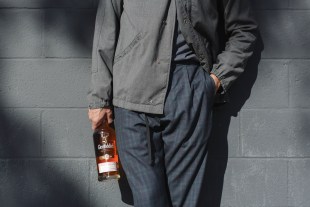 Glenfiddich's Wardrobe XXI collection pays homage to tradition while simultaneously challenging convention: a steadfast part of Glenfiddich's ethos. The collection provides the modern Glenfiddich drinker with a new way to tackle self-expression. Pushing boundaries of both design and heritage, Wardrobe XXI offers the ultimate sartorial complement to a dram of 21 Year Old. Inspired by the heritage of Glenfiddich 21 Year Old Reserva Rum Cask Finish, a rule-breaking, luxurious variant from the world's most awarded whisky-maker – the garments all incorporate traditional elements of Scottish living from high-fashion spins on tartan in the suit and overcoat to an original use of cashmere blend on a band-collared shirt to a contemporary take on Chelsea Boots produced in chocolate suede.
As the Creative Director of Glenfiddich's Wardrobe XXI, Peskowitz worked closely with the designers to craft pieces rich with references to both heritage and innovation. "I chose the designers I did for this project because all of them show a commitment to quality, and traditional processes. All also are progressive: they experiment with shape and fabrication, they are willing to take risks. So, they all seemed a natural fit with not only the ideals we set out to portray with this project, but also the aesthetics we were trying to achieve. I also thought it important that the cast of collaborators be international, hailing from some of the places where fine whisky is most appreciated in the world," Peskowitz says.
About the brands and their pieces:
Tautz created the "Geoff Overcoat." In a traditional Scottish tweed but with a relaxed, unstructured fit, this piece adds a younger twist to the timelessness of a menswear classic. As a bespoke men's tailoring namesake, designer Patrick Grant of E. Tautz has transcended the test of time, with a maverick spirit unyielding to market pressures or fleeting trends – much like Glenfiddich itself. ($2,025).
Camoshita United Arrows created the "Easy Suit," artfully crafted to give off a casual yet sophisticated feel. Yasuto Kamoshita, one of the most significant names in fashion by virtue of his unconventional style, created the piece's blackwatch motif and drawstring trousers by approaching Italian-inspired tailoring through a lens of Japanese "relaxed dressing." ($1,800).
Hamilton created the "Scottish-American" shirt, a premium take on a pop-over. Since 1883, the Hamilton brand has been inspiring generations of men to reinterpret classic wear. Glenfiddich's Wardrobe XXI garment band collar and button-down side seams give it a fashion-forward feel when worn under a suit. The use of a cashmere blend pays homage to Scotland's prodigious textile industry. ($450).
FEIT created a handcrafted Chelsea boot outfitted with a rugged lug sole. Easy-yet-edgy, the boots' warm brown tone suits the upcoming fall season perfectly, while its suede uppers add an element of refinement. Australian born, New York-based brothers Josh and Tull Price started FEIT in order to revitalize the world of hand-made footwear. ($740).
Glenfiddich's Wardrobe XXI was designed to emphasize that embracing new ideas doesn't mean rejecting tradition, an understanding and deep belief that makes the partnership between Glenfiddich and Peskowitz a natural fit. Glenfiddich Senior Brand Manager, U.S., Michael Giardina, says, "People are discovering whisky at a younger age than what was historical for the category, and this 'contemporary' whisky drinker is generally at a point in their lives where they are beginning to grow their own set of tastes and identities – often challenging norms as they curate their cultural persona. This collection is meant to grow with its wearer, with versatile pieces for the contemporary man who uses fashion as a means of self-expression."
Glenfiddich Wardrobe XXI launched today! Twenty-one total pieces of each product will be made available for sale exclusively at select retailers across the country, including:
Each partner retailer's display will feature a custom mannequin built from Glenfiddich whisky casks alongside a bar cart stocked with Glenfiddich 21 Year Old Reserva Rum Cask Finish for lucky shoppers. Additional retailers will be announced on a rolling basis. Dare we ask where are the kilts?
Editors' Recommendations