Let's face it. Father's Day is a tough one. Just like for his birthday, this day finds us asking the age-old question, "What do we get for the man who has everything?"
Look at the top of his dresser or desk for mementos of Father's Day past – colognes he's never worn, gold-plated golf tees he has never dared to use, ceramic…things (it's a cat? An ash-tray?) made by loving hands – and recognize that, in our attempts to show Dad some love, every so often we miss the mark.
This year The Manual is stepping in to fix that. We recognize that, for a lot of us, Dad is a great guy that can be at once inspirational and cringe-worthy. He's always been there for us, loves us unconditionally, and often demonstrates great taste; but every so often, Dad has to be stopped at the front door, and marched back to the closet for a reset. Here are some of our favorite pieces from Spring/Summer 2019 that will be appreciated by both the fashionable Dad, as well as the Dad that needs a little help in the wardrobe department.
Mitchell Evan Palm Drop Shoulder Hoodie
Grabbing Dad a sweater is a classic Father's Day gift, but trust us on this one, he doesn't need another brightly colored V-neck. This hoodie style from Mitchell Evan is a more updated look, with an ombré dyed effect that is not only a top seasonal trend, it's quite complementary to a "Dad bod." The brighter top make shoulders appear broader, while the darker bottom minimizes the mid-section. The fiber blend means it's extra soft, too, inviting lots more hugs from adoring spouses and kids.
Marine Layer Borica Button Down
Dads will be Dads, and sometimes you've just gotta let 'em do their thing. The idea here is to introduce a little course correction and let them think its their idea. Dad thinks a classic Hawaiian shirt is perfect for any summer occasion, and this summer, he's right! These bold graphic print shirts are dead-on trend for 2019. Grab him an updated classic from Marine Layer, so he can proudly wear his florals in style.
Hi Fidelity Entertainment B-52s Retro Rainbow T-Shirt
Help Dad relive his miscreant youth with a vintage T-shirt from the band that was his favorite in high school or college. From the B-52s to Pink Floyd to Parliament Funk, classic concert graphic tees are sure to get Dad started on how "they don't make music like this anymore." The cotton/poly blend T-shirt is probably a lot more comfortable than the one he bought at the concert back in the 1980s (and unless you already swiped it, it's still hidden in his bottom drawer, and he probably won't be fitting back into it anytime soon). These are perfect for the beach, backyard BBQs, and cover band concerts.
Damen+Hastings Addison Suede Belt
With its vintage-inspired color and texture, Damen + Hastings' suede belt is simple, but sophisticated. Clean styling keeps it classic, but the faded hue, roller buckle and pop of red stitching give it just a hint of the bohemian life. It's perfect to pair with everything in Dad's casual wardrobe from dark denim to khakis to navy chinos. The neutral tan is just dressy enough to wear to work, and the perfect complement to weekends around town.
TAG Heuer Connected Modular Golf Edition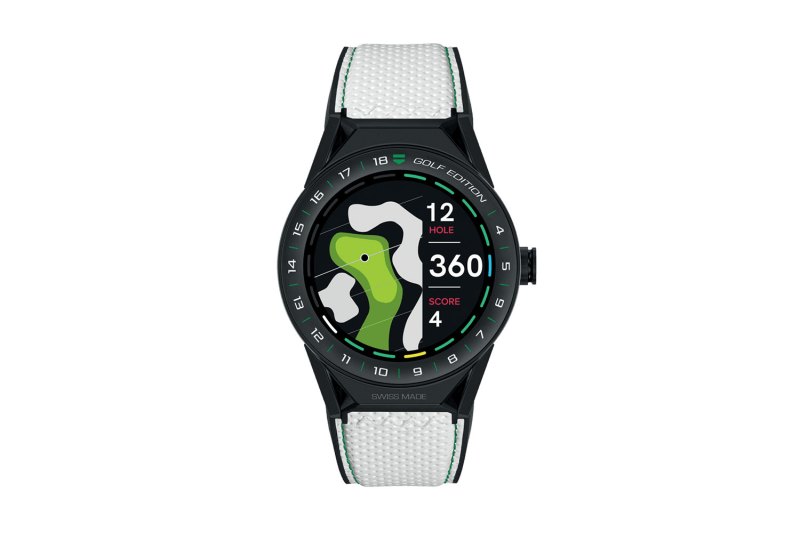 Father's Day and golf go together like gin and tonic, but TAG Heuer goes beyond another themed timepiece to incorporate an entire system designed to make dramatic improvements in Dad's game. Download the iOS or Android app to his smartphone, and with the connected watch, Dad will be able to know the distance to the green, his score, and track shot distances. The app incorporates 3D mapping, including hazard warnings. This special edition even comes with three TAG Heuer golf balls…you'll have to ante up for the smartphone separately, though.
Devereux Gravity Pant
The Gravity Pant offers a modern cut that's complementary to most bodies and looks just as great on the street or in a cafe as it does on the course. The super-comfy stretch fabric is lightweight, quick-drying, and has a retro slubbed texture. A zipper at the leg opening allows for a little more movement.
Sunday Afternoons Sun Tripper Cap
Kids don't let Dads wear Dad hats! Make sure Dad's noggin is getting all the sun protection it needs this summer, but make sure that's happening with style. Sunday Afternoon's cap is rendered in a lightweight performance fabric that folds down to nothing when Dad's inside, but provides UPF 50+ sun protection when it's on his head, while mesh ventilation helps him keep his cool. The Sun Tripper's cadet style cap is a nice update to his favorite trucker hat, and comes in a nice variety of hues. We're partial to the black, but Wetlands Camp offers a fun, summer-friendly hit of color like the one above.
Filson Dryden Briefcase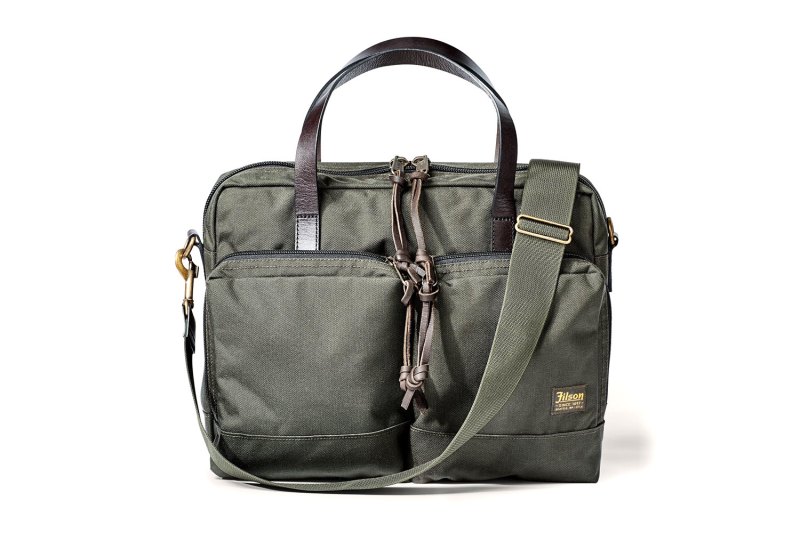 Pry that corporate logo-embroidered backpack away from Dad—the one he got at the conference he went to two years ago? The one with the straps duct-taped together? "It holds all my stuff just fine!"—and replace it with this snazzy number from Filson. It's abrasion-resistant nylon will hold up to Dad's daily commute and the case features a padded sleeve for his laptop and a handy trolly strap so he can slide it over his carry-on's handle for business trips. Its dimensions are a perfect for an under-the-seat carry-on bag, with two exterior pockets and a totally organized interior.
If you need a few more practical gifts for dad for Father's Day, make sure he's got the right tools to repair anything in his home.