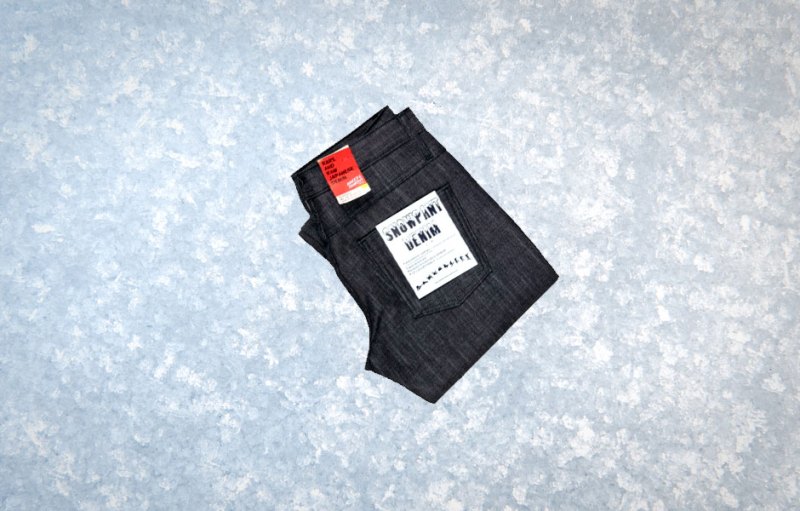 Snow pants…not the most fashionable clothing option in your closet.
Thanks to those wacky denim scientists at Naked & Famous, the same team that brought us "scratch 'n' sniff" denim, "stainless steel" denim, and thermochromic denim, we now have an excuse to go play out in the snow.
Naked & Famous uses unique and rare fabric imported from Japan, but they manage to keep their prices reasonable. They might have old school practices when it comes to creating the perfect pair of jeans (they refuse to create washes or embroider pockets) but that doesn't mean they lack a sense of humor. "How boring would it be to only make great dark indigo jeans? We love to create things that are special and unique that nobody has ever done before," said Brandon Svarc, owner and designer of Naked & Famous.
The "Snow Pant" from Naked & Famous looks exactly like your favorite pair of slim, dark, denim jeans. "We made the Snowpant jeans because we love products that are fun, crazy and useful," Svarc said.
They are wind resistant, lined in bonded, nylon fleece material, and the best part – they have a waterproof coating, which will keep them, and you, dry as bone. No hypothermia here.
The zippered and Velcro ankle opening will help you get these bad boys over your snow boots – or ski boots. You can now snowboard in style (with out that annoying swishy sound every time you take a step).
So get into that snowball fight without worrying about looking like you have control problems.
You can pick up a pair at http://tateandyoko.com
Editors' Recommendations