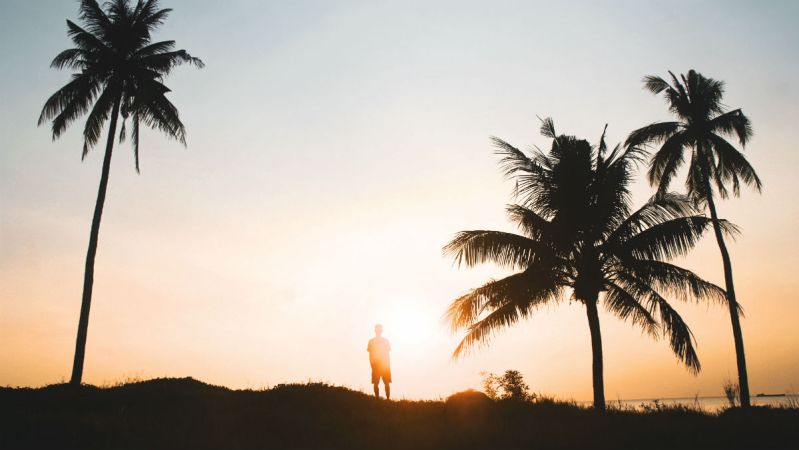 Bring on the warm weather as remnants of this year's Nor'easter melt away and temps rise. But be careful — just because you don't have to cover up with puffys and balaclavas doesn't mean you should go without skin protection this spring and summer.
Combat the heat, burn, and harmful rays of the sun with these essential men's accessories that are both stylish and protective. Whether hiking outdoors or adventure traveling, don't forget these products.
Serengeti Eyewear Carlo Large Sunglasses – $270
First and foremost, you need a quality pair of sunglasses. Harmful UVB rays can sunburn the cornea and potentially lead to a form of eye cancer (yes, even in the shade), so we like to trust companies with decades — or centuries — of experience in lens innovation, like the king of eye protection, Serengeti Eyewear, which has been innovating lens technology for 140 years. We dig both the shape of the modern Carlo Large sunglasses — a sporty yet handsome twist on a classical frame — and the polarized lenses, which pull from Serengeti Polarization tech to acts like a type of Venetian blind. When parallel light rays enter each lens, distracting perpendicular rays are reflected, eliminating disruptive glare. (Think bright headlights or blinding sun on a perfect day at the beach). The Carlo Large have a larger fit, jotted with handcrafted acetate, subtle tortoise arms, and metal embellishments. Seriously sexy shades that are engineered like a high-ticket sportscar? Yes, please.
Sport-Brella Versa-Brella All-Position Beach Umbrella – $20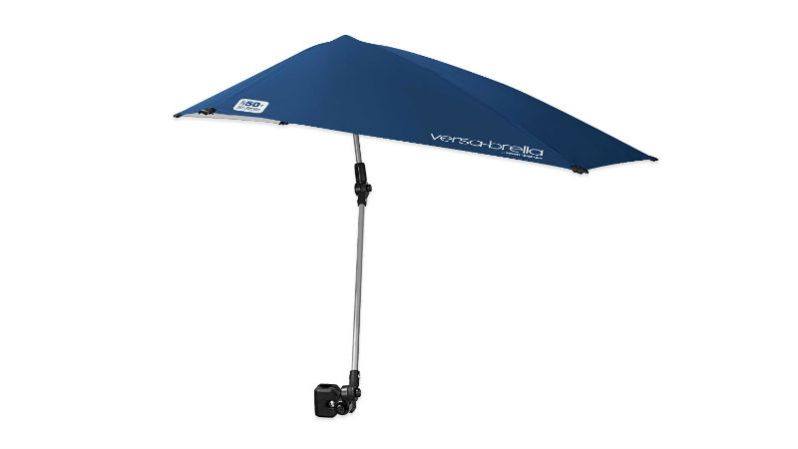 This portable, UPF 50-plus "umbrella" costs less than two cocktails and will save your skin from burning all day, no matter the position of the sun. Strap the universal clamp to a chair, kayak, or golf bag, and the bizarre shape will provide 360-degree shade protection. Weighing less than 2 pounds, the sport-brella folds into a carrying bag and won't slump over in the sand. Win-win.
CROP Hydrating Aloe Vera Mask – $30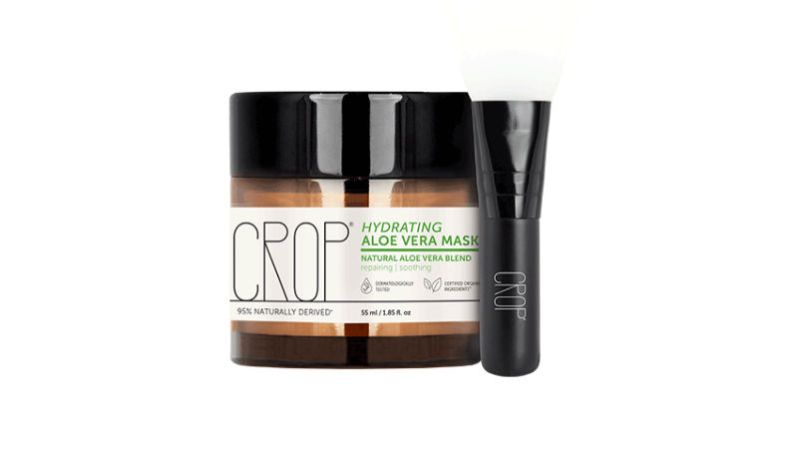 While it seems every man has been programmed to look up to the old cowboy with leathered skin, saggy jowls does not a badass make. More than ever, men are taking pride in their grooming and skincare, which is truly badass. Add to your summer skin routine CROP's Aloe Vera mask, which delivers an intense hydration treatment to heal dry, dehydrated skin and reduce swelling after sun exposure. The blend makes use of (organic) aloe vera, chamomile, witch hazel, kakadu plum, honeysuckle, and cucumber, leaving sun-worn skin revitalized. Apply evenly over face with the Crop Spatula, relax 20 minutes, rinse, done. Easy.
Patagonia Bimini Stretch Fit Fly Fishing Cap – $35
This cap may not be the most stylish, but you won't be the one laughing after a 10k summer hike that leaves your neck red as a ribeye. You know those terrible neck tans, yeah? Let's not do that this summer. Patagonia is here to help us grow up with a UPF-protectant outdoorsman hat with neck coverage. The low-crown, large-billed lightweight cap is made with 100-percent polyester ripstop. The back flap covers your entire neck and the dark underside of the bill reduces glare. (Paired with your Carlo Large sunglasses, the sun doesn't stand a chance.) All material on this Bimini Stretch Cap is Bluesign-approved, meaning it was produced with attention to reducing resource consumption in the supply chain.
Serengeti Eyewear Volare Sunglasses – $330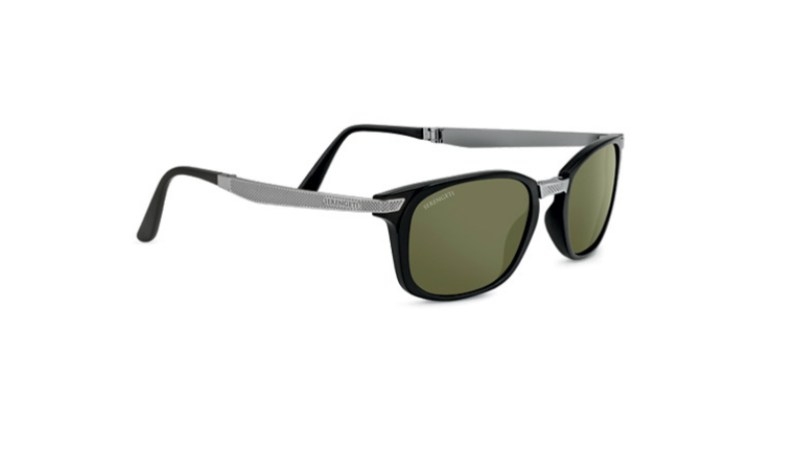 Yes, another pair of sunglasses. Hear us out: Odds are you'll misplace your other pair or want to alternate styles since you're a man of many looks. Our second go-to pair of shades is Serengeti's Volare, which emit a strong aesthetic with sleek titanium frame feature and a foldable nose bridge (a la Steve McQueen) and temples for compact and safe carrying. Like it's cousin, the Carlo Large, the Volare lenses are similarly polarized for unparalleled clarity of vision.
Clinique For Men Face Bronzer – $19.50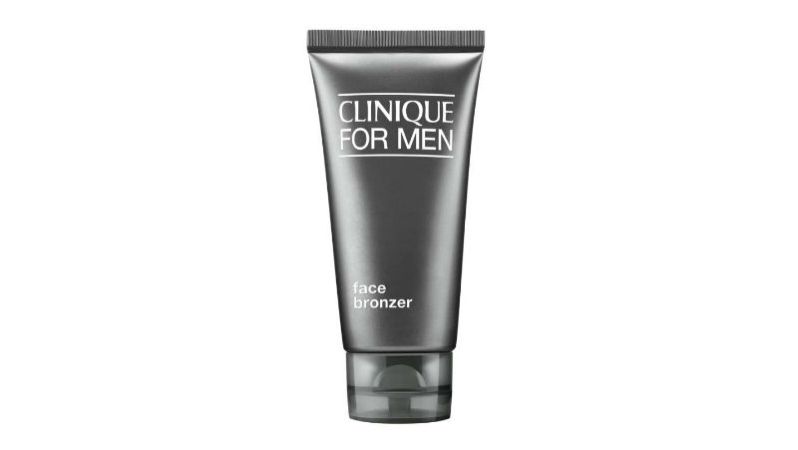 Another option is to avoid direct sun exposure altogether! Using the above products with both UVA and UVB protection, you'll keep your skin healthy and fresh, albeit pale. Add to your summer sun accessories a little sunshine in a bottle and apply a small amount of Clinique's five star-rated men's bronzer. This oil-free formula goes on easily and is formulated to be completely fragrance-free. Apply to clean, moisturized skin, and when you're ready to ditch the glow, wash gently with a cleanser.
Editors' Recommendations