When it comes to watch brands, it can be tough to sift through the classic, ordinary constructions, and those that push the boundaries of expectedness. Although timepieces are made with specific functions, activities, and styles in mind, it's the aforementioned dilemma that truly determines what it is we want out of a watch. Accessories should have a purpose, and wristwatches are no exception.
The timepiece innovators at five-year old startup Eone founded the company on an ethos of inclusivity: To create fashionable timepieces that are accessible to everyone, for sighted and blind people alike. This dedication to inclusiveness is one that has helped the brand not only meet the practical needs of the visually impaired, but also become a sought-after company in the wristwatch world.
Eone's founder, Hyungsoo Kim, was a graduate student at the Massachusetts Institute of Technology (MIT), when he learned of this neglected issue through a friend who is blind. This is when the designer inside of Kim came to the realization that everyone, as the company puts it, "has a right to time."
Eone's Bradley collection lets you literally feel time with your fingers. And yes, you read that correctly. Each timepiece utilizes raised number markers and self-rotating, magnetized ball bearings to display the time — in place of the traditional watch face and hands.
This means that for the people who are visually impaired, they no longer have to resort to bulky tactical watches or garish timepieces that yell the time. And this also offers conveniences for everyone else. For example, have you ever been in a business meeting or a movie and you don't want to be that guy who pulls out his phone or turns on the backlight of his watch to look at the time? Now you don't have to be. The Eone watch collection lets users check the time through their fingertips. To make this possible, the watches feature a triangular marker for the twelve, an extended line for segments for three, six, and nine, and shorter line markers to round out the rest.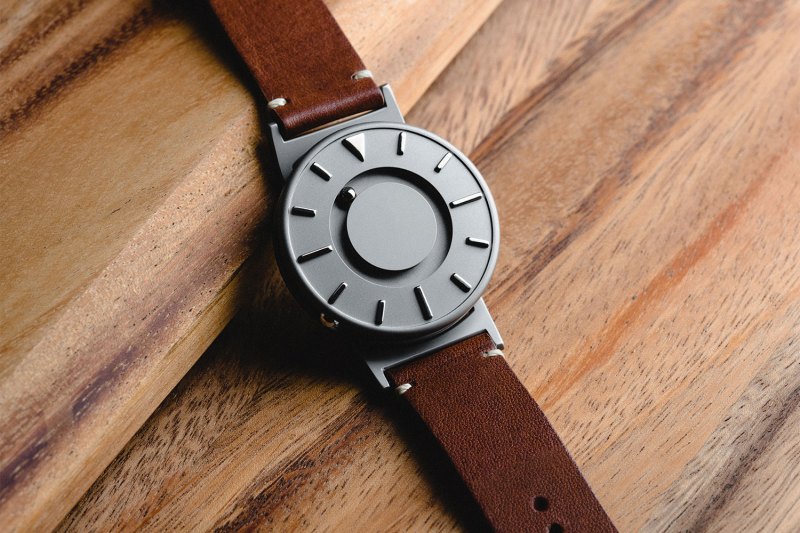 Then, there are two magnetized ball bearings that glide around the watch face in separate tracks, one of which moves around the center of the watch face surface to mark each minute, while the other moves around the outside edge of the watch face to mark the hour. So to tell time, all you have to do is move your finger over the raised hour markers and feel where the ball bearings are located in respect to the lifted markers. It takes some getting used to, but when you get the feel for it, telling time is as natural as finding your snooze button on your alarm clock in the morning, if not easier.
One issue you may come across with Eone watches is the ball bearings falling out of place. However, with a quick flick of the wrist, the ball bearings will magnetically snap back into place to give you an accurate time reading.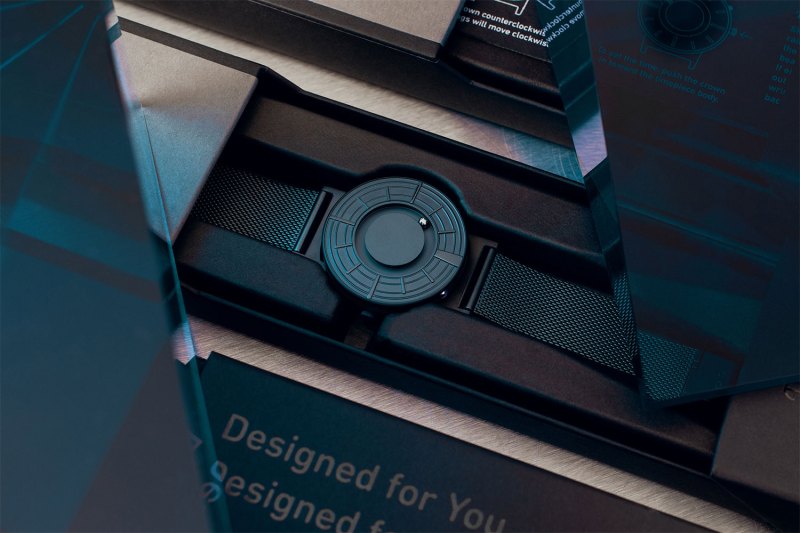 Other specifics of the Eone Bradley watches can vary, but at the end of the day they're built with durability and function in mind. Every watch is equipped with Ronda quartz movement with Swiss parts to ensure accurate and reliable time telling. Each case is crafted with one of three durable materials: titanium, stainless steel, or ceramic.
The watch face, because it doesn't feature your traditional construction, is also made of lasting materials (titanium, aluminum, or ceramic). Lastly, for the strap, your options are a stainless steel mesh, a beautiful patina leather, or a comfortable and versatile canvas fabric. It's important to note, though, that the Eone Bradley is not intended to be worn during high-activity sports or submerged under water.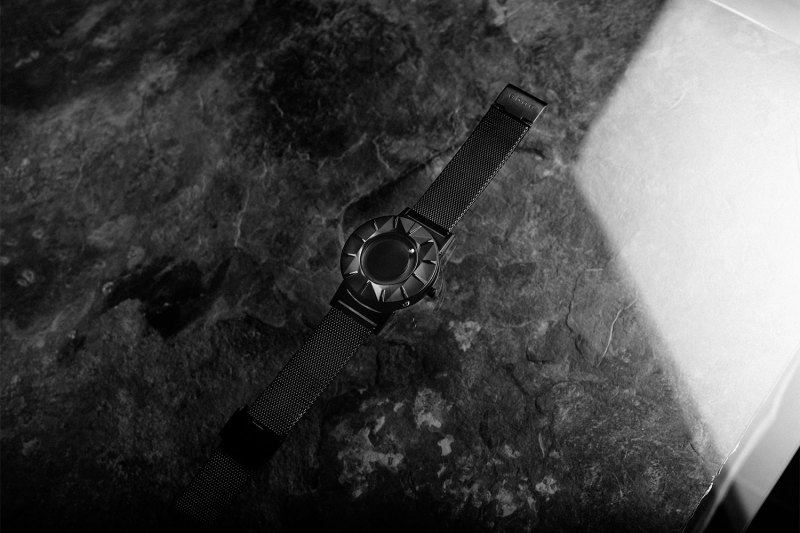 What makes the Eone watch collection stand out for us the most is its devotion to accessibility for all. On top of that, it boasts a unique, modern, and chic style at an affordable price point compared to other luxury timepiece brands, and the Bradley silhouette is offered in a plethora of designs and colors for every personality.
To sift through the Eone watch collection offerings, www.eone-time.com.
If you're looking for more traditional watch designs, check out our roundup of the best men's watches under $500.
Editors' Recommendations