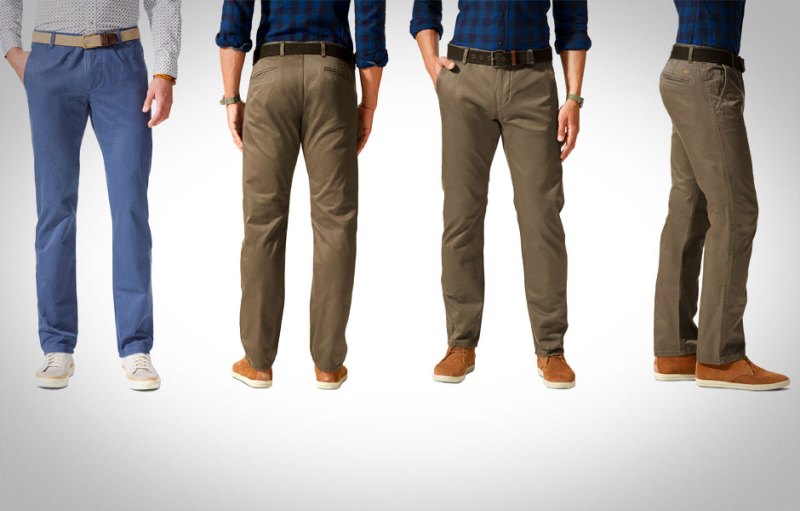 The arrival of the new Dockers Alpha Khaki Athletic Fit in the mail was one of intense anticipation. As a gentleman who has never looked good in any pant that is called 'skinny' or even 'slim fit', the Athletic fit seemed like an answered prayer. Indeed it was. This pant has a fantastic fit while not making me look like I shopped at the Marshall's sale rack. Having big hips it is always a herculean struggle just to simply put my hands in my pockets. And trying to fit a key or phone in a front pocket is virtually prohibitive. Not with the Athletic Fit!
Dockers has a long history of providing style solutions for guys and helping them look great.  Beginning almost 30 years ago with the introduction of the Khaki, Dockers was able to bridge the gap between jeans and dress pants. Now, by taking on the issue of fit, Dockers has made it easy for men to find pants that make them look even better.
The Alpha Khaki, Dockers' most popular style, is available in three fits, each catering to a different body type. The Slim Tapered sits below the waist, slim through the seat and thigh with a tapered leg opening. Similarly, the Skinny Tapered fits with a skinny fit throughout the seat and thigh.
The latest addition, Athletic, sits below the waist, roomy through the seat and thigh, with a tapered leg opening. This new fit gives guys with a larger build access to the wide selection of color, prints and fabrications that the Alpha Khaki has to offer. What's more, every style of the Alpha Khaki now has stretch for performance, extra comfort, and movement, making them arguably the most comfortable khaki that a guy can own.
Related: Dockers Orange Dugout Pants
There is an added 'Feel Good' bonus to these pants too. They are created with a WATER finish to save water. This is something Levi's (their parent company) has been doing since 2011. To learn more click here.
We rang up Docker's Creative Director, Doug Conklyn, to hear more about this stroke of brilliance:
What inspired the 'Athletic Fit'?
The original Alpha "Slim Tapered" and the newer Alpha "Skinny" have been our best-selling fits, however we found a missing niche in the market, and a need to create a pant for the guy with a more athletic build.  As a result, we introduced the Alpha "Athletic" fit, made for the guy who requires a little extra room but still wants that modern, tapered appearance.
Why tapered?
The tapered style of pant is our most popular style, as it creates a longer and leaner look throughout the leg, providing men with the modern feel they are looking for.
Are we moving away from 'skinny' styles?
Absolutely not.  Slim and skinny continue to become an increasingly large part of our business globally. We've dramatically increased our offering, including fabrics with stretch, which not only supports the growth in slimmer styles but adds tremendous comfort as well. Overall, we've seen a considerable shift in styles from our core consumer, who is transitioning from the more traditional and fuller fit to the straight and slim cuts.
What's next for Dockers?
We will continue to focus on slim fits and innovative stretch fabrics that cover every possible occasion for our consumer. We're mostly known for "business casual" apparel, but thanks to Alpha Khaki and our slim fits, the more casual part of our business is showing the fastest growth globally. From casual to refined and from head to toe, we want to be the go-to resource for style and comfort.
Check out the new Alpha Khakis in Athletic fit, and the entire Alpha Khaki collection, here.
Editors' Recommendations