Whether it was a beloved high school coach, an ignominious mob boss, or a particular subset of the Tenenbaum family that first brought it to your attention, the matchy-matchy look of the traditional track suit has been, for some, an easy respite from the everyday demands of…well…actually getting dressed and, for or others, a cringe-inducing affront to the parameters of good taste. Luckily, it seems this season the two-piece has volleyed the perfect serve because brands from designer to street to athletic have all introduced, reintroduced, or, in some cases, just kept making this anchor of amateurs and athletes alike.
Is it fashion, or no? We'll leave that to you to decide, but if you're gonna go there, here are some of our suggestions for this season's best worked-out options. But be forewarned, sometimes head-to-toe style comes at a designer price.
Best Track Suits to Stunt this Season 
Adidas Tanaami Firebird Track Jacket

and

Tanaami Firebird Track Pants
Probably the most iconic representation of the trend, the triple-stripe Adidas track suit debuted in the space age of the 1960s. Although it's still available in, roughly, the same classic silhouette, we like this update, which is a salute to military souvenir jackets. Here, Adidas collaborates with Japanese artist Keiichi Tanaami. The set features the signature shiny tricot fabric and three stripes, with appearances by some of the octogenarian artist's signature characters featured in the embroidery. 
Nike Sportswear NSW Track Jacket

and

Nike Sportswear NSW Track Pants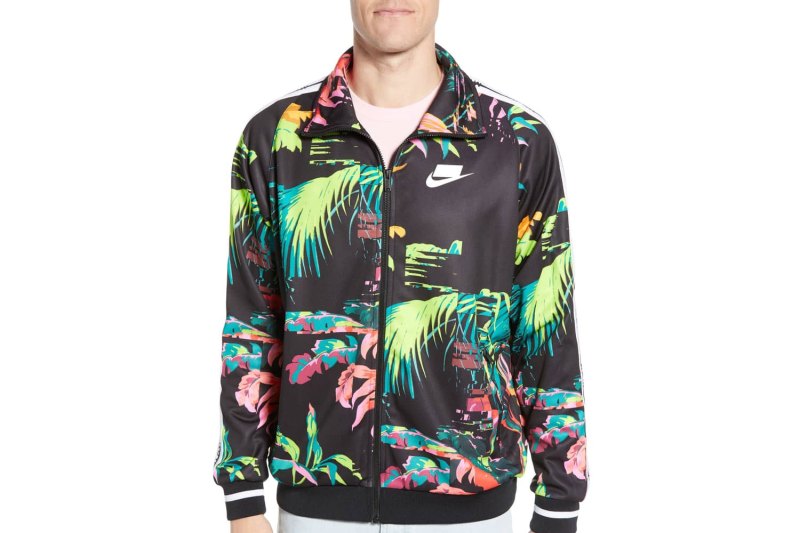 Again, while you could go for a more classic representation of the trend, we like how Nike's higher-end NSW Collection offers two-trends-in-one with this cyber Hawaiian print, featuring signature NSW logo tape on the arms, shoulders, and legs. They're great pieces to wear together for a real statement or to break up with white denim and a plain or very simple graphic T-shirt all spring and into the summer. 
Kappa 222 Banda Anniston Alternating Banda White Black Track Jacket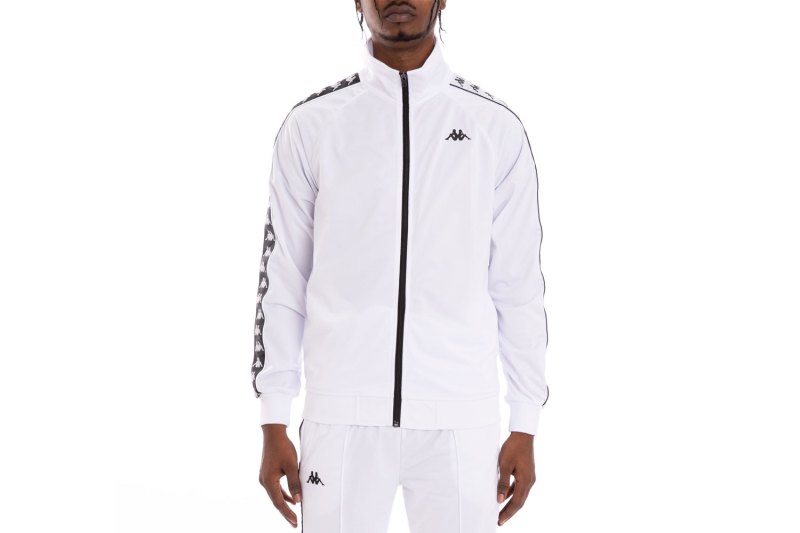 With its instantly recognizable silhouette logo, Kappa is an iconic athletic apparel brand seeing an international resurgence. Here the classic jacket is made in a soft-brushed, optically bright white polyester with the classic "omini" logo tape in contrasting black. The raglan sleeves and minimal lines are complementary to just about any figure. Its austerity makes the jacket perfect for warm-ups on the court or at the gym, as much as cool-downs with your mates at the local. To complete the suit, check out Kappa's pants for a full-on ensemble. 
Sergio Tacchini STLA Signature Track Jacket

and

Pants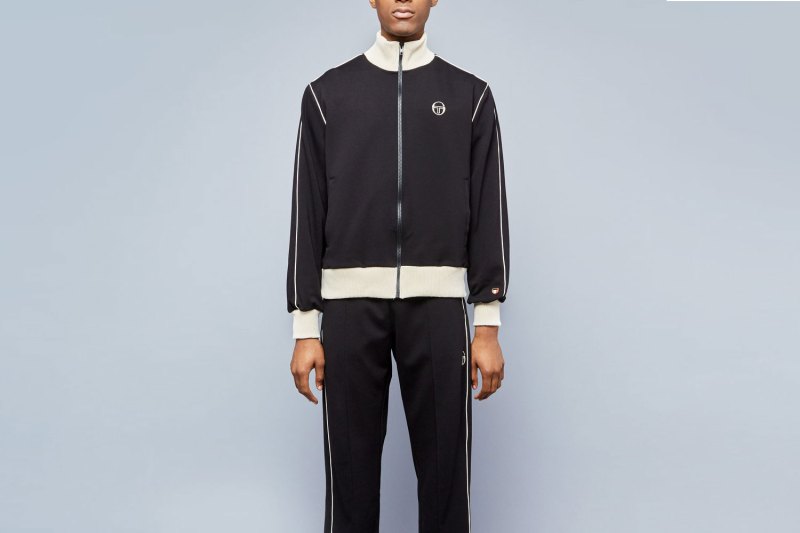 Another iconic athletic brand on the comeback trail, the eponymous brand was founded by the Italian tennis player Sergio Tacchini back in 1966, and became standard issue for tennis pros through the 1980s and '90s. It's now gunning for the upscale market with a more fashion-forward collection built on the classics. This black and ecru model features contrast piping details, as well as the brand's signature embroidered ST monogram logo. It's a rayon/nylon/spandex blend fabric, featuring a little more softness and breathability than some of its poly counterparts. 
Oyster Holdings Jomo Double Track Jacket

and

Pants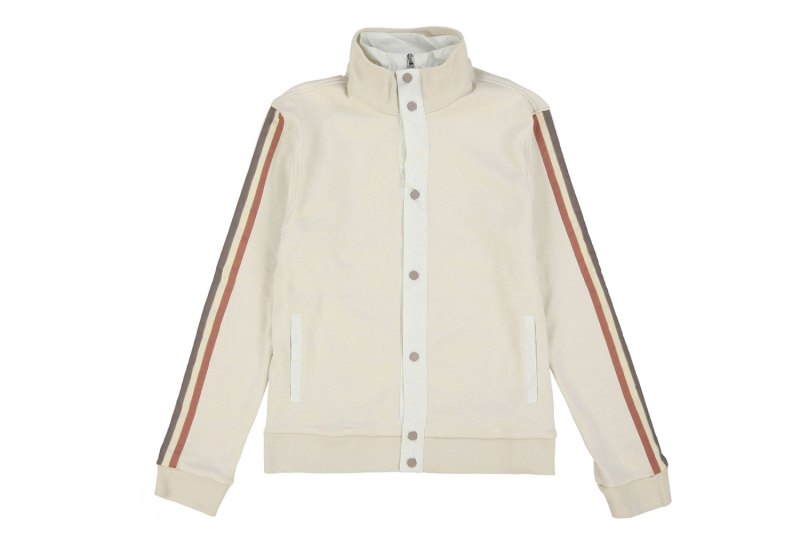 A comparative newcomer to the tracksuit scene, Oyster Holdings' entire collection is based on evolving the sweatsuit into sophisticated, super-comfortable forms for voyaging. After all, "Traveling is a sport," is the company's slogan. This double jacket in cream is made from a luxuriously soft Japanese French terry, with polyester ripstop detailing. The jacket snaps shut, while the inner bib section zips up for an added layer of protection. Sleeve and leg taping details lend a lengthening shot of color. 
Vuori Ponto Performance Pullover

and

Pant
For comfort's sake, give these a try. Vuori specializes in clothes that can transition easily from the gym to just about everywhere else in your life, and these are no exception. The luxurious, lightweight performance-stretch fabric is moisture wicking and dries quickly. The combo looks cool enough that, if you wear it out or to travel, nobody will think you're in your pajamas, but you'll be so comfortable you might as well be. 
ASOS Design Tracksuit
The price may be lower on this set than the other offerings shown here, but it's certainly just as high on style. In a pale, sage green ASOS calls "Toad," this soft-touch sweatshirt is 100-percent cotton with a little spandex in the trim. The simple drawstring hood pullover with side stripes pairs perfectly with drawstring pants, all in a skinny fit that's cut close to the body. If that makes you nervous, ASOS also has a great section of big and tall styles. There are also several other great color and jacket and pant options, all at great prices. 
Not ready to take the plunge and do a full-on track suit, but still want to look like you lead a life of leisure? Check out these great athleisure brands for comfort and quality.
Editors' Recommendations